Turnip and Poblano Rajas – Nabo Con Rajas
Turnip and Poblano Rajas is a casserole dish that's great for a party buffet or for the everyday family meal. Nabo, turnip, was served often at our kitchen table, we always had lots of vegetables.  The rajas we ate most often were either the anaheim or the chilaca chiles. My mom would roast them on a comal, the traditional way.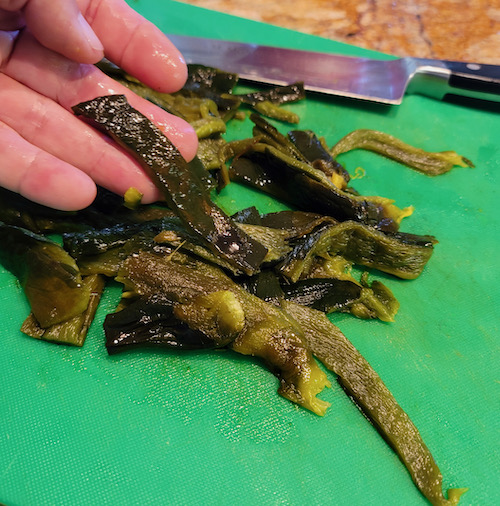 For this recipe I place the batch under a broiler because it's faster, but you may decide to roast them a comal tending to them, turning them and enjoying the relationship you have to chiles, fire, iron and time.
This is a totally plant-based dish, that is also low-glycemic.  When you want to get away from potatotes, this is a great casserole.  Instead of adding cream or cheese, I use cashews to add some oiliness to the dish, but the cashews also add a little flavor depth.  Thank Brazil for giving Mexico and the world this delicious seed that's also highly nutritious.  Soak the cashews in water overnight or at least four hours.  The turnip puree with swirls of rajas is really a wonderful surprise, I hope you and your friends will enjoy it.

Recipe for Turnip and Poblano Rajas
Ingredients (serves 6)
3 large turnips, peeled, quartered
3 chiles poblanos, fresh
4 Tbs roasted cashews
3 cups sliced yellow onion
1 Tbs extra virgin olive oil
1/2 cup water
salt to taste
Method
Preheat oven to 350° F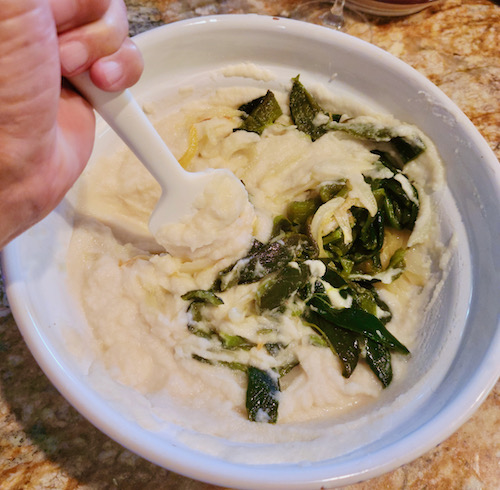 1. Cover the cashews with 1/2 cup water and allow to soak for 4 hours or overnight. (You can skip this step if there's no time, or use boiling water and let them soak for as long as possible.) Soaking the cashews encourages creaminess.
2. In a skillet, heat 1 Tbs extra virgin olive oil and add the sliced onions.  Cook over low heat until the onions are soft and translucent, about 15 minutes. Keep the heat on low so that the onions don't brown. Set aside.
Place the peeled and quartered turnips in a large saucepan, cover them with water and bring to boil. After the water starts to boil, cook them for 15 minutes or until they are completely tender.  Drain them and set aside.
3. Place the chiles under a broiler and cook until the skins blister and get slightly charred, turning them to broil on all sides, about five minutes per side. Remove from the broiler and cover with a damp towel for 15 minutes.
4. After 15 minutes, peel off all of the skin from the chiles. Placing each on a cutting board, make a slit lengthwise, open and remove all of the seeds.
5. Lay the chiles flat on the cutting board and slice them into 3″x 3/4″ strips.  Set aside.
6. In a food processor, place the cashews and 1/4 of the turnips and process until the cashews and the puree is completely smooth, with no graininess. Add the remainder of the turnips and process until the puree is smooth.
7. In a large bowl, combine the puree with the poblano rajas and the sliced onions until the mixture is thoroughly combined.
8.  Cover tightly and bake in the oven for 40 minutes so that flavors combine.
Serve hot.
NOTE: If you found my article helpful, I invite you to follow me on Twitter, Instagram and Facebook, or subscribe below for updates (I'll email you new essays when I publish them).
---
---