Cookbook with History:  delectably steeped in tradition, a living culinary heritage
Book Title:  Truly Texas Mexican:  A Native Culinary Heritage In Recipes
Author:  Adán Medrano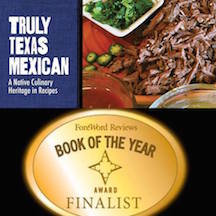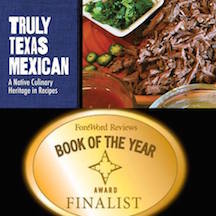 Published by Texas Tech University Press
Cookbook Specifications:
May 9, 2014, Cloth, flexibound
ISBN-10: 0896728501
ISBN-13: 978-0896728509
Product Dimensions: 8 x 0.6 x 8 inches
Shipping Weight: 1.1 pounds
8 x 8,  256 pages; index
57 color photographs, 100 recipes
Publicist: John Brock, Marketing Coordinator
Texas Tech University Press
806-834-5609
806-742-2979 (fax)
JOHN.BROCK@ttu.edu
Named Finalist, "Book Of The Year" by Foreword Reviews' INDIEFAB

EDITORIAL REVIEWS

Finalist, 2015  "Book Of The Year" – Foreword Reviews
"Recipes and personal anecdotes illuminate the role that cuisine plays in identity and community."
The American Folklore Society, A Journal Of Foodways And Culture
"Truly Texas Mexican aims to define and shine a light on a largely ignored cuisine, reclaim culinary territory for its practitioners and their ancestors, and interpret that cuisine within the multi-cultural context that is modern Texas. Both Texans and curious cooks from elsewhere can enjoy these recipes while appreciating how indigenous ingredients and migration patterns contribute to the region's foodways."
The Washington Post:  "To chef Adán Medrano, author of the terrific 'Truly Texas Mexican,' Tex-Mex cooking has been an ever-evolving confluence of Mexican, European and indigenous Texas ingredients and techniques, the border between Mexico and America nonexistent to the people who developed this cuisine over centuries.
Cowboys And Indians Magazine:  "Medrano's tome is well-researched and well-illustrated with maps and appetite-stirring photographs of dishes like grilled clams in tequila broth; watermelon canapés with avocado, serrano, and grapes; and a red jalapeño champagne cocktail…It is truly a delight."

Midwest Book Review   "Illustrated with full-color, full-page photography of its sumptuous dishes on virtually every other page, Truly Texas Mexican: A Native Culinary Heritage in Recipes is a wonderful treasury of 100 kitchen-tested recipes showcasing the heritage of Texas Mexican cuisine. From tasty Beef Tamales to Potato and Egg Tacos, Crab and Avocado Cocktail, Hibiscus Drink and much more, Truly Texas Mexican features flavors to remember. A superb addition to cookbook shelves!
Garden & Gun Magazine   "Truthfully, Adán Medrano has no real issues with processed cheese or greasy refried beans. But in his recent cookbook, Truly Texas Mexican, the San Antonio native outlines a different kind of Texas cooking, with recipes that rely upon fewer–and fresher–ingredients. "Texas Mexican" food begins centuries before the first Europeans set foot in the United States, with the simmering beans and roast wild chiles of the tribes that first inhabited the Lone Star State, and continues into the homes of families across the Southwest today–including his own."
The Wall Street Journal, Mumbai, India   "Mexican Wave–Three new caterers use fresh ingredients and authentic methods to make Mexican food that goes beyond Tex-Mex and tacos:  Dsouza attributes his style of cooking to the chefs he respects: Adán Medrano, author of Truly Texas Mexican: A Native Culinary Heritage In Recipes and Rick Bayless…."
The Dallas Morning News   "For the cook who's also a history buff, Houston chef Adán Medrano's Truly Texas Mexican: A Native Culinary Heritage in Recipes is a wonderful journey into the culinary history of the border region encompassing parts of Texas and Mexico before the border existed.
"It's a carefully researched, easy-to-read narrative interwoven with Medrano's own family heritage. The recipes include lots of insider tips on how to coax the best from each ingredient, from chiles to avocados. Also, the recipes aren't hobbled with the kind of authenticity that makes you reluctant to try them, yet they honor the past and help us understand why we cook the way we do."
The San Antonio Express-News   " 'The flavor profile, the character of the food is like the land, straightforward, with no pretense," he said. 'The food says something about the character of Mexican-Americans.
'Tex-Mex' cuisine, on the other hand, developed from restaurateurs who moved to Texas from other places and created their own version of the cuisine that was already here….The book aims not only to define a cuisine, but a sense of identity for Mexican-Americans."
The Texas Observer  "Truly Texas Mexican is at least as much manifesto as recipe collection.…Through all of the mostly violent transformations visited upon the indigenous peoples of Texas, Medrano said, 'Food was the cultural activity that held us together. Cooking nurtured our remembering; through it we invented new identities rooted in that remembering. Preparing food was a day-by-day regeneration."
SavorSA
"Tex-Mex has had its story told in the works of writers such as Robb Walsh. Now it is time for the Texas Mexicans to have their foods and their heritage acknowledged, which is what Medrano's book provides."
The Austin Chroncle  "Medrano traces his lineage to the indigenous peoples who lived on both sides of the Rio Grande in what Europeans would eventually call Mexico. He grew up eating and cooking the foods of that heritage, recreating dishes and techniques passed down in his family for centuries. Before the publication of his book, he spent years researching the history of his native foods, convinced it was necessary to identify and record a distinct regional cuisine he calls Texas Mexican food. That's exactly what he's done. Truly Texas Mexican offers 100 well-documented recipes that clearly represent the native cuisine of Northern Mexico and South Texas….  It's a thought-provoking volume that is a necessary addition to the culinary library of any serious student of the foodways of the Americas."
What Scholars and Chefs Are Saying About:  "Truly Texas Mexican"
Dr. Jeffrey M. Pilcher, Mexican Food Historian, University of Toronto/Scarborough:  "Within the last ten years, people have started recognizing the cuisine (Tex-Mex) as an original American regional food. While this has been a worthy change, people have not really traced the roots of the cuisine, particularly to the distinctive indigenous groups of the region, which is what Adán does."
Dr. Mario Montaño, Chair of the Department of Anthropology at Colorado College:  "Medrano is making a scholarly contribution to documenting the lives of working class Mexicans of South Texas by going to the archaeological record and making the argument that those [native] people had [their own] way of cooking. What he's doing is providing this history which has been neglected or suppressed."
Chef Alain Dubernard CMB, The Culinary Institute of America, San Antonio:  "Adán Medrano speaks from his roots and shares his passion for food, providing an insightful perspective on an often mischaracterized Texas Mexican cuisine."
Chef Johnny Hernandez, Chef/Owner of La Gloria Street Foods of Mexico, The Frutería-Botanero, and El Machito:  "In the deepest part of our soul we are celebrating food and hospitality. These recipes share not only where our culinary traditions come from, but the resiliency of our ancestors and the healing power of food."
Diana Barrios Trevino, Owner of Los Barrios Enterprises:   "Adán Medrano is putting the spotlight on a style of food that often has been overlooked. Once you explore this remarkable Texas Mexican cuisine you will discover a richness that will be cherished for generations to come."
About The Texas Mexican Cookbook Author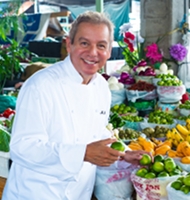 Chef and food writer Adán Medrano is a graduate of The Culinary Institute of America and holds an M.A. degree from the University of Texas, Austin. Now living in Houston, he grew up in San Antonio, Texas, and in northern Mexico, where he developed his expertise in the flavor profile and techniques of indigenous Texas Mexican food. Medrano's professional experience includes fine dining venues such as "Restaurant Ten Bogaerde" in Koksijde, Belgium, cooking demonstrations in Amsterdam and showcasing his recipes at "Nao," the CIA restaurant in San Antonio.
Synopsis of the History/ Cookbook
Over thousands of years, Native Americans in what is now Texas passed down their ways of roasting, boiling, steaming, salting, drying, grinding, and blending. From one generation to another, these ancestors of Texas's Mexican American community lent their culinary skills to combining native and foreign ingredients into the flavor profile of indigenous Texas Mexican cooking today.
Building on what he learned from his own family, Adán Medrano captures this distinctive flavor profile in 100 kitchen-tested recipes, each with step-by-step instructions. Equally as careful with history, he details how hundreds of indigenous tribes in Texas gathered and hunted food, planted gardens, and cooked.
Offering new culinary perspective on well-known dishes such as enchiladas and tamales, Medrano explains the complexities of aromatic chiles and how to develop flavor through technique as much as ingredients. Sharing freely the secrets of lesser-known culinary delights, such as turcos, a sweet pork pastry served as dessert, and posole, giant white corn treated with calcium hydroxide, he illuminates the mouth-watering interconnectedness of culture and cuisine.
The recipes and personal anecdotes shared in Truly Texas Mexican illuminate the role that cuisine plays in identity and community.