Tortilla Soup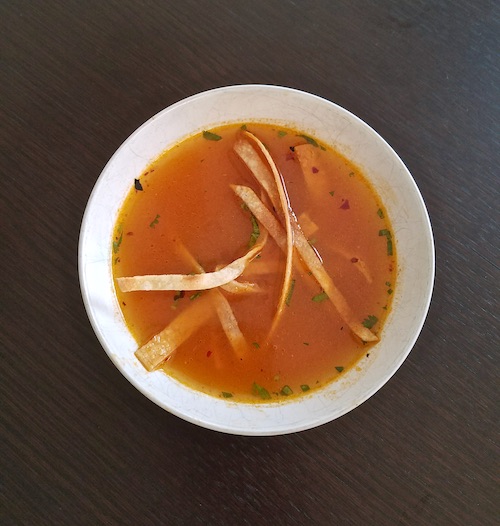 Tortilla soup is nutritious, and allows a family to stretch a chicken over several meals.  With 6 grams of protein per cup, the chicken stock in this recipe can be used to make three meals for a family of four. Covid-19 means we have to scrape, save and stretch every food item in our pantry because regular household income has disappeared. If you are fortunate to be able to donate, now more than ever is the time to donate to food banks and church food ministries.
This recipe is for one chicken but you can use chicken parts if that's all you have.  It will take 3 hours to cook the chicken stock, which you can make ahead, and you can store it in the refrigerator for up to 4 days or in the freezer for up to 3 months. Tortilla strips can also be baked ahead. With these advance preparations, the soup itself can come together in about 15 minutes.
Recipe for Tortilla Soup
Adapted from the cookbook: "Don't Count The Tortillas: The Art of Texas Mexican Cooking"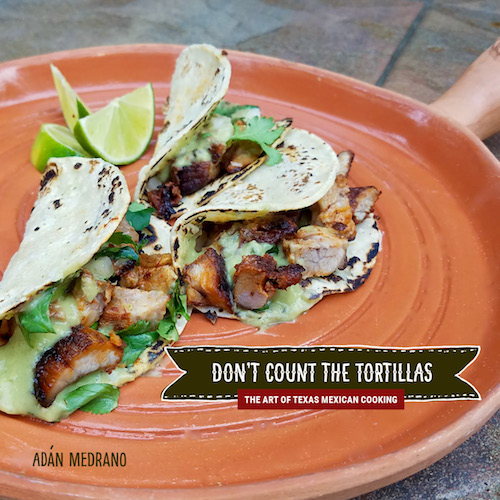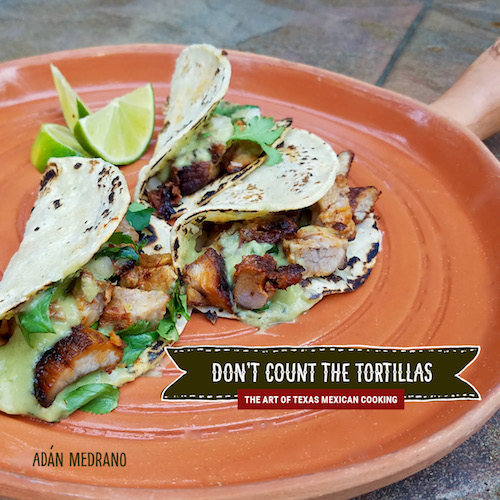 Ingredients (serves 4)
For the Chicken Stock:
1 whole chicken, about 3 pounds, cut into large pieces
1⁄4 white onion
1 clove garlic
1 1⁄2 gallons cold water
For the Tortilla Soup:
(with already prepared chicken stock, total time 15 minutes)
2 medium tomatoes
1 4-inch-long chile guajillo, half of which can be reserved for use in a salsa or other recipe
1 clove garlic
1⁄4 cup white onion
6 corn tortillas
3 tablespoons no-trans fats vegetable oil, to brush lightly on the tortillas
6 cups chicken stock
1 teaspoon salt
1⁄4 cup fresh cilantro, coarsely chopped.
lime wedges
Method
To Make the Chicken Stock
1. In a large stockpot, add the cold water, onion, garlic, and chicken and bring to a boil. Reduce heat to a very slow simmer. Simmer for 3 hours, skimming off regularly any foam that forms on the surface.
2. Strain the cooked chicken stock with a fine mesh sieve and set aside, refrigerate, or freeze depending on when you plan to serve the soup. Reserve the chicken parts to use later for Chicken Fricasé,  or other chicken dish. The cooked chicken can be stored in the refrigerator for 3 to 4 days and in the freezer for up to 4 months.
To Make the Tortilla Soup:
3. Preheat oven to 350 ̊F.
4. On a cutting board, lightly brush vegetable oil on both sides of each corn tortilla. With a sharp knife, slice the oiled tortillas into 1⁄4-inch strips.
5. Place the tortilla strips on a baking sheet, taking care not to crowd them, and bake in a 350 ̊F oven for 12 to15 minutes, until they turn a deep golden color. If the strips are undercooked and pale, they will not be crispy enough for the soup. Set the strips aside.
6. On a comal, roast the tomato and guajillo chile on medium heat, turning them as necessary. Remove the chile after it begins to blacken, about 3 minutes, break off a 2-inch piece that you will use, and remove all the seeds. Save the rest of the guajillo to make a salsa for another meal. The tomato will take longer to roast, about 12 minutes. It will become soft, with black spots all over.
7. In a blender, add the roasted tomato, onion, garlic, and the deseeded half of the guajillo chile. Purée until smooth but still flecked with guajillo chile.
8. In a saucepan, add the tomato purée and 4 cups of the chicken stock. Taste and adjust the salt. Bring to a simmer; then cover and simmer slowly for 10 minutes.
To serve, distribute the crisp tortilla strips among four bowls and pour the soup over them. Garnish with fresh cilantro and serve with lime wedges.
Stay safe, be well.
NOTE: If you found my article helpful, I invite you to follow me on Twitter, Instagram and Facebook, or subscribe below for updates (I'll email you new essays when I publish them).
---
---