Verdolaga isn't a weed at all but a delicious, nutritous Mexican tradition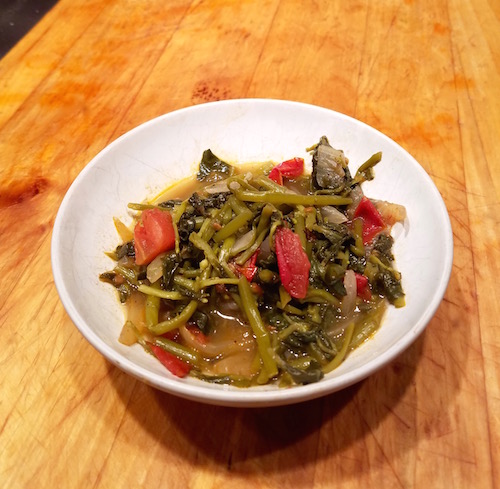 Verdolaga, purslane in English, is the indigenous Texas Mexican herb that I love to serve for company.  It is my "go to" recipe for a delicious green side dish that goes with absolutely anything.  Verdolaga grows wild and is plentiful for most of the year in central, southern Texas and northeastern Mexico.  With fresh tomatoes, onion and green Serrano chile, it's delicious.  Also highly nutritious.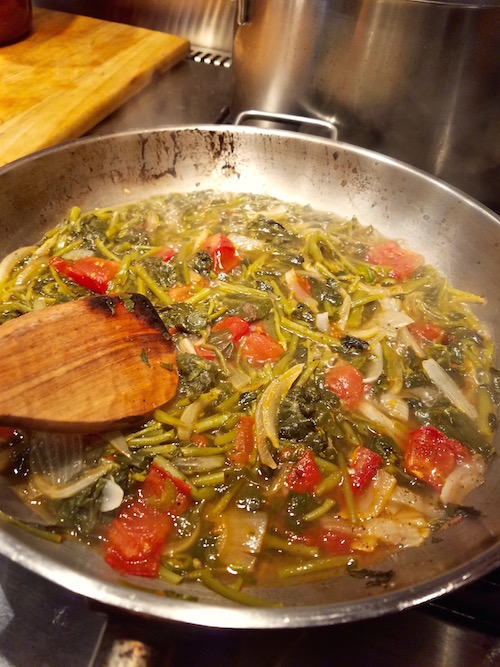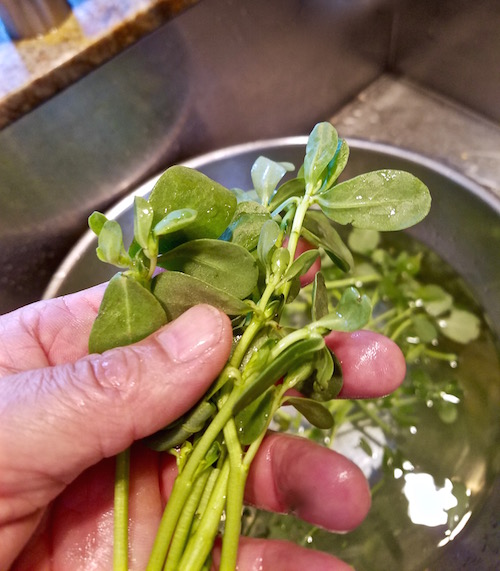 My mom cooked Verdolaga, collecting it from around the house and neighborhood.  It is an authentic, ancient food that's found all over the world, and its presence in Mexico predates the 1492 European first contact. 
Here in Houston you can find it growing in the cracks of sidewalks.  Today not many cooks know about its culinary importance.  Incredibly, it is disliked and considered a weed by large agribusiness.  That's unfortunate because verdolaga is super rich in Vitamins A and C, and contains more omega 3 fatty acids than some fish.   Let's not kill verdolaga, let's eat it.
The scientific name is Portulaca oleracea, and although wikipedia and other sites claim it was brought here from Asia, it is now known by archaeologists that verdolaga is native also to Texas, the Southwest US and Mexico.  The Pueblo and Navajo people gathered and ate these fresh, crispy greens, as did the Tewa, Mescalero Apache, Pima, Tarahumara and others.   Pick the succulent leaves when they are just sprouting, in the first two weeks, when they are the most flavorful and nutritious.
This recipe features the classic verdolaga combination of tomato, onion, chile.
Adapted from the Award-Winning Cookbook:  "Don't Count The Tortillas: The Art of Texas Mexican Cooking"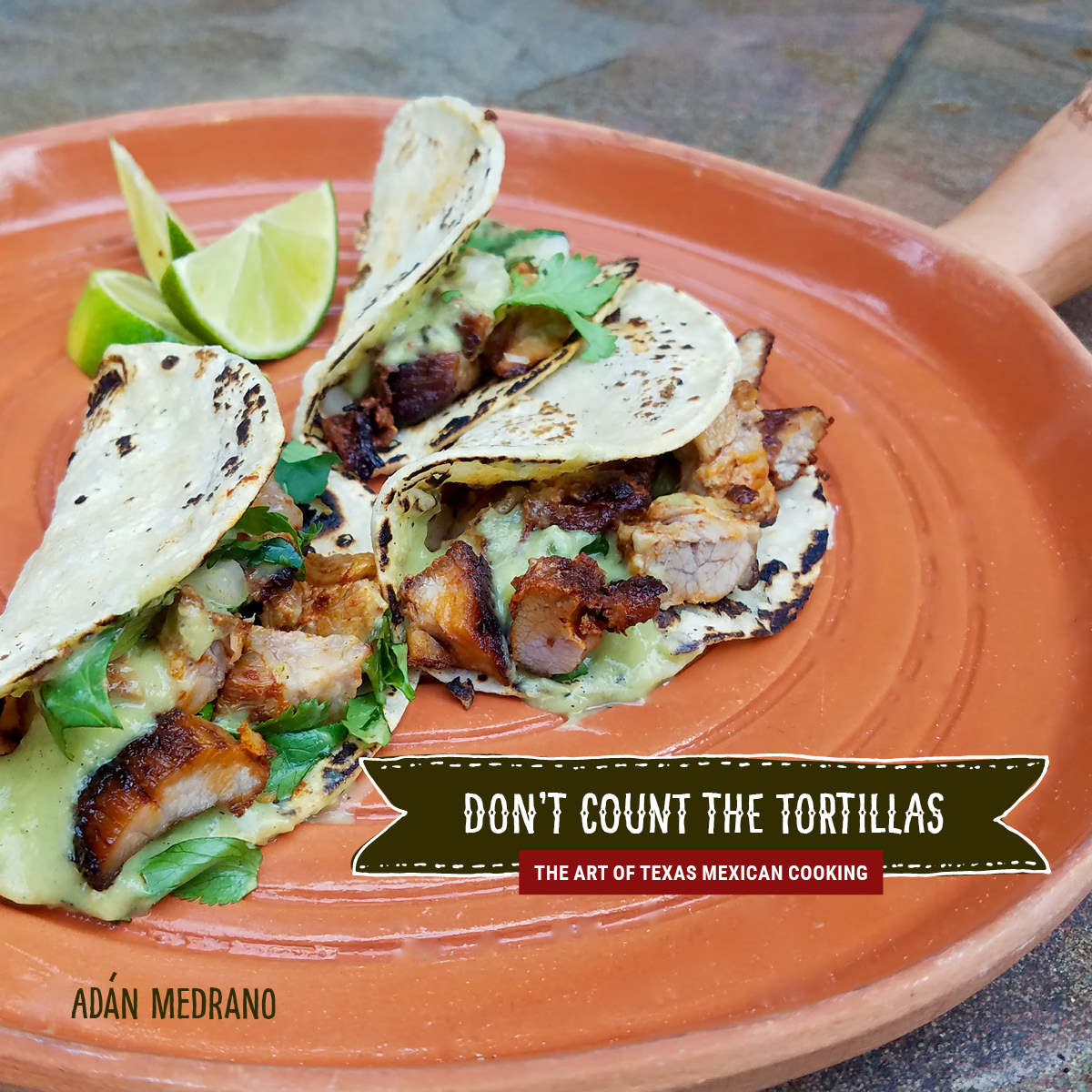 Over 100 Recipes, kitchen-tested with easy-to-follow directions and insider cooking tips.
Green enchiladas | Chilaquiles | Tacos Al Pastor | Red Snapper Soup | Pumpkin Candy
& delicious pastries like Strawberry-Jícama turnover!
Recipe for Verdolaga, Purslane
Ingredients  (serves 4)
1 lb Verdolaga, washed and trimmed
1/4 Onion, peeled, sliced thinly, (makes 1/3 cup)
1 Garlic clove, minced
6 cups water
1 Roma Tomato, cut into large cubes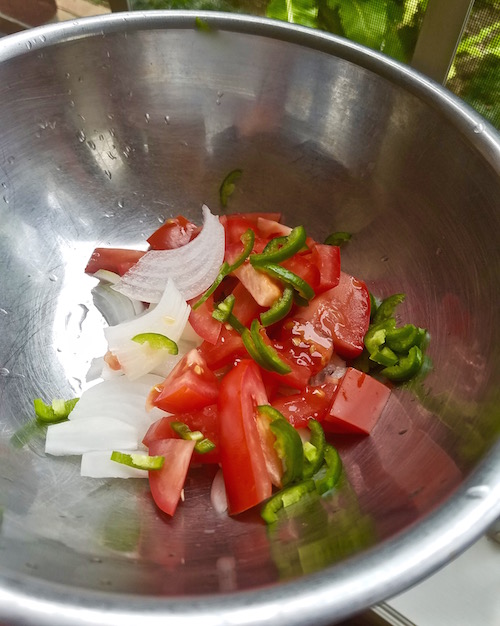 1 Green Chile Serrano, cut into thin slices
1 Tbl Canola Oil
1/4 tsp Salt or to taste
Generous grinding of Black Pepper
Method
1.  Wash the verdolaga well and trim away any brown leaves and knotty stems.  Place in a saucepan, cover with water and bring to a boil.  Cook for 20-25 minutes until the stems are completely soft.  After they are cooked, use a slotted spoon to remove the greens,  and place them in a strainer to drain. Set the water aside.  It is a delicious broth and also makes a great stock.
2.  In a skillet, heat the oil, then add the onion, garlic, tomato and chile. Cook for about 3 minutes until the onion becomes translucent.
3.  Place the verdolaga on a cutting board and cut it into 2″ lengths.
4.  Add the verdolaga to the skillet and cook for a minute.  Add 1 1/2 cups of the verdolaga broth, bring to a boil and cook for another 5 minutes.  Taste and correct the salt.  Add a generous grinding of black pepper.
Serve hot.
NOTE:  Sometimes you'll want to serve it as a soup, so add all of the broth in step #4.
¡Buen Provecho!
NOTE: If you found my article helpful, I invite you to follow me on Twitter, Instagram and Facebook, or subscribe below for updates (I'll email you new essays when I publish them).
---
---