Texas Mexican Queso Soufflé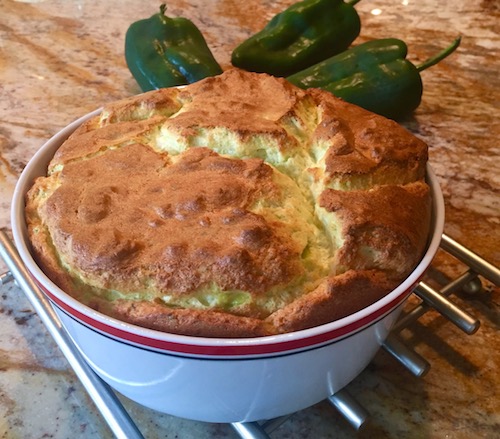 I love making this queso soufflé for friends.  It's a special recipe that I feature in my new book, "Don't Count The Tortillas: The Art of Texas Mexican Cooking" published by Texas Tech University Press.  Brush aside any fears about making a soufflé  and you'll be well rewarded because it's delicious and fun to share with friends.  I wrapped my new book in Christmas ribbon because I think it makes a meaningful Christmas gift (hope you agree).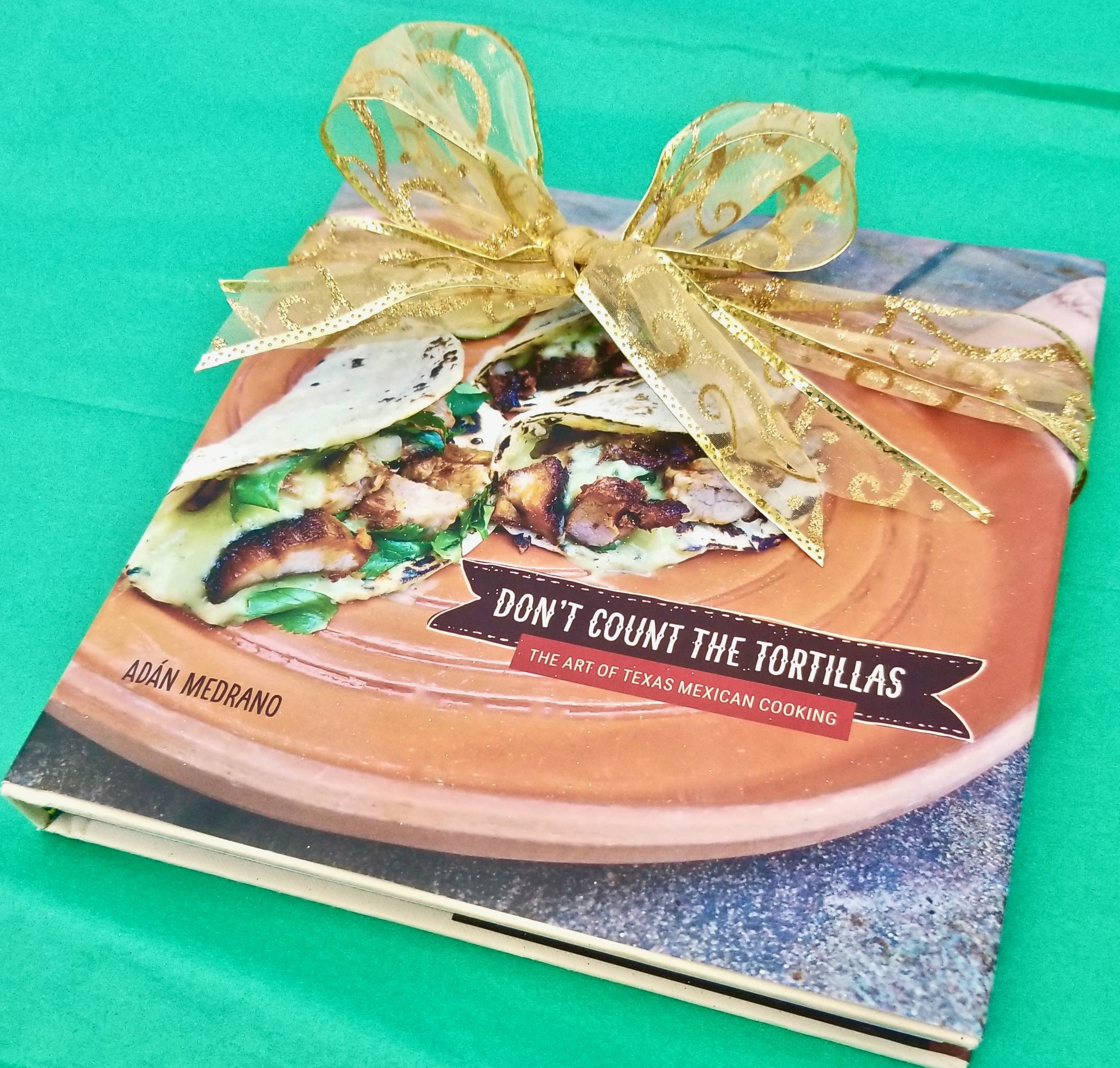 Chile Con Queso was one of the recipes that I especially liked in my previous book,"Truly Texas Mexican," but if you see that recipe, you'll be surprised that it's not the dish that is served in many corporate-owned restaurants that distinguish their food by using the term, "tex-mex."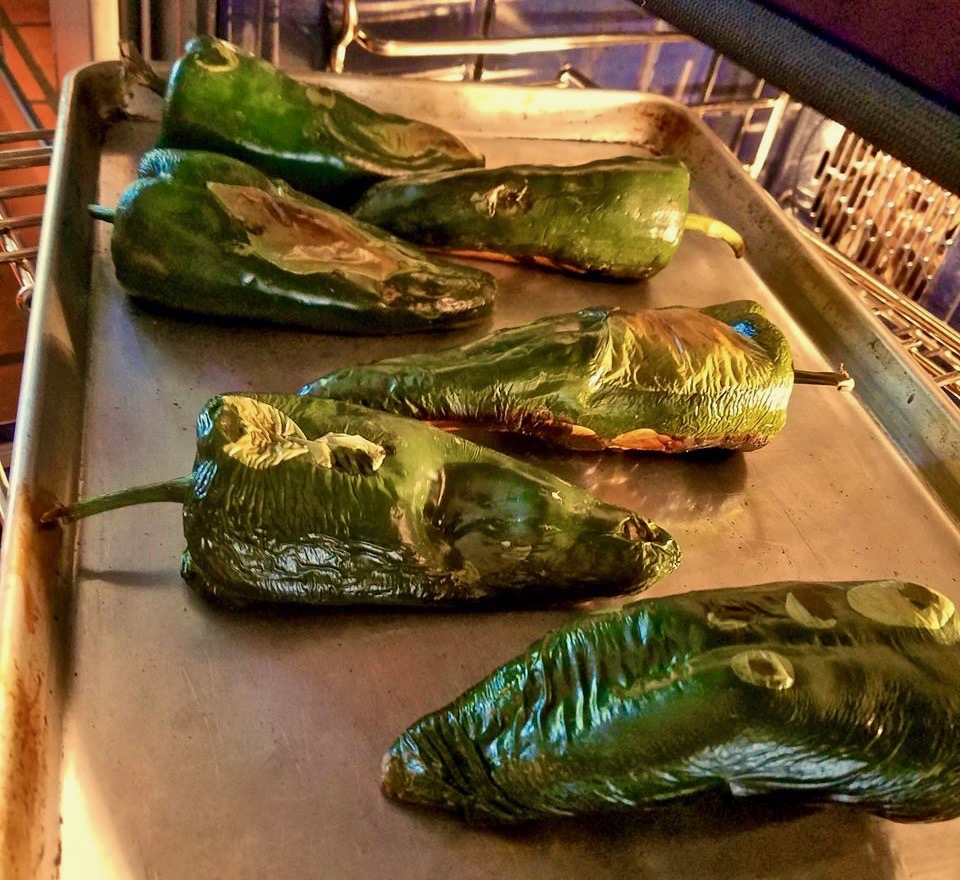 I use Poblano chiles, crema Mexicana, and Queso Chihuhua, so it's more like the Chile Con Queso of family-owned Mexican restaurants all over central, south Texas and northeastern Mexico that do not use the term, tex-mex. We are abundantly blessed with so many variations, and they all depend on a judicious selection of chile, onions properly sautéed before combining with fresh tomato and American or Cheddar or other cheese.  Sometimes seasonings and other flavorings are added, and I've enjoyed all of the variations.
Among my favorites are the recipes of family-owned restaurants like Matt's El Rancho, Mi Tierra, La Mexicana, El Tiempo, Sylvia's Enchilada Kitchen, Los Barrios, and so many more (I realize that every time I make a list of restaurants, I have regrets because absolutely in this case I've left out important and delicious ones–disculpas).  There is no end to the creativity that can go into a Chile Con Queso, or as most of us call it, "Queso."
This recipe is for both the experienced cook and neophyte, and I offer it as an example of how strongly Mexican ingredients and culinary aesthetics influence fine dining all over the world.  Chef Iliana De La Vega says in a recent interview that "fine dining is not about white tablecloths and fancy china, it's about taste." Mexican taste and ingredients are delicious and influential.
Of course it's French, but it's also Mexican, the two cuisines having been combined ever since French people stepped onto our soil.  I love celebrating intercultural creativity. Spead the love!
The Poblano flavor is mixed with the delicate crema Mexicana and the robust Chihuahua cheese.The bottom of the soufflé dish is layered with a thin tomato and onion "fondo" ("fond" in French). To my taste, this makes it a respectful variation on the traditional Texas Mexican Chile Con Queso dish.
Texas Mexican Queso Soufflé
Recipe  (makes one 9″ souffle, serves 4)
Adapted from the cookbook, "Don't Count The Tortillas: The Art Of Texas Mexican Cooking"
Ingredients
1/2 cup white onion, small dice
1 medium ripe tomato, diced
1/2 Tbs Canola oil
3/4 cup Queso Chihuahua, shredded
1/2 cup Milk
1/2 cup Crema Mexicana
1 Green Chile Poblano
2 Tbs Butter
2 Tbs Flour
1/2 tsp Salt
3 Egg Yolks
5 Egg Whites
1 pinch Cream of Tartar
Butter to coat the soufflé dish
Method
Preheat oven to 375° F
1. To make the "fondo": Heat the Canola oil in  non-stick skillet over low-medium heat, then add the tomato and the onion. Cook slowly until the juices from the tomato begin to evaporate and the onion is translucent.
2.  Grease a 9″ soufflé dish with butter and sprinkle the bottom with the cooked onion and tomato.  This layer will caramelize and form a flavorful "fond" at the base of the soufflé.  Set aside until ready to be filled.
3. Place the green chile poblano under a broiler and char the skin on all sides, turning the chile as needed. After all surfaces of the Poblano chile are charred, place it in a paper bag so it cools down and sweats.  This'll take about 15 minutes but you can leave it in the bag for several hours if you have to.
4. Place the cooled Poblano chile on a cutting board and, with your fingers, peel off all of the skin. The skin will peel off easily because sweating in the bag releases the skin.  Make a slit along one side, lengthwise, and remove all of the seeds and the stem.
5.  Place the peeled, de-seeded chile in a blender and add 1/2 cup milk and salt. Blend until completely smooth.  Set aside.
6.  In a saucepan, heat the butter and flour over medium heat, stirring to combine, for about 2 minutes.  The mixture will turn a golden color (not brown).  Remove the saucepan from the heat.
7. Add the Poblano chile purée to the flour mixture, all the while whisking so that the mixture stays smooth with no lumps.  Then add the Crema Mexicana and whisk until smooth.  Finally, add the cheese and 3 egg yolks, and whisk briskly, making sure that the mixtures stays velvety smooth.  Set aside
8. In a bowl, add the egg whites, pinch of cream of tartar, and beat until you have firm peaks.
9. With a spatula, add about 3/4 cup of the stiff egg whites to the Poblano/cheese mixture and incorporate it, folding gently to make the whole thing lighter.  Then add the Poblano/cheese mixture to the remaining egg whites and fold together thoroughly, gently. A good way is to slice the center with the spatula and scrape the bottom outward, folding the sides over the center and repeating.
10. Pour the mixture into the buttered soufflé dish and bake for 22-25, until the soufflé has risen and the top is a deep golden brown.
Serve immediately, making sure that each serving includes the tomato and onion "fondo."
Accompany with a good mezcal or tequila.
¡Buen Provecho!
ATTRIBUTION NOTE- For online sites and print publications that use this recipe, and others on my blog, please let me know and use the attributiion: "Excerpted with permission from adanmedrano.com"
NOTE: If you found my article helpful, I invite you to follow me on Twitter, Instagram and Facebook, or subscribe below for updates (I'll email you new essays when I publish them).
---
---