Bourbon Pecan Pie Recalls Emma Tenayuca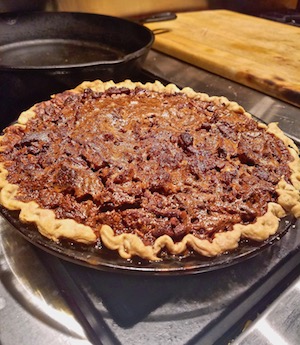 FROM MY ARCHIVES: A pecan pie for Thanksgiving.
This pecan pie, with piloncillo and a bit of bourbon in it, tastes of celebration and abundance.  I wrote about this on Thanksgiving day, and I share the recipe now in preparation for the new year.  It's delicious, full of memory and fun.
Nueces (pecans), are native to Texas and nourished our indigenous ancestors who, living freely in the countryside, picked them, cooked them, used them as ornamentation, and did so for thousands of years,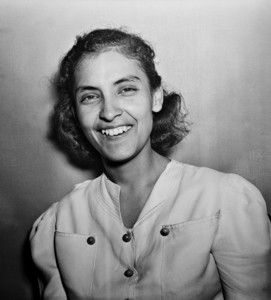 Pecan pie recalls family and friends who long ago fought for justice.  In 1938, San Antonio, 12,000 pecan shellers at the Southern Pecan Company, mostly Mexican American women, walked off their jobs, a 3-month strike during which police became involved at the behest of the political leaders.  Police harassed and arrested hundreds of striking workers, actions which The Texas Industrial Commission later investigated and found to be an unjustified interference with the right to peaceful assembly.  The strike ended with the workers gaining an increase in pay.
Emma Tenayuca led the way during the violent strike that received national and international attention.  She was a San Antonio native and graduated, M.Ed., from Our Lady Of The Lake University.  Having to leave San Antonio because of death threats, she lived in Houston briefly, then moved to San Francisco, thereafter returning to San Antonio.
Tenayuca's grandfather, Francisco Zepeda, helped her read newspapers as a young girl and often took her to San Antonio's Plaza del Zacate, a gathering spot where community leaders shared news and talked about politics. The discussions instilled in her a lifelong passion for learning and social justice. By 15, she was a gifted, well-read high school student, who could debate the issues of day in English and Spanish.
Over 100 kitchen-tested recipes: Tacos Al Pastor; Red Enchiladas; Tortilla Soup; Nopalitos Salad;
Also Vegan dishes and traditional Mexican pastries and cookies like Marranitos!
There's even a Chile Con Queso Soufflé and yummy Mesquite Candy Balls!  Easy step-by-step guide.


Appetizers, Cocktails and Desserts. Illustrated with gorgeous  pictures, written with history and humor.


 ORDER NOW

In the new year, let's commit to stand up and defeat totalitarianism.  Looking at the close of 2016, it's not the first time we've lost a battle, but then we just get up and go on: make positive change for justice, respect for human rights.  Now is not the time for bemoaning.  Time to get to work, make the effort, little by little, everyday, gladly.  My opinion is that good food should always take center stage in the work of justice, so I make this pecan pie and recall past inspirations.
Here are two workers, pecan shellers: María del Refugio Ozuna, age 13, and Mrs. San Juan Gonzalez, age 77, working at the Southern Pecan Shelling Company, Jan. 17, 1938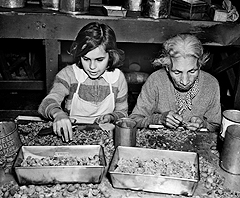 Tenayuca's work for labor issues and civil rights predated Cesar Chavez and the Civil Rights movement. Below, Emma Tenayuca organizes the 1938 Pecan Shellers Strike in San Antonio. "What started out as an organization for equal wages turned into a mass movement against starvation, for civil rights, for a minimum-wage law," Tenayuca recalled in 1987. The strike also marked "the first successful sally in what became the Mexican-American social justice movement," notes, University of Texas historian Don Carleton.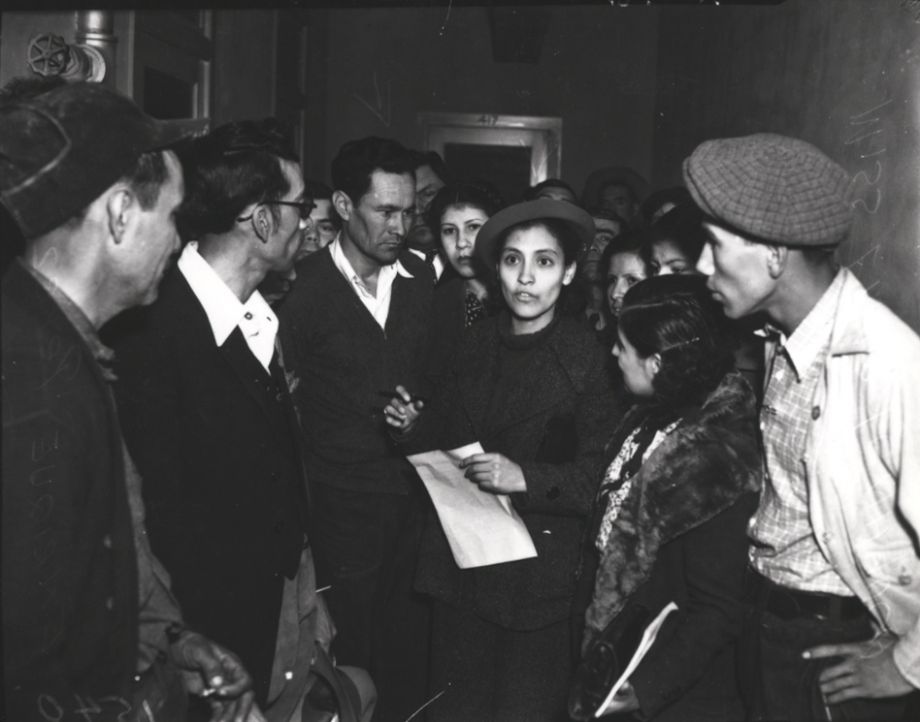 During Emma Tenayuca's 1999 eulogy, San Antonio poet laureate, Carmen Tafolla read: "…. she was our passion, because she was our heart — defendiendo a los pobres, speaking out at a time when neither Mexicans nor women were expected to speak at all."
Recipe for Bourbon Pecan Pie (makes 2 pies)
(Make a pie shell recipe that you like or buy a prepared one.)
Ingredients
6 eggs
1 cup Piloncillo, or dark brown sugar if piloncillo is not available
1 cup light brown sugar
1 1/3 cup light corn syrup
1/2 cup butter, melted
1/4 cup bourbon (any type you like)
1 tsp salt
1 tsp lemon peel (zest), the white pith removed and very finely grated
4 cups nueces: pecan, coarsely chopped, that have been roasted for 5-8 minutes in a 350ºF oven until they deepen in color
Method
Preheat Oven to 350ºF
1.  In a large bowl, whisk the eggs, then add the sugars, whisking until fully blended.
2. Add the melted butter, bourbon, salt, grated lemon peel and whisk well together until fully blended.
3. Add the pecan pieces and stir to combine well. Pour into two pie shells.
4.  Place the two pies in the center rack of the oven and bake for 45 to 55 minutes, until you see the filling puff up, and a toothpick poked in the center comes out clean.
Allow the pie to cool completely before serving.  Enjoy, and Happy New Year!
SOURCES:
Texas State Historical Association:  https://tshaonline.org/handbook/online/articles/fte41
Houston Institute For Culture: http://www.houstonculture.org/hispanic/tenayuca.html
American Postal Workers Union, AFLCIO : https://www.apwu.org/labor-history-articles/pecan-shellers%E2%80%99-strike-sparked-hispanic-workers%E2%80%99-movement
Images courtesy of the University of Texas at San Antonio. Image available on the Internet and included in accordance with Title 17 U.S.C Section 107.
NOTE: If you found my article helpful, I invite you to follow me on Twitter, Instagram and Facebook, or subscribe below for updates (I'll email you new essays when I publish them).
---
---