Italian Tomato Sauce Has Mexican Roots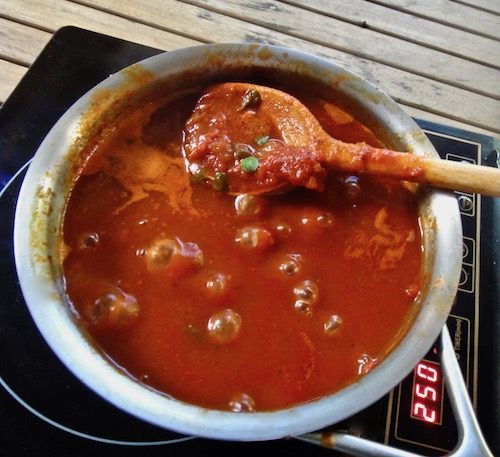 Gracias, Italy, for inventing this delicious tomato sauce that can be turned into fra diavolo, puttanesca, and any other of the Italian variations.  Although It was Mexicanas and Peruanas  who first cooked tomato sauces, salsas, Italian tomato sauce  is unique because it incorporates olive oil and garlic.
The Italian use of chile in tomato sauce, and also in Marinara sauce, gives a nod to their roots in Mexican culinary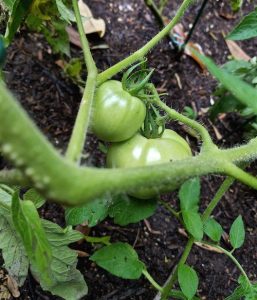 traditions.  Tomatoes are from the Andean region and Mexico where they were simultaneously cultivated.  There is archaeological evidence of tomato cultivation in Mexico 700 years BCE. Tomatoes were taken to Italy from Mexico in the 1500s, and recipes for tomato sauce are found in early cookbooks, the first one written by Italian chef Antonio Latini in 1692.
All of this history invites us to appreciate the importance of the migration of peoples in the development of world cuisines.  Our foods point to the fact that we are all intertwined, we are brothers and sisters, sharing one planet. As ingredients travel from one culture to another, foods change. We change.  Migration has been and continues to be the fountainhead of delicious culinary twists and turns in every part of world.
To the distinctive flavor combination of olive oil and garlic in this recipe, I've added onions because pairing onions with tomatoes is an iconic Mexican flavor. I use Mexican oregano, (Lippia graveolens), just because I prefer its taste with tomatoes, but any other oregano will be as delicious.
Do what I do and multiply the recipe to make a large batch of this zesty tomato sauce and freeze it in plastic bags.  It's really great for spaghetti, meatballs and especially in baked dishes like eggplant parmigiana and pizzas.
Recipes For Italian Tomato Sauce

Ingredients For Tomato Sauce (makes 4 cups)
4 cups Roma tomatoes, canned or fresh
2 cups Chicken stock
1/2 cup White Wine
1/2 small Onion
1/4 cup Celery, diced
2 Tbs Italian Parsley, chopped
4 Tbs Extra Virgin Olive Oil
2 four-inch sprig Mexican Oregano (or other type if unavailable)
1 Rind of Parmesan Cheese, 2″ x  3″
1 Garlic Clove, minced
1/4 tsp ground Black Pepper
1/8 tsp ground Chile De Arbol
1/4 tsp Salt to taste
Method
1.  In a large saucepan, heat the olive oil on medium heat and then add the onion and celery and cook until soft.
2. Add the garlic and cook for 1 minute.
3. Add the wine and cook until it evaporates, scraping the bottom of the pan to unstick any brown bits.
4. Add all the other ingredients and use a masher to mash the tomatoes slightly. They should remain fleshy.  Bring to a boil.
5. Lower the heat to a bare simmer, cover the saucepan and cook  for a couple of hours, or (my preference), pour into a crockpot and cook on medium or high for 6 to 8 hours.  At the end of the cooking time, if you want a thicker sauce, simmer uncovered in a saucepan.
Let me know what you think.  ¡Buen Provecho!  Buon appetito!
NOTE: If you found my article helpful, I invite you to follow me on Twitter, Instagram and Facebook, or subscribe below for updates (I'll email you new essays when I publish them).
---
---