Spanish Paella Is All About Friendships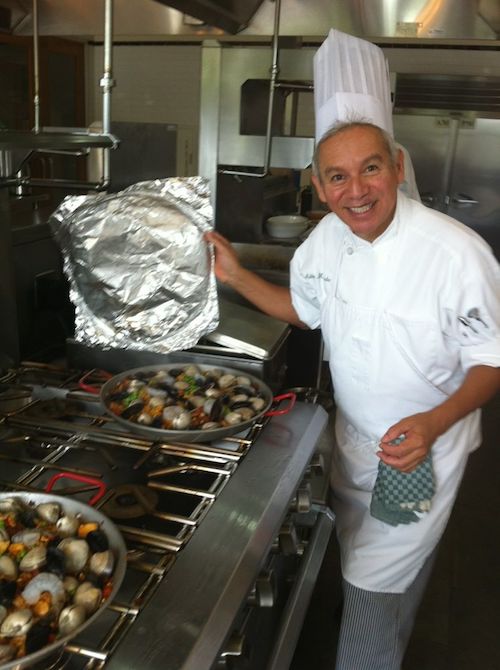 Paella is Spanish for friendship, right? Well, it should be.  Friendships seem to surround Spanish paella, both making it and eating it.  Although it's famous all over Texas and Mexico, it's still a Spanish paella, not Mexican.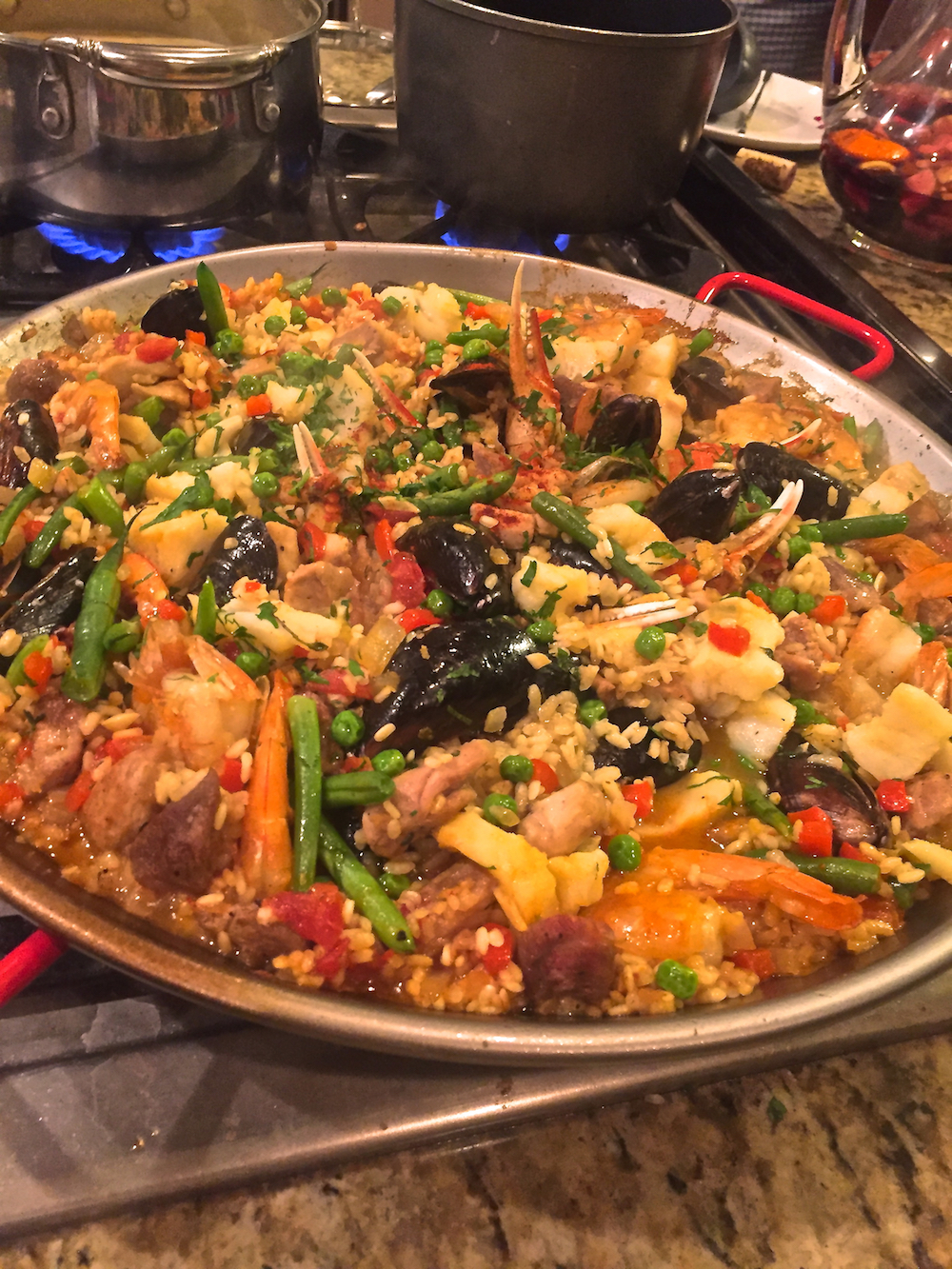 In the late 1800s and through the 1900s, the  term "Spanish" was sometimes used to mean Mexican, or Mexican American. Restaurants serving Mexican food called themselves "Spanish" because the term, Mexican, was considered pejorative by Anglo-Americans. Segregation, employment discrimination, and, yes, horrendous lynchings were the common life of Mexican Americans.  Much has been written about the civil-rights violations of African-Americans in the South, but not about the violence committed against Mexican Americans.
I applaud Mexican American restaurants who called themselves "Spanish," because they are among the champions of the Mexican food of Texas, finding ways to serve delicious food within a complex, politically difficult environment.
Houston's Spanish Village was founded in 1953 by the Medina family. There's no paella on the menu, only classic Mexican food, the Medina family recipes.  Another traditional Houston Mexican restaurant, Spanish Flowers, was founded by Mary L. Bernal in 1979. There are no Spanish dishes on Bernal's menu that describes her food as "genuine Mexican dishes, as well as Tex-Mex favorites….A taste of Mexico 24 hours a day!"
We love both Spanish and Mexican, enjoying festive Spanish Paella without ever confusing it with any of our delicious Mexican regional dishes that showcase chicken in a skillet like Calabacita con Pollo and, my favorite,  Arroz con Pollo.
All of my Chicano Chef friends have their own very personal version of Paella. In Los Angeles, I spent a festive evening cooking paella with Art Rodriguez and Stephen Chavez of Latino Foodie. The picture above is Art's recipe, echoes of Paella Valenciana.
My own Spanish Paella recipe is one that I've made personal simply by using Texas smoked sausage and Texas Gulf coast shrimp.  Brown the sausage first and then use the drippings to brown the chicken.  Deglazing leaves you with a robust flavor addition to the cooking liquid.  Paella is delicious, it's for friendships.
Spanish Paella Recipe (serves 6)
Ingredients:
3/4 lb Smoked Sausage, sliced into 1/4″ rounds
1 lb Chicken, skinned, cut up into small pieces
3 cups Arborio Rice (Purists keep nagging me that this should be the Spanish bomba rice.  OK, you have been heard! I'll discuss that in another post about Texas adaptations.)
1 1/2 tsp Saffron threads
1/2 lb Shrimp, peeled and deveined. I like Texas Gulf coast
10 Mussels, scrubbed clean, de-bearded
10 Clams, scrubbed clean
6 oz.Bay Scallops, (If using sea scallops, I cut them in half)
1 1/2 cups Green Peas
3/4 cup Red Bell Pepper, sliced into  1/4″ X 3″strips
1/4 cup Onion, diced
1 small garlic clove, minced and crushed
3 cups chicken broth
3 cups water
1/2 cup dry white wine
Lemon wedges
Method:
1.  In a saucepan, heat the water and chicken stock, add the saffron threads and garlic and steep for 5 minutes.
2.  In a paella pan, cook the sausage on medium heat until it is browned.  Remove the sausage and discard all but 2 tablespoons of the fat
3. On high heat, add the chicken and onions and cook until the chicken is slightly golden and the onions translucent, about 2-3 minutes.  Add the wine and deglaze the pan, scraping with a wooden spoon to dislodge all the brown bits and evaporate most of the wine.
4.  Add back the sausage and also the rice, saffron liquid,  and red bell pepper.  Bring to a boil, then lower the heat to a very low simmer and cook, covered, for 10 minutes
5.  Add the peas and shellfish, pressing the shellfish down into the rice and liquid.  Bring the liquid to a simmer, cover and cook for 5 minutes, until the shellfish is cooked. It is ready to serve.  Gather round, spring open the cover and enjoy the lusty steam and aroma.  Serve with the lemon wedges.
As they say in Spain, ¡Buen Provecho!
NOTE: If you found my article helpful, I invite you to follow me on Twitter, Instagram and Facebook, or subscribe below for updates (I'll email you new essays when I publish them).
---
---