Shrimp Etouffee pops with Chile De Arbol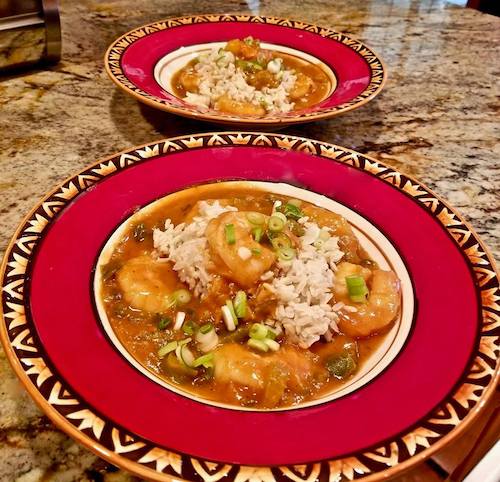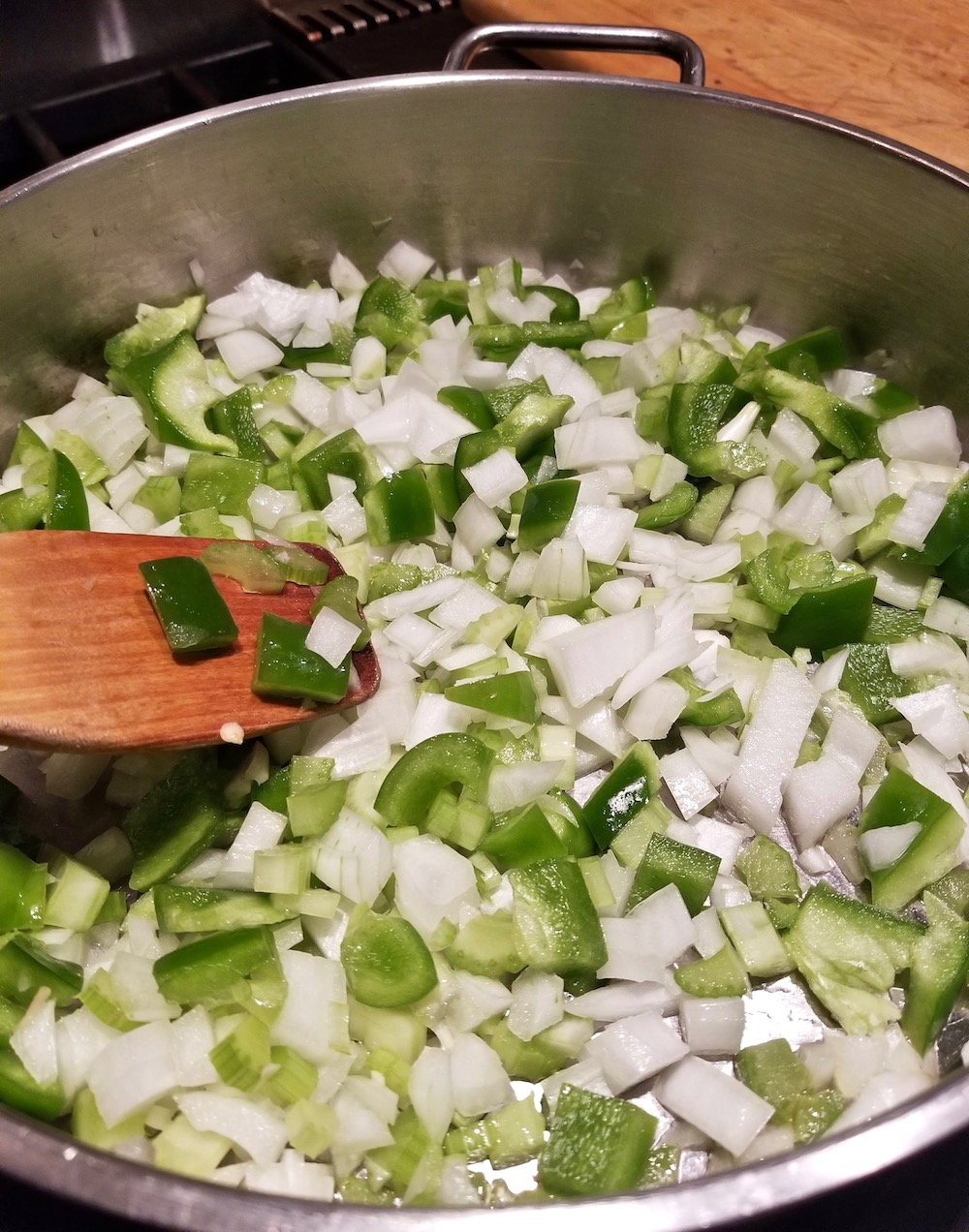 Shrimp Etouffee always reminds of me how chiles are beloved all over the world. Cajun cuisine adopted Mexican chiles, creating new tastes, and the results are inspired. Chile dulce (bell pepper) is essential to cajun cuisine. Because it has no capsaicin, chile dulce (sweet chile) has no heat, and when combined with celery and onion, these three ingredients form the "holy trinity" of cajun cuisine.
I love sweating the cajun holy trinity because it has a memorable aroma, and the three tastes combine to make one unique flavor.  It's this base that makes shrimp etouffee so delicious. I cook the vegetables over very little heat, covered, for an extended period of time, until the vegetables are soft.  In the process, they release liquid and thus "sweat." Sometimes I sweat the vegetables for over an hour!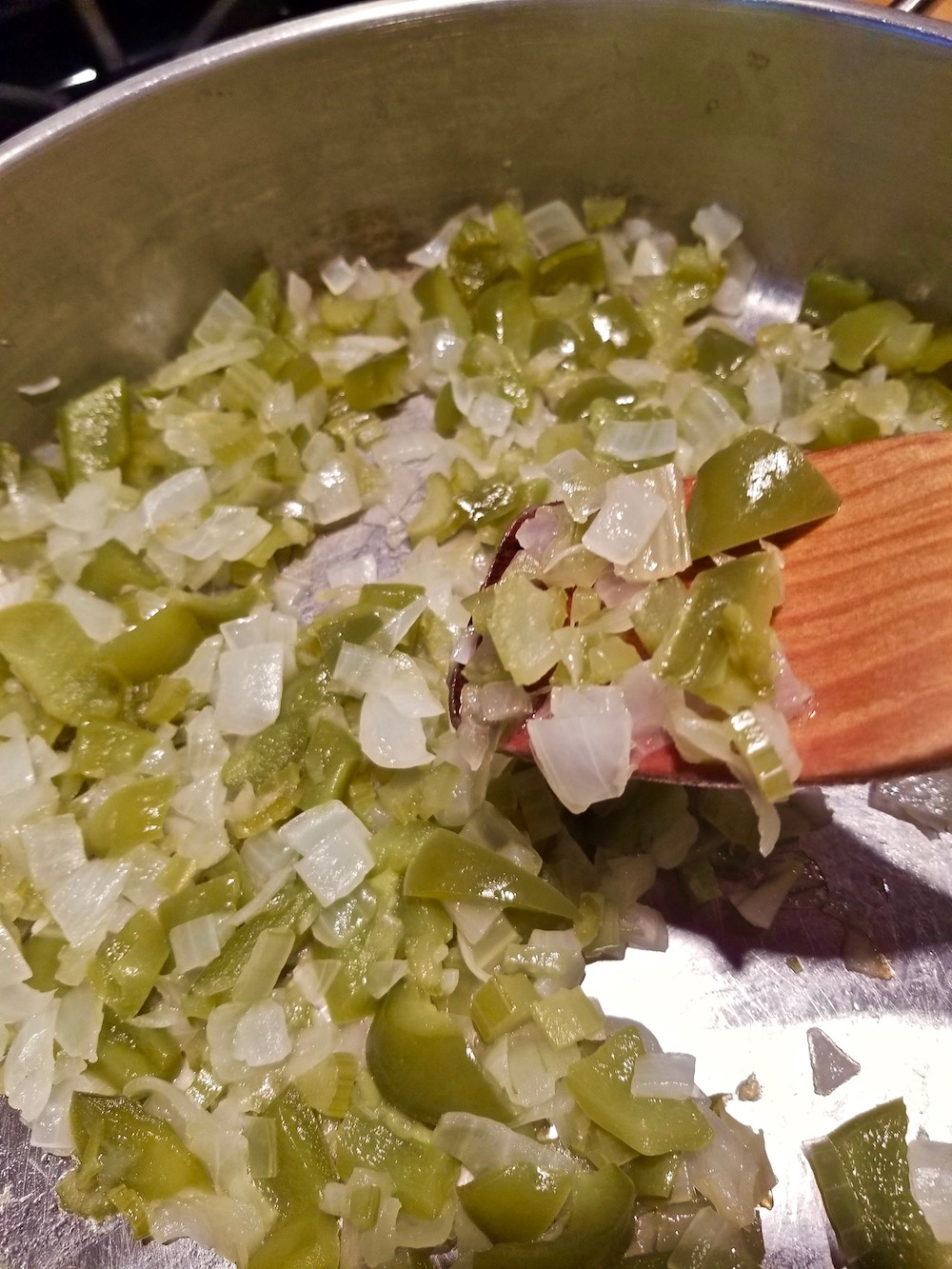 I go basic Mexican with the chiles in this recipe. Instead of cayenne, use the more flavorful chile de arbol, roasted on a comal or skillet and then ground in a molcajete (mortar) or spice grinder.  Instead of Tabasco sauce I use the juice from pickled jalapeños.  And finally, I like Mexican oregano.  These are very fine details, but they make a difference in this robust but still delicate sauce.  As in all home recipes, the fat is very low.  This is really a recipe that's fun to make and fun for company.
Recipe for Shrimp Etouffee with Chile De Arbol
Ingredients (serves 4)
1 Tbs butter
1/4 cup AP flour
1 lb shrimp, heads off, peeled and deveined (Save the shells to make the stock)
4 cups water
1 Tbs Extra Virgin Olive Oil
2 cups onion, diced
1 1/2 cups green bell pepper (chile dulce) diced
1 cup celery, diced
2 garlic cloves, minced
1 large tomato, diced
1 Tbs tomato paste
1 1/2 tsp fresh thyme or 1/2 tsp dried
1 tsp fresh Mexican oregano or 1/4 tsp dried (substitute any oregano)
1/2 tsp chile de arbol, roasted on a skillet, and ground to a powder using a mortar (add a bit more if you like it hotter)
1/2 tsp freshly ground black pepper
1 tsp juice from pickled jalapeños (substitute white vinegar)
1 tsp Worcestershire sauce
1 small bay leaf
1/2 tsp salt or to taste
3 green onions, thinly sliced crosswise into rounds
Method
Make the roux
1. Heat 1 Tbs butter in a saucepan over medium heat and add 1/4 cup AP flour. Keep stirring and scraping until the flour turns a light blonde color but does not burn, about 3-4 minutes. Set aside to cool completely.
Make the shrimp stock
2. Peel and devein the shrimp. Rinse the shrimp under cold water and set aside in the refrigerator or on ice.
Rinse the shells under cold water, then place them in a saucepan with 4 cups cold water.  Bring to a low simmer and let simmer for 40 minutes.  Strain the stock and set aside.
Make the vegetable base
2.  Heat 1 Tbs olive oil in a large skillet and add the diced bell pepper, celery and onion. Lower the heat to very low, cover tightly, and  cook for about 15 minutes until the vegetables soften. The onion will be translucent and the green bell pepper will change color to an earthy green.
3. Add the garlic, tomato, thyme, oregano, chile de arbol, black pepper, pickled jalapeño juice, Worchestershire, bay leaf and salt.  Cover and simmer for 10 minutes.
4. Add the roux to the shrimp stock and whisk thoroughly, making sure there are no lumps.  Add to the vegetables and simmer gently for 30 minutes. The sauce will thicken.
5. Add the shrimp to the simmering mixture and cook for 3 minutes, until the shrimp turns white.   Taste and adjust the salt.
Serve the shrimp etouffee with boiled brown rice and garnish with the green onion.
NOTE: If you found my article helpful, I invite you to follow me on Twitter, Instagram and Facebook, or subscribe below for updates (I'll email you new essays when I publish them).
---
---