Grouper With Chile Ancho Almond Mole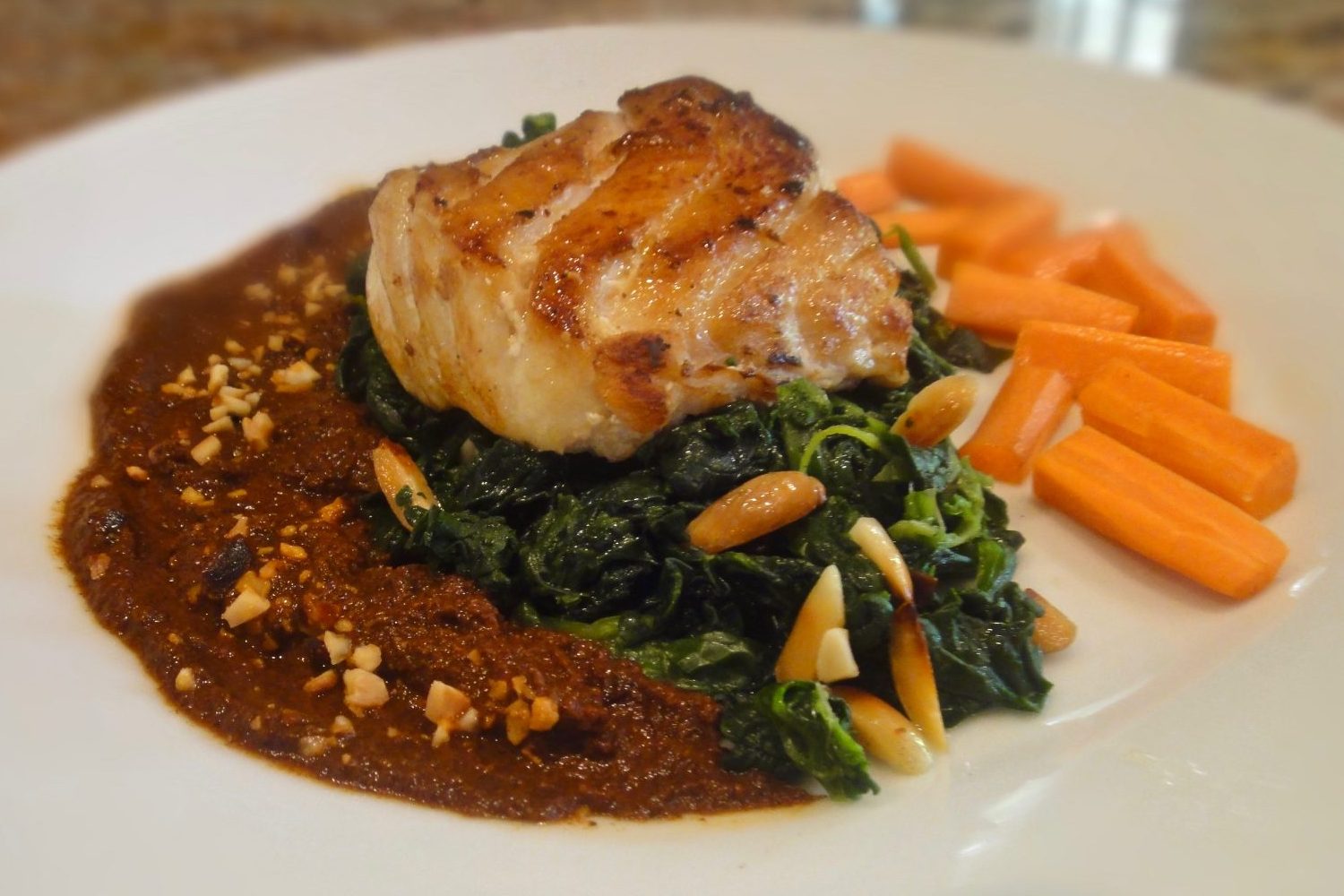 Grouper is a very large, some would say gigantic,  fish that can be found in the Gulf of Mexico, close to Texas and Florida. The Spanish name for grouper is mero.  It has a distinctive but mild taste and here I serve it with a mole that I made using chiles anchos and almonds. I think this mole is great with grouper, so I serve plenty of it on the plate, in case you just want to eat the mole by itself.  Moles are not sauces, they are meant to be able to stand on their own as a dish.
Recipe for Grouper With Chile Ancho Almond Mole
Ingredients (serves 4)
4 six-ounce grouper filets
1 Tbs extra virgin olive oil
additional olive oil to coat grouper filets
salt to taste
For the chile ancho almond mole:
1 chile ancho (1/2 oz), deseeded and roasted on a comal
3/4 cup boiling water
1 large tomato (6 to 8 ounces)
2 Tbs blanched almonds
1 large garlic clove
1/4 cup drained bottled pimientos
1/2 tsp salt
1 Tbs extra virgin olive oil
2 Tbs almonds, roasted and crushed, for garnish
Method
Preheat oven to 400°F
1. Remove the stem and all the seeds from the chile ancho and roast it on a comal (griddle) or skillet so that it develops some dark spots and is aromatic, about 3 minutes. Place it in a saucepan filled with 3/4 cup boiling water and let it re-hydrate for 30 minutes, allowing the water to cool down.
2. Roast the tomato on a griddle or skillet until the tomato is soft and has some black spots. Set aside and allow to cool down.
3. In a blender, add the chile ancho with the water, tomato, pimientos, garlic and salt.  Blend on high for a minute until the mixture is completely smooth.
4. Heat 1 Tbs Canola oil in a deep saucepan and add the chile mixture. Simmer for about 8 minutes until the mixture thickens and the color deepens a bit.  Taste and adjust the salt. Set aside and keep warm.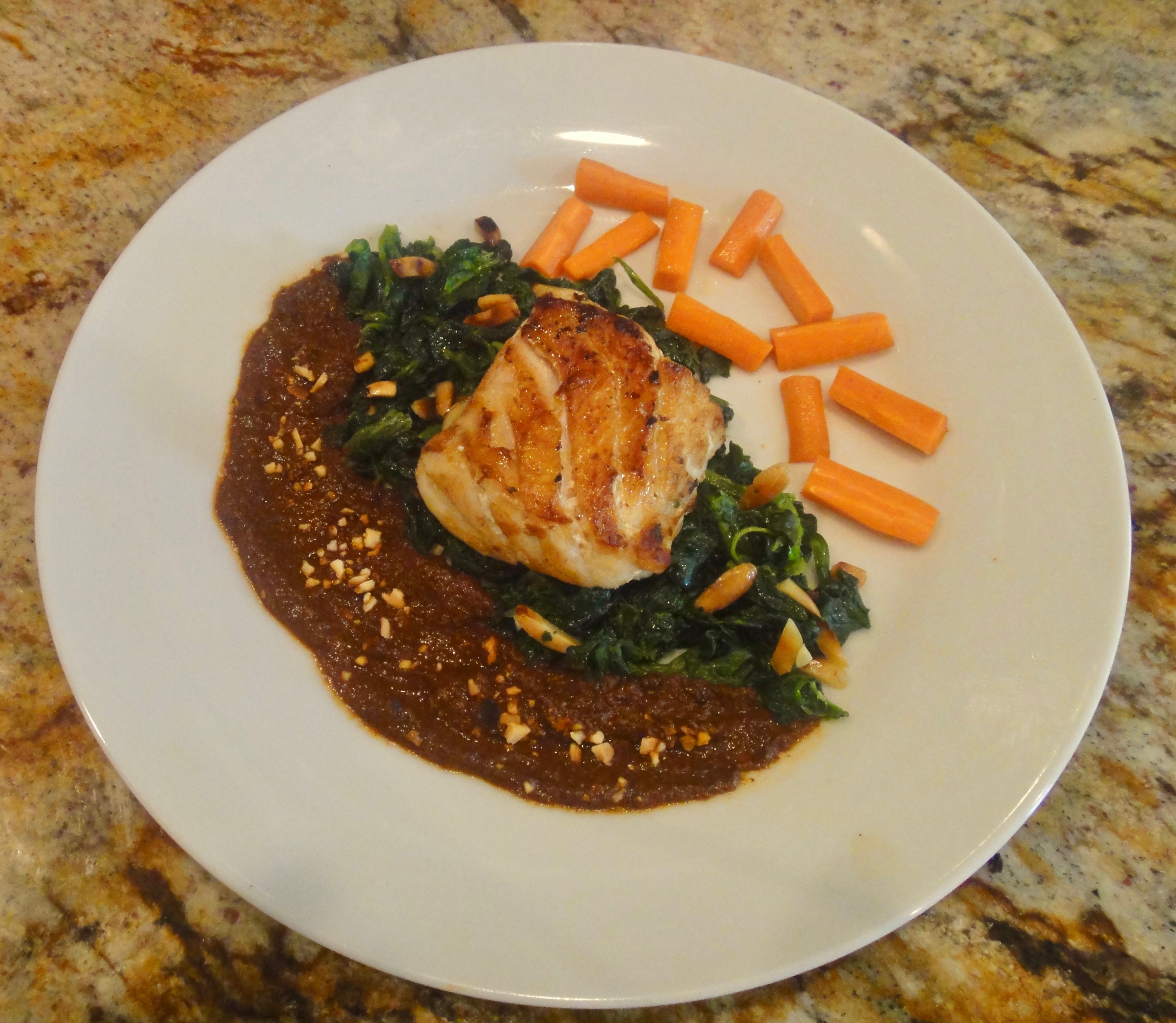 5. Wash and dry the grouper filets. Salt the filets, coat them with olive oil. Set aside.
6. Using a heavy bottom skillet that you can place in the oven, heat 1 Tbs olive oil, on medium heat, and when you see it shimmer, place the grouper filets with the presentation side down.  Do not flip nor move them.
Cook for about 3 or 4 minutes, so that the side that is down develops a golden color glaze. Don't flip them. Place the skillet in the oven and cook for another 4 or 5 minutes, depending on the thickness of the filets.  They are ready when they turn white and opaque.
Remove from the skillet using a spatula, and place on each plate glazed side up.
Serve with the mole on the side and sprinkle the crushed roasted almonds on top of the mole for garnish.
I add steamed carrots and steamed spinach that I toss with roasted slivered almonds.
NOTE: If you found my article helpful, I invite you to follow me on Twitter, Instagram and Facebook, or subscribe below for updates (I'll email you new essays when I publish them).
---
---