Scallops Provençale – French in Texas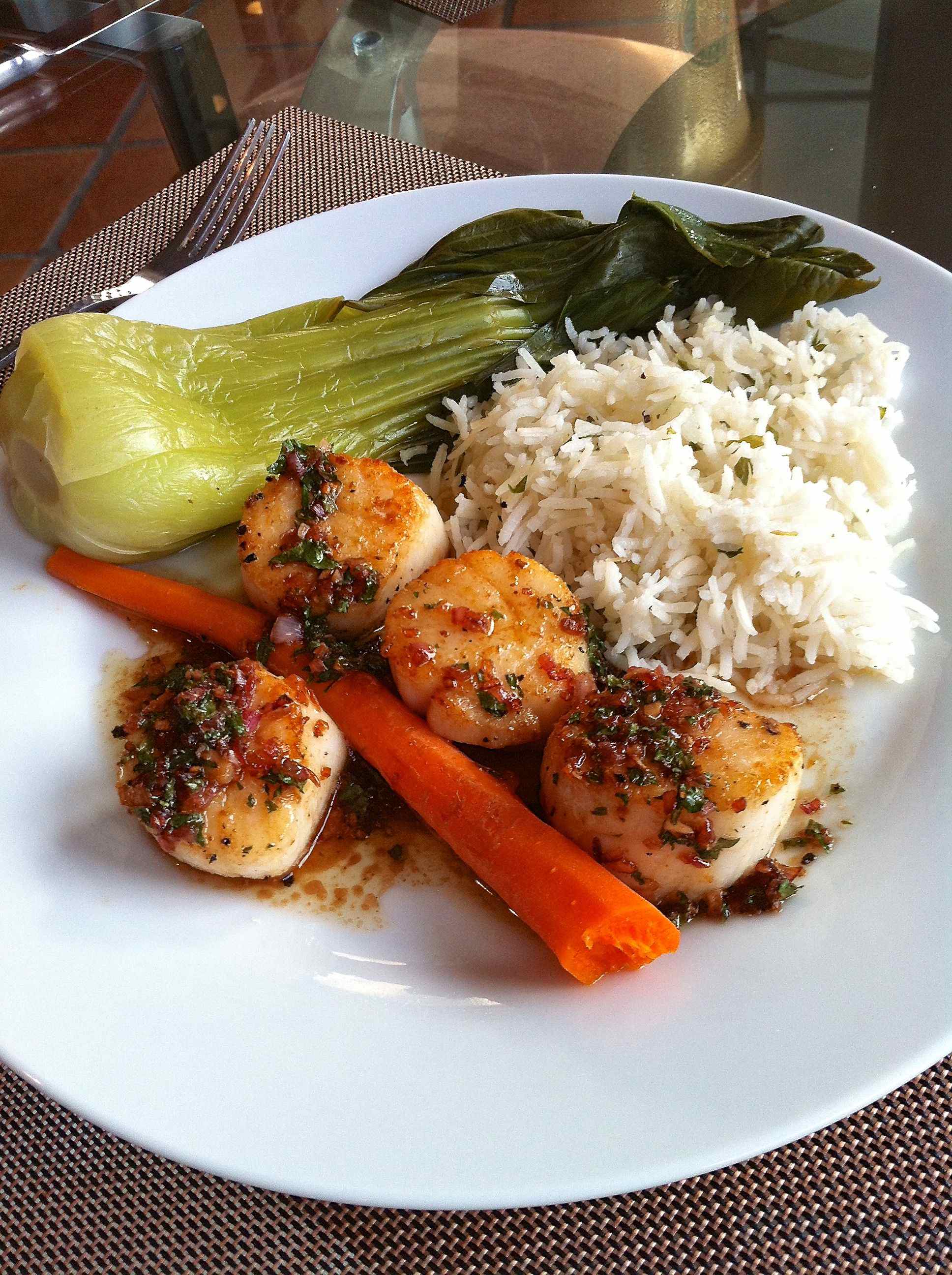 Scallops Provençale:  A quick, French country way to prepare these sweet, succulent bi-valves.  I throw in vegetables that are lying around.  I'm using the larger "sea scallops" here, but in our Texas, Mexico Gulf Coast we have only bay scallops (Argopecten irradians amplicostatus). They live all along the coast from Galveston to Laguna Madre, south of Corpus Christi, and farther south all along the Mexican coast.
In this classic recipe, the ingredients are not so strong as to overpower the delicate scallops.  The trio of shallots, garlic and parsley shouts out, "I'm French!" The olive oil and butter together are delicious.  Mexican and French cuisines met each other in Texas when René Robert Cavelier, Sieur de La Salle, established a French settlement on the Texas coast in summer 1685.  It was near the city of Victoria, but close to the shore, where the Garcitas creek empties into Lavaca Bay. Indigenous cooks adopted some French ingredients and the French adopted some of ours.  Both cuisines were changed forever.  Just try to imagine French cuisine without our tomatoes, potatoes, squash.  And try to imagine Mexican desserts without the influence of French pastries.
Back to our recipe.  You are thinking, "that's a big Bok Choy!"  I agree, but including non-traditional light Asian flavors is sometimes very tasty, and the gigantic size makes for good conversation and sharing. But to be honest, it was lying there, so–in it goes.
 Recipe (serves 4)
Ingredients
1 pound scallops, either bay or sea, rinsed in cold water and dried
1/2 -3/4 cup all-purpose wheat flour
2-3 Tablespoons Extra Virgin Olive Oil
3 Tablespoons Butter
2 Tablespoons Shallots, peeled, minced
1 clove Garlic, peeled, minced
2 Tablespoons Fresh Parsley, minced
Salt and Freshly Ground Black Pepper to taste
1 Lemon, cut into wedges
 Method
1. Sprinkle salt on the rinsed and dried scallops, then dredge them in the flour to coat. Shake off excess flour and set aside.
2. Place a 12″ skillet over medium heat and add the olive oil so that it covers the bottom of the pan completely.  Add more olive oil if necessary. When the oil begins to wave and shimmer, add the scallops, all in one layer.
3. After 3 minutes, toss the scallops to brown all the sides, cooking for another 3 minutes.
4. Add the shallots and garlic and cook for 1 minute.
5. Add the parsley and butter, toss gently and cook for 1 minute, then serve immediately with lemon wedges and a sprinkle of black pepper.
Optional: After step 4, add 1/3 cup sherry and deglaze the pan for 2 minutes, scraping off all brown bits.  Then proceed to step 5.
Serve with steamed rice and vegetables.  Bon appétit!
NOTE: If you found my article helpful, I invite you to follow me on Twitter, Instagram and Facebook, or subscribe below for updates (I'll email you new essays when I publish them).
---
---