Fricasé-Inspired Chicken Casserole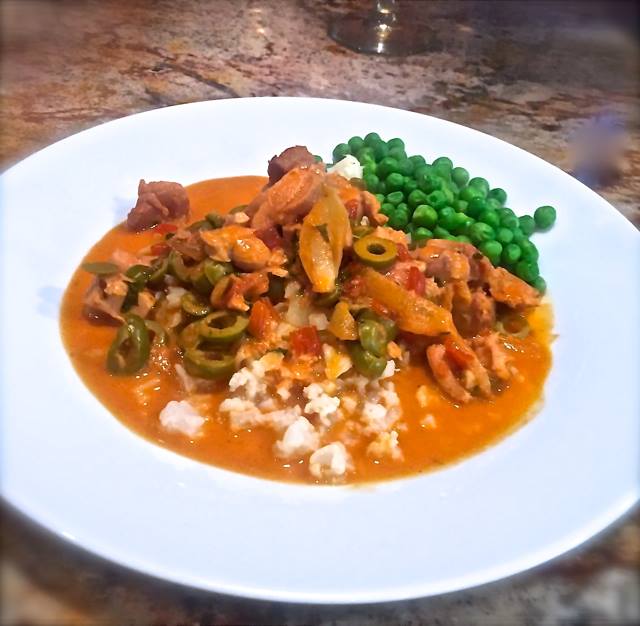 The "Fricasé" of Latin America is the inspiration for this casserole.  I take a slight turn away from the Carribbean and Bolivian flavor profiles, but keep the briny green olives and pimientos.  In another post we will discuss the French basis of this dish and why we don't use cream at all, but rather tomatoes.
Most often potatoes and rice are central ingredients.  In Bolivia hominy is traditional and that is a wonderful, low GI food.   Here I've substituted riced cauliflower.  My purpose is not to change this traditional dish, but to give an option to lovers of Fricasé who may be borderline diabetic or who otherwise have to closely control their blood sugar to prevent diabetes. It's a contemporary alternative based on Latin Ameircan traditions, and I think it's delicious.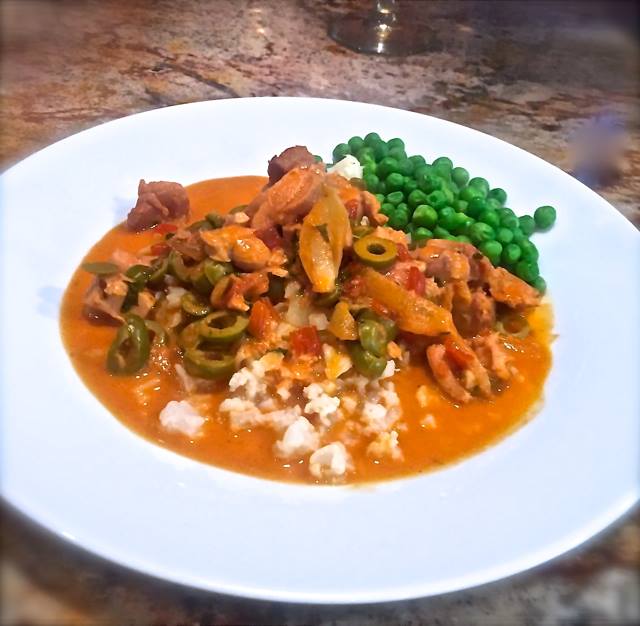 Recipe (serves 6)
Ingredients
1 cut-up chicken
1 large white or yellow onion, thin slices
1/4 tsp ground chile de arbol or chile japonés (Thai bird chile)
1/4 cup extra virgin olive oil
1/2 cup white wine
1 1/2 cup chicken stock
4 Roma tomatoes, small dice, OR one 8-oz can of commercial tomato sauce
1 cup chopped brined olives with pimientos
1/4 cup parsley, minced
Method
1.  In a cast iron casserole or large, Dutch oven, or deep skillet, heat the olive oil over medium heat until it starts to shimmer, then add the cut-up chicken pieces a few at a time and brown them, turning them as necessary.  Don't put too many pieces at once because that will crowd the pan and force the release of juices.  Remove the chicken from the pan and keep it warm.
2.  Add the onions and chile de arbol (or chile japonés) and cook on low heat until the onions are translucent.
3.  Add the white wine and deglaze the pan.
4. After the bottom of the pan is completely free of the brown bits, add the chicken, chicken broth and tomato.  Simmer on very low heat, covered, until the chicken is completely cooked, about 25 minutes.  After the chicken is completely cooked, remove the cover, add the parsley, olives and pimientos, and allow to cook until the liquid evaporates a bit, leaving a slightly thickened sauce.
5.  Rinse the cauliflower, cut it into small pieces, and boil it in salted water until it just begins to turn tender, about 5-7 minutes.  Force it through a ricer or chop it into small pieces.
To serve, place a dollop of cauliflower on a dish and pour the chicken atop.  Serve it steaming, with green peas.
¡Buen Provecho!
NOTE: If you found my article helpful, I invite you to follow me on Twitter, Instagram and Facebook, or subscribe below for updates (I'll email you new essays when I publish them).
---
---