Pissaladiere Tart Makes a Briny Blast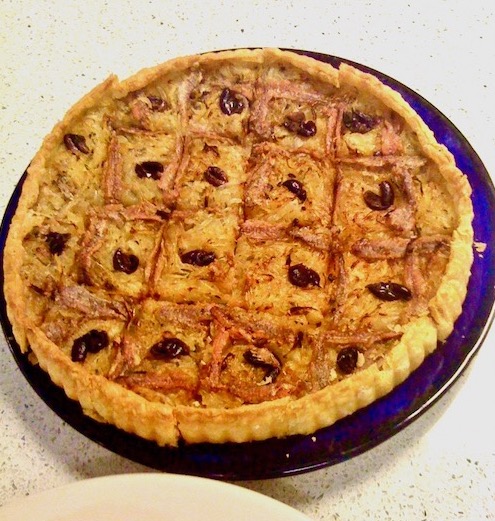 Pissaladiere tart will brighten up your stay-at-home days. These bites are small, but mighty, a real flavor blast and a nod to French cuisine.  Though the French lost out to the Spaniards in their efforts of empire-building in Texas, we nonetheless enjoy their lasting influence on our cuisine.
The traditional Mexican wheat rolls, bolillos, are French, as is, of course, the French bread we use in Capirotada. Conversely, French cuisine was forever changed and enriched by Mexican gastronomy. What would Jacque Pepin do without haricot vert and tomatoes?
The pissaladiere tart (pissaladière) is a perfect example of French country cuisine. I first learned about the pissaladière during my stays in southern France where I learned that it is technique (v.g. pastry/dough making, slow cooking in oil) that makes this dish simple yet also very rich. You might say that technique and ingredients are two sides of the same tart.
Serve pissaladière as an appetizer. A bed of sweet caramalized onions laden with briny black olives and anchovies, it looks and tastes hearty, earthy.  This recipe uses a pastry crust instead of a crust made with yeast, similar of course to its cousin, the pizza. It's reported that Julia Child preferred puff pastry which is another often-used crust. If you are Francophile purist, you'll just have to swallow hard my use of pastry dough. I learned this version at the CIA and thought it was a good twist.
OK, this ain't traditional Texas Mexican, but I include it here because often we forget that it was not only the Spanish but also the French who interacted with native Texas Indians. If we've learned anything at all about the warring encounters in our recent past, it's that we have better things to do.  At the end of the day, we want to be able to serve a table where all are welcome.
Recipe

for Pissaladiere Tart
Ingredients (makes 18 appetizer portions)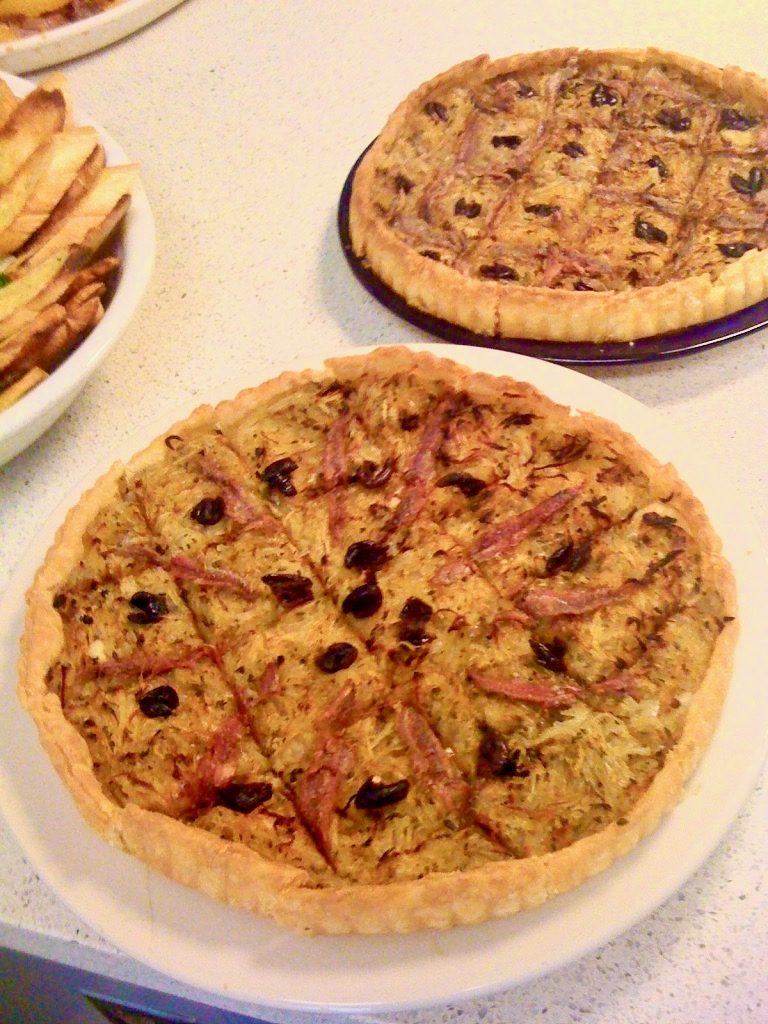 2 lbs sweet onions, sliced thinly
2 fl. oz extra virgin olive oil
1 tsp salt
1/4 tsp ground black pepper
1 Tbsp fresh thyme, chopped
8 salted anchovies, rinsed, filleted
8 oz Niçoise olives
for the pastry:
8 oz. all purpose flour
5 1/2 oz Butter, cold and diced small
3/4 tsp salt
2/3 fl. oz. cold water
 Method
1.  Cook the onions in the olive oil on very low heat, covered, until they are soft.  Uncover them and continue cooking until all the liquid evaporates.  Be patient.  You are developing the rich flavor.  Be careful that they do not brown with too high heat.
2.   Add the chopped thyme, salt and pepper and set aside.
3. Preheat oven to  3750 F
4. To prepare the pastry, combine together the flour and butter, gently crumbling them with your fingertips and thumbs until all the crumbles are the size of small peas. (You could place the butter and flour in a food processor and pulse for a few seconds until the ingredients are pea-size)
5.  Add the salt and then enough of the water to form a dough.  Work the dough as little as possible to avoid gluten formation which always destroys flakiness.
6. With the palm of your hand, flatten the pastry dough on a well-floured surface and then roll out to 1/8″ thickness
7. Place the dough on a lightly oiled tart pan and crimp the edges as in the picture.
8. Spread the onions over the tart and then arrange the olives and anchovies decoratively.  In the picture I've done it two ways.
9. Drizzle a little extra virgin olive oil all over the surface and bake for about 30 minutes or until the edges of the pastry are golden and crisp.
Serve hot or warm.
Culinary History and Sumptuous Recipes, in Two Award-winning Cookbooks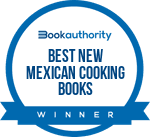 2020 Award Winner!  Over 100 kitchen-tested recipes
including soups, botanas, tacos, cocktails and outdoor grilling.
A collection of both Texas Mexican classics and what is trending in restaurants and homes.
A study of memory, connection, and the sumptuous possibilities of traditional cuisine."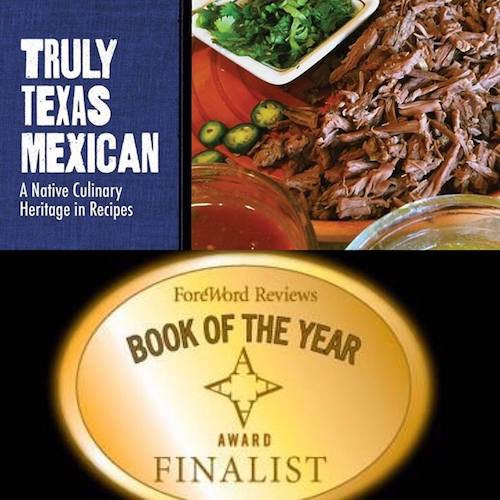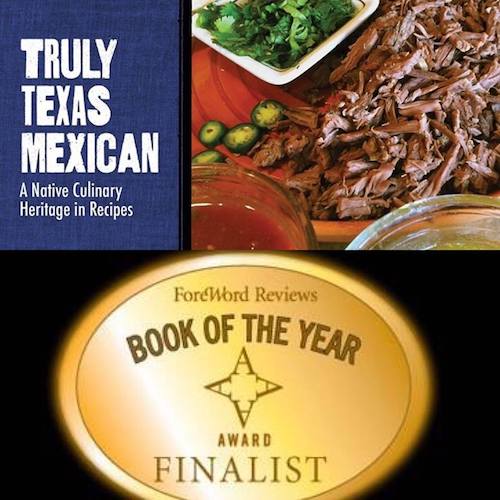 100 kitchen-tested recipes, each with step-by-step instructions.  Offering new culinary perspective on well-known dishes such as enchiladas and tamales, he shares the secrets of lesser-known culinary delights, such as turcos, a sweet pork pastry served as dessert.
"Medrano illuminates the mouth-watering interconnectedness of culture and cuisine."
NOTE: If you found my article helpful, I invite you to follow me on Twitter, Instagram and Facebook, or subscribe below for updates (I'll email you new essays when I publish them).
---
---