Chipotles En Adobo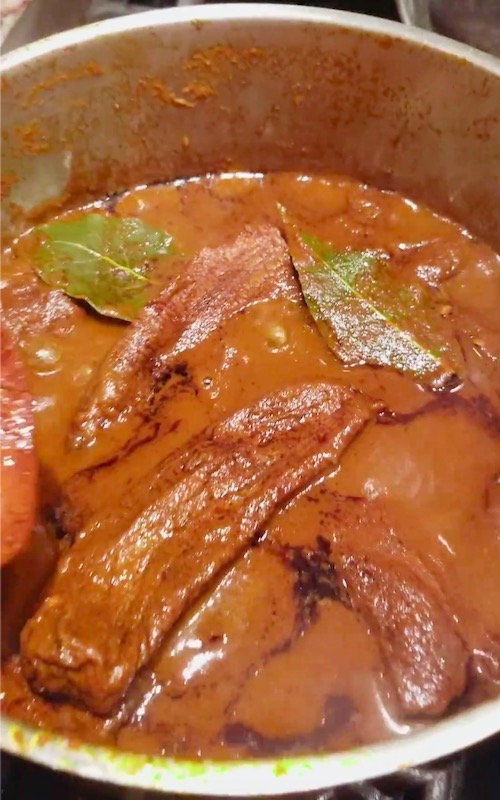 Make your own chipotles en adobo with this delicious combination of herbs and spices.  Sometimes you have to use the canned versions, I know, but at least once savor this natural, amazing Mexican creation. My recipe makes about 20 chiles in a sauce so delicious that you'll want to share with your friends and relatives. Give them just 2 or 3 chipotles in this fabulous adobo and all past sins and transgressions will be forgiven and forgotten.
A chipotle chile is a ripe red Jalapeño that is dried and smoked, the name deriving from chilpoctli (chil=chile and poctli=smoked), in the Nahuatl language that's spoken in Mexico and Central America. The traditional wood used is nogal, pecan.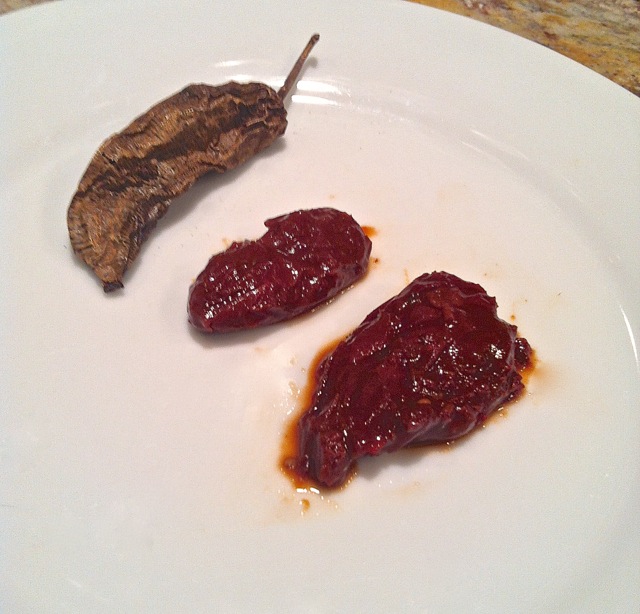 In the top picture you can see the difference between the dried chipotle, and the ones in an adobo. If your favorite grocery store does not sell the dried, smoked chipotles, buy them online, but just stay away from the brand name, Goya, as I do, because the president of Goya publicly supports Trump and his policies. The philosophy of my food and cooking promotes a humane spirit that calls out the evil in removing children from their parents, keeping children in cages and declaring that white racists marching in the street are good people.
Chipotles are wonderful for adding a smoke flavor to dishes.  Use these chipotles to make  Chipotle Turkey Tostadas and other traditional dishes.  Chipotles en adobo also make a fab salsa, blended with cooked tomatoes, garlic and onion. I'll post that recipe next week.


Recipe for Chipotles En Adobo
Ingredients (makes about 20 chiles en adobo)
4 ounces chipotle chiles, about 20-22 chiles
2 chiles anchos
2 chiles pasilla
1 cup white onion, small diced
1 clove garlic
2 ripe tomatoes, boiled
1 teaspoon dried Mexican oregano
1 teaspoon dried rosemary
2 laurel leaves
1 cup extra virgin olive oil
1 tablespoon extra virgin olive oil
1⁄2 cup white vinegar
1⁄4 cup piloncillo (Mexican unrefined cane sugar, sold in tightly packed cones. You may have to use a knife to scrape off the amount of piloncillo that you need.)
6 black peppercorns
6 cloves
1⁄4 teaspoon salt
1 cup water
Method
1. Deseed and devein the chiles anchos and chiles pasilla by making a slit lengthwise, turning them inside out and removing the stem and all the seeds and membranes. Use rubber gloves if you want to be keep the heat-producing chemical, capsaicin, off your hands.  Place the chiles in a saucepan and cover them with water.  Bring to boil, turn off the heat and let  the chiles soak for 20 minutes. Set aside.
2. Place all the chipotle chiles in a large saucepan and cover them with water. Bring the water to a boil. Then turn off the heat and let the chipotles soak for 30 minutes to 1 hour to rehydrate. Make sure the chipotles remain intact. (They can also soak in cold water overnight.)
3. Heat 1 tablespoon olive oil in a skillet over medium heat and then add the diced onion, cooking it for about 3 minutes, until it becomes translucent. Set aside.
4. In a blender, place the rehydrated guajillo and ancho chiles, tomatoes, garlic, black peppercorns, cloves, salt, and 1 cup of water. Blend on high for one minute or longer, until the mixture is a completely smooth purée. You can add 1⁄4 cup more water if needed. If the purée is still grainy, strain it through a fine-mesh sieve. It should be smooth and velvety.
5. In a dutch oven, heat 3⁄4 cup olive oil on medium heat; then add the chile purée and cook it for 8 minutes. You will see the color deepen.
6. Add the vinegar, onions, piloncillo, laurel leaves, oregano, and rosemary and stir to combine well. Cook for five minutes on simmer, stirring gently to make sure that the piloncillo is completely dissolved.
7. Add the rehydrated chipotle chiles, stirring gently so as to keep them intact. Cook on a gentle simmer for 45 minutes so that the flavors blend. The chipotles will add flavor to the adobo, and the adobo will penetrate the flesh of the chipotles.
8. Let the chiles cool; then store them in a glass container. They'll be even more delicious the next day. They will keep in the refrigerator for 2 to 3 weeks. You can also freeze them in tightly sealed plastic bags for up to 3 months.
Enjoy!
You can see this "Chipotles En Adobo" recipe, and many others, in my new cookbook, "Don't Count The Tortillas: The Art of Texas Mexican Cooking"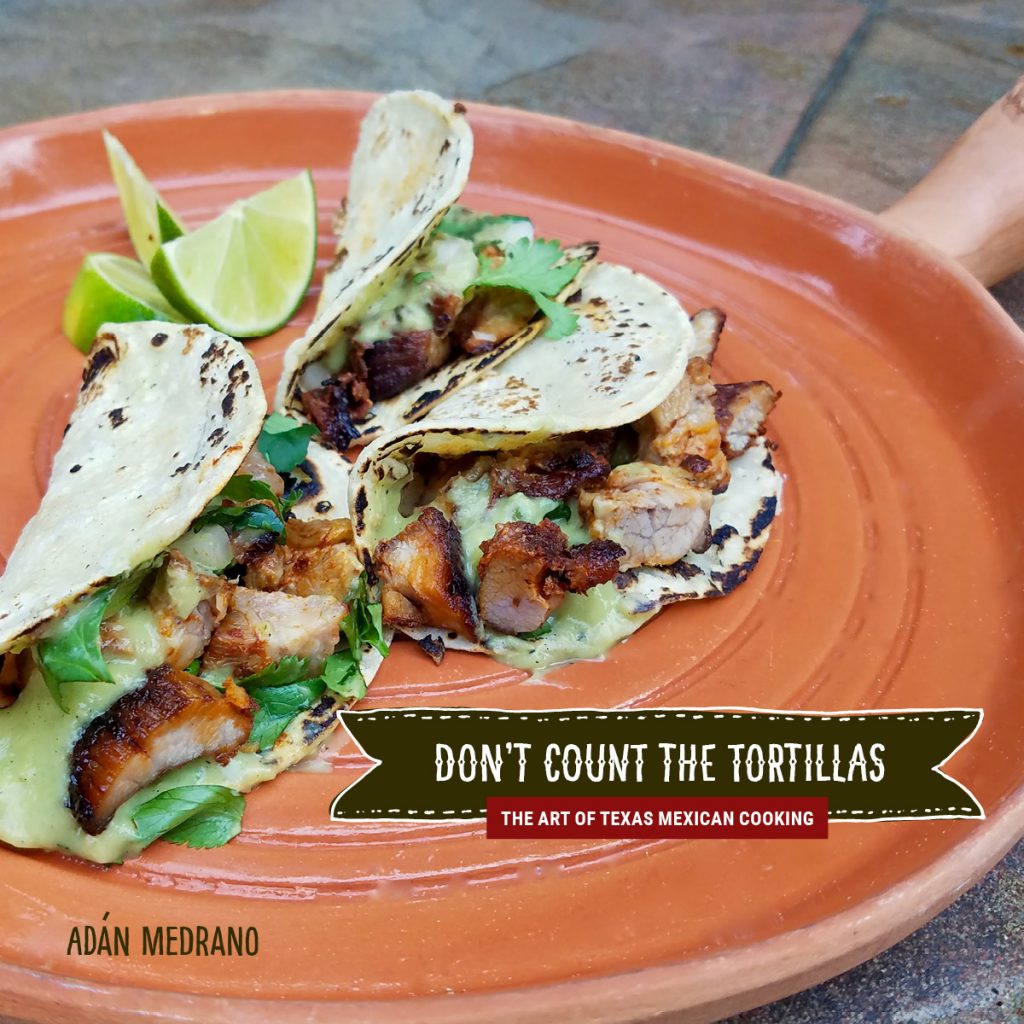 Over 100 Recipes, kitchen-tested with easy-to-follow directions and insider cooking tips.
Green enchiladas | Chilaquiles | Tacos Al Pastor | Red Snapper Soup | Pumpkin Candy
& delicious pastries like this Jícama-Strawberry turnover!
NOTE: If you found my article helpful, I invite you to follow me on Twitter, Instagram and Facebook, or subscribe below for updates (I'll email you new essays when I publish them).
---
---