Peach Tart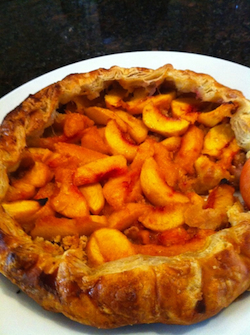 The rustic French peach tart is belovedly famous world-wide.  Add Native American peaches and, once again, a beautiful marriage: French pastry genius with delectable indigenous flavor.
Whoa,  I hear you saying, peaches are from Europe! Here's where I'm happy to enjoy this peach tart with my academic food anthroplogist friends to foster new knowledge.  The point I'd make is that Mayan, Aztec and other written documents were burned, destroyed by the arriving Europeans who then wrote their own notations from their perspective.  They are the ones who document that peaches arrived in the US in 1600's.  However, they also attest, in their notations, that the newly arrived settlers into the US thought that peaches, being so abundant, were a native fruit.   In fact, "this great diversity of peaches in N. America tends to indicate quite  strongly that they were a traditional crop with the Native Americans  long before Columbus." (Kuchinsky, 2002)
This places doubt on the accepted view that peaches, having originated in China and taken via Iran to the Mediterranean and Europe were thereafter brought to the Americas by Spaniards.  I don't doubt at all the China, Iran, Roman, European record. Only the point about the Americas.  As we debate and cheer for continuing research about this ancient fruit, let's just enjoy these Texas peaches (no offence, Georgia). They're full of rich flavor, aroma…. and juicy too!
I make the classic peach tart using puff pastry instead of pie dough.  Let me know what you think of it.
Peach Tart Recipe:

(makes one 10″ tart)
Ingredients
1 ½ lb Peaches, peeled, pitted and sliced into ¼ inch slices
1/4 tsp nutmeg
2 ounces granulated sugar (this measures just a bit less than 1/4 cup)
1 egg
4 Tbsp whole milk
3/4 cup cake crumbs (you can use a crumbled pancake if you want)
2  ounces coarse sugar
10 ounces puff pastry (Making puff pastry is easy but time consuming and for another blog.  Buy a frozen high quality puff pastry like Dufour, Trader Joe's, other)
Method
1.  on a floured surface, roll out the puff pastry dough to 1/8″ thickness and cut out an 11″ circle.
2. place it on a parchment lined cookie sheet or pan.
3. mix together the granulated sugar and the nutmeg and then add them to the peaches and toss until fully combined.
4. whisk together the egg and milk to make an eggwash and, using a brush, paint a one-inch rim of egg wash all around the puff pastry dough.
5. sprinkle the cake or pancake crumbs on the puff pastry, but leaving uncovered a 2″ border all around.
6. add the peaches on top of the cake crumbs, leaving the border uncovered, then
7. fold the edges over the fruit, pleating as you go along. The eggwash border you painted will make the pleats adhere.
8. brush the pleated border of the pastry with the egg wash and sprinkle with the coarse sugar.
9. bake in a 400°F for about 60 minutes or until it is golden brown.  Cool on a rack and serve piping caliente!  It's also delicious cold with hot morning café!
Sources:
Kuchinsky, Y. (2002, May 5). Peaches in north america. Retrieved from http://www.globalserve.net/~yuku/tran/peaches.htm
NOTE: If you found my article helpful, I invite you to follow me on Twitter, Instagram and Facebook, or subscribe below for updates (I'll email you new essays when I publish them).
---
---