Serrano Salsa en Molcajete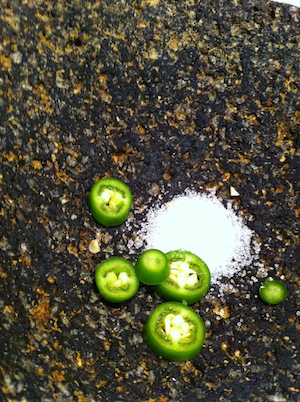 Serrano Salsa is a  classic Texas Mexican table salsa.  If you're from this region, send me an email or comment about how you've savored this in your home.
Amá (we did not use the Spanish word, mamá) always had this salsa on the kitchen table.  The straight taste of chile Serrano and salt is a beautiful thing.  I've never seen this table salsa in any Mexican restaurant.  If you haven't obtained a molcajete yet, you can use a spice grinder or a small blender.   You can add diced tomato, onion, garlic if you want to make it into a Salsa Ranchera or Salsa Mexicana, but sometimes raw simplicity is best.
To this day Serrano is my favorite chile.  The fresh, green taste is prominent, much more so, I think, than in the Jalapeño which is more neutral.  We'd take a flour tortilla, spread some pinto beans on it, and then top it with this salsa. That's all.  Why gild the lily?
Recipe/Ratios for Serrano Salsa
Adapted from the book: Truly Texas Mexican: A Native Culinary Heritage In Recipes
Ingredients
1 Chile Serrano, sliced
1/8 tsp salt
1/4 cup water
Method
Place the ingredients in the molcajete and have fun!
NOTE: If you found my article helpful, I invite you to follow me on Twitter, Instagram and Facebook, or subscribe below for updates (I'll email you new essays when I publish them).
---
---