Papas A La Mexicana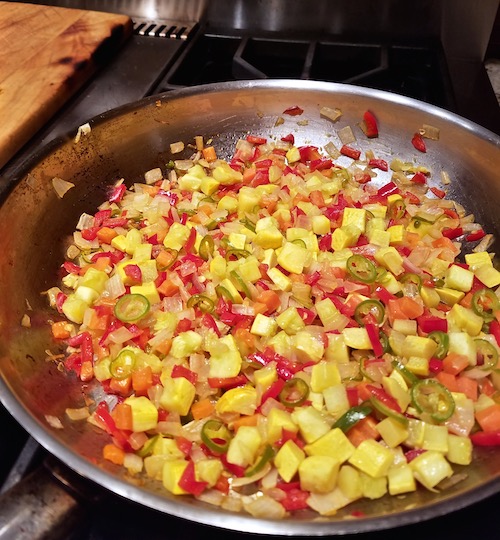 The traditional "A La Mexicana" style is the tricolored combination of tomatoes, onions, and chiles—the colors of the Mexican flag.  Straightforward and nutritious.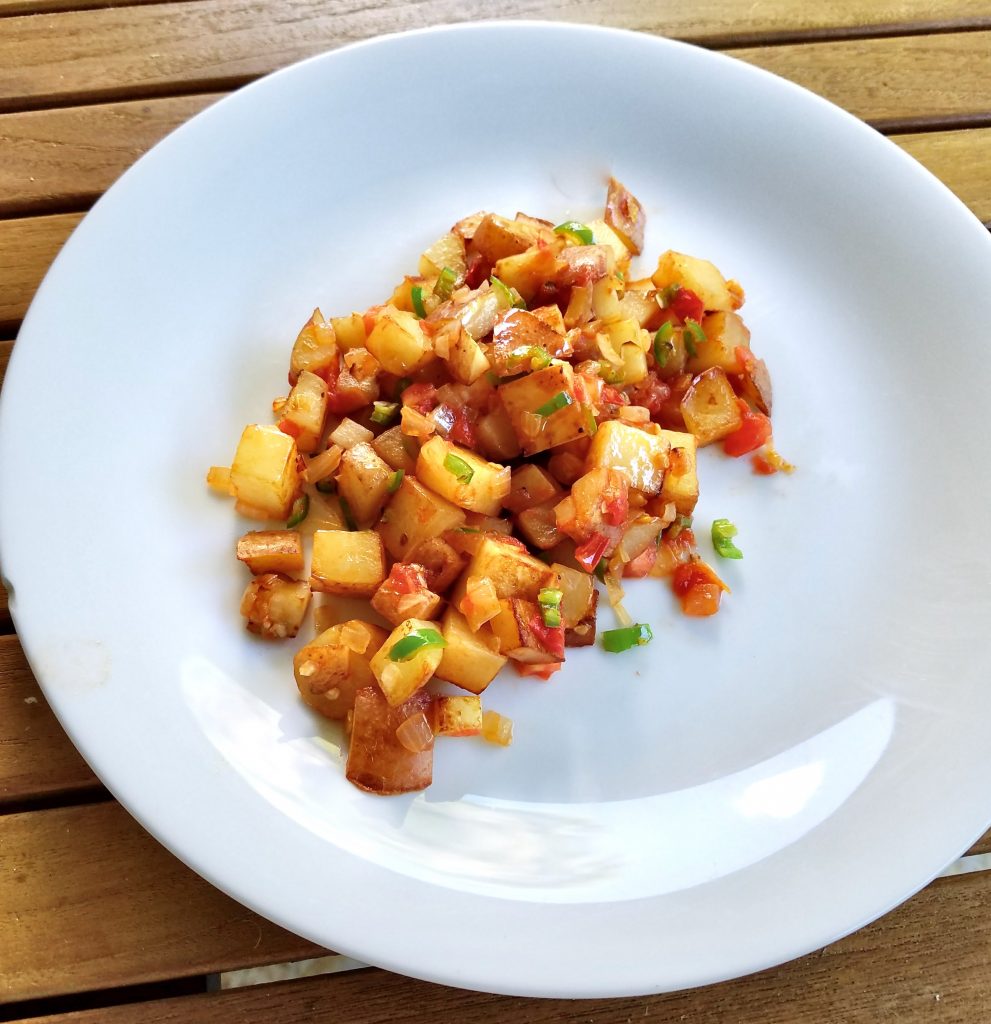 Papas A La Mexicana is a staple in south Texas and northeastern Mexico, the Texas Mexican region. I adapted this recipe from one that was published in Homero Vera's monthly journal of Mexican American culture, El Mesteño. Homero lives in Sarita, Texas, has a ranch in Premont, and is an expert on all things Texas Mexican.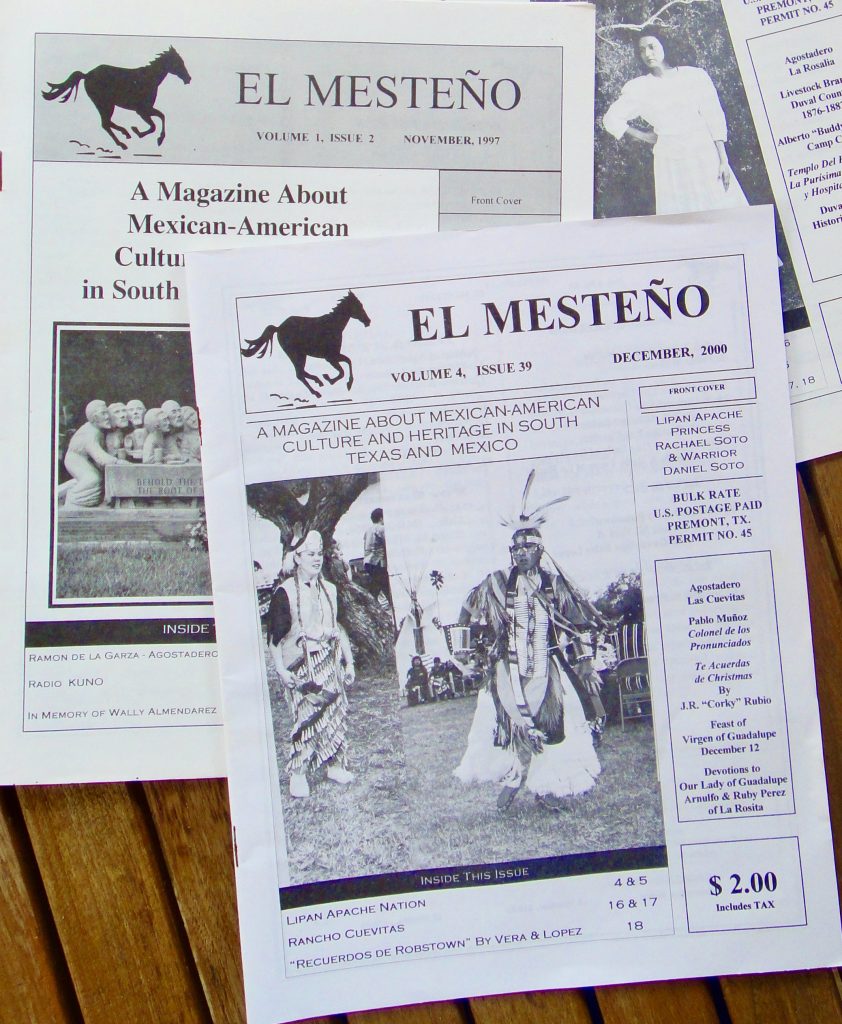 Published from 1998 to 2001, it is a remarkable magazine that documents the vibrant Texas Mexican culture and traditions.  Food recipes are  in every one of El Mesteño monthly magazines.
In an interview with Sylvia R. Longoria of the Corpus Christi Caller-Times, Vera says that although Mexican Americans have a long and valiant history in South Texas, "not enough of this local history is taught in our schools."  He goes on to say, "I want family histories and the traditions of South Texas to continue for generations."
Mexican American history belongs in all Texas school curricula, says Vera, adding that he hopes that "the history I'm preserving one day benefits the children in schools. We have tremendous backgrounds worth exploring and documenting."
Although he stopped publishing this important magazine, he offers some of the stories and essays online.
---
You can see this "Papas A La Mexicana" recipe, and many others, in my new cookbook, "Don't Count The Tortillas: The Art of Texas Mexican Cooking"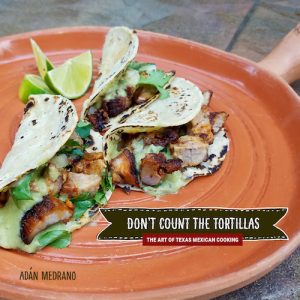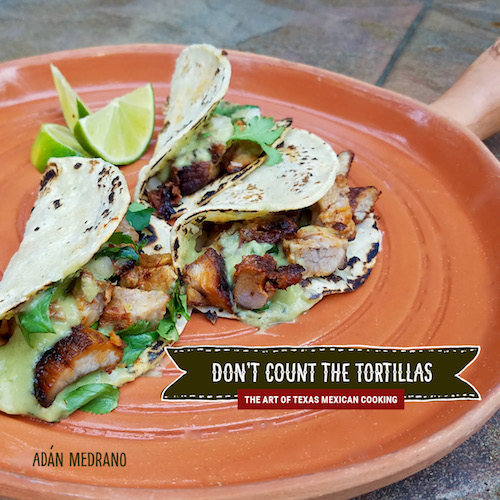 Over 100 Recipes, kitchen-tested with easy-to-follow directions and insider cooking tips.
Green enchiladas | Chilaquiles | Tacos Al Pastor | Red Snapper Soup | Pumpkin Candy
& delicious pastries like this Strawberry-Jícama turnover!
---
Recipe for Papas A La Mexicana

Ingredients (serves 6)
2 Tbs Canola or vegetable oil
3 cups red waxy potatoes cut in 1/2-inch cubes
1/2 cup white onion, medium diced
1/2 cup tomato, medium diced
1 chile serrano, minced, about 2 tablespoons
1/2 teaspoon salt
Method
1. In a skillet, heat the oil over medium-high heat and add the potatoes and onions, cooking them for 8 minutes or until potatoes are cooked, slightly crisped, and the onions are translucent.
2. Add the chile serrano and cook another 2 minutes.
3. Add the tomato and salt and cook 1 minute more.
Serve with beans and tortillas. It's delicious for breakfast or lunch and makes excellent tacos. Actually, it's great for dinner too.
NOTE: If you found my article helpful, I invite you to follow me on Twitter, Instagram and Facebook, or subscribe below for updates (I'll email you new essays when I publish them).
---
---