Jicama and Strawberry, A Delicious Duet For These Almohadas (Pillows)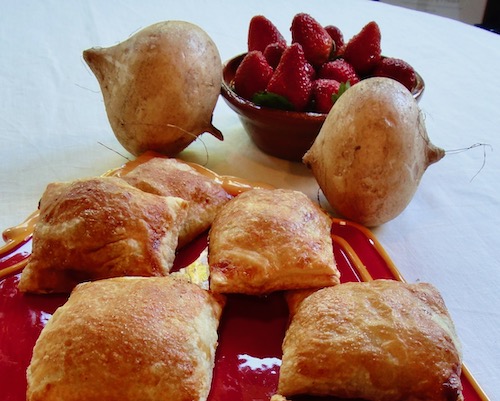 Jicama and strawberry?  Qué?  I get skeptical looks about that combination whenever I suggest it, but the crunch of jicama melds beautifully with softened strawberries. Jicama is native to Mexico and Central America and tastes a little like a water chestnut and maybe also a green apple.  Jicama with strawberry is a big twist on traditional Mexican pastry fillings.
I make a conserve with the two, and use it for Mexican almohadas, the name indicating that the pastries look like little pillows.  One of my chef friends seriously doubted me about this, but when she needed something really trend-bending and unique for one of her social gatherings, she took the leap and baked them. The almohadas were a big hit, with lots of oohs and aahs.  Leave me a note if you bake these.
This Jicama and Strawberry Almohada Recipe is from my new cookbook, "Don't Count The Tortillas: The Art of Texas Mexican Cooking"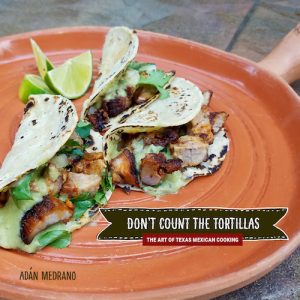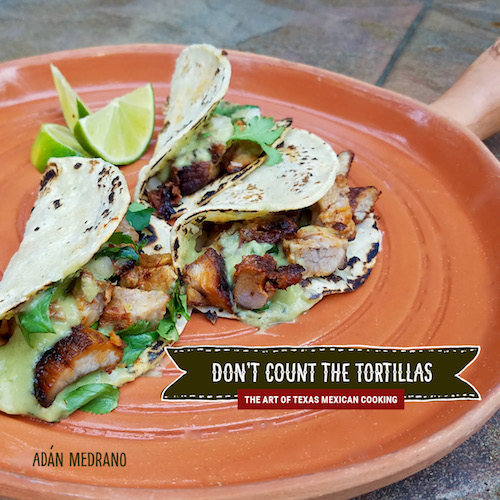 Over 100 Recipes, kitchen-tested with easy-to-follow directions and insider cooking tips.
Green enchiladas | Chilaquiles | Tacos Al Pastor | Red Snapper Soup | Pumpkin Candy
& delicious pastries like this Strawberry-Jícama turnover!
Recipe for Jicama and Strawberry Almohadas
Ingredients (makes 16)
1 box frozen puff pastry
1 pound (4 cups) fresh strawberries 1 jícama, cut into 1⁄4-inch cubes
1⁄2 cup sugar
Peel from 1⁄2 lime
1 egg
1 teaspoon milk
1⁄4 cup sugar for sprinkling on the pastry
Method
1. Preheat oven to 400 ̊F.
2. In a large saucepan, mix together the strawberries, jícama, sugar, and lime peel. Cover and let sit at room temperature for two hours.
3. Place the saucepan over medium heat and bring the strawberry and jícama mixture to a simmer for just 4 to 5 minutes, until the strawberries get soft. Set aside.
4. To make the egg wash, beat the egg and milk together until completely combined. Set aside in the refrigerator.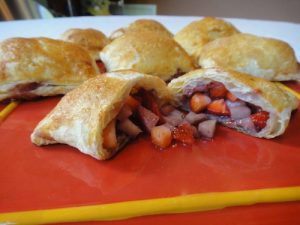 5. Follow package instructions to thaw the puff pastry—it will take 20 to 30 minutes depending on the temperature of your kitchen. On a work- ing surface dusted with flour, use a rolling pin to roll out the pastry sheet to a thickness that is almost paper thin, but not so thin that it tears. With a very sharp knife, cut the sheet into 4-inch by 8-inch rectangles.
6. With a brush, paint a 1⁄4-inch stripe of egg wash on the outer edges of each rectangle.
7. Spoon 2 tablespoons of the strawberry-jícama mixture on one half of each rectangle; then fold the empty half over it and press the edges together with your fingers. The egg wash will keep the edges sealed.
8. Brush the tops of the rectangles with egg wash and sprinkle sugar all over the top.
9. Place the rectangles on greased baking sheets or sheets lined with parchment paper.
10. Bake in for 15 minutes, until the almohadas rise and turn deep golden in color.
All pan dulce (Mexican bakery sweet rolls and pastries) are traditionally served on Sunday mornings. Enjoy these just with a cup of café or chocolate.
NOTE: If you found my article helpful, I invite you to follow me on Twitter, Instagram and Facebook, or subscribe below for updates (I'll email you new essays when I publish them).
---
---