Pan De Campo – ¡Viva El Rancho!
Pan De Campo is a core, "mero mero," rancho tradition in south Texas and northeastern Mexico.  Historian Homero Vera lives in Premont and in Sarita, Texas, and documents South Texas, Northern Mexican history and culture. It was in his monthly magazine, El Mesteño, that I found a couple of recipes for this traditional bread that is made on ranchos all over Texas. I adapted one of the recipes for baking in a home oven.
---
This recipe is from the history/cookbook, "Don't Count The Tortillas: The Art of Texas Mexican Cooking."
Along with this recipe are over 100 traditional and also new recipes from the Texas Mexican region.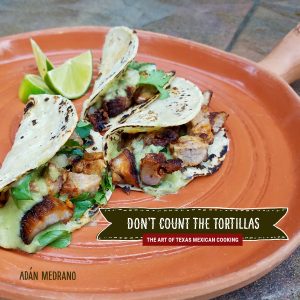 ---
Thanks also to Homero Barrera and Rebecca Barrera who invited me to attend the south Texas Fiesta del Rancho held every fall in Concepción, Texas. I can say with no exaggeration, "este es el mero, mero rancho!" (this is the genuine rancho life, all other cowboys come and learn).  I spent an entire afternoon eating delicious Texas Mexican dishes cooked outdoors, and fell in love with the pan de campo.
Family cooks prepared fires, scattered throughout the grounds, to make this rustic and tasty bread. Each family has a slightly different recipe and technique.  Some use milk, some water and ratios of fat vary, but all are cooked over coals, are crusty and with a surprisingly light and uncomplicated delicious flavor.
Ranchos have a special place in our cooking, and I've included a description of the characteristics of Texas ranchos and their origin in an upcoming post with a recipe for Lenten Capirotada by famed artist,  Cesar Martínez.  You'll find it posted here after Mardi Gras, on Ash Wednesday, when Lent begins.
Recipe for Pan De Campo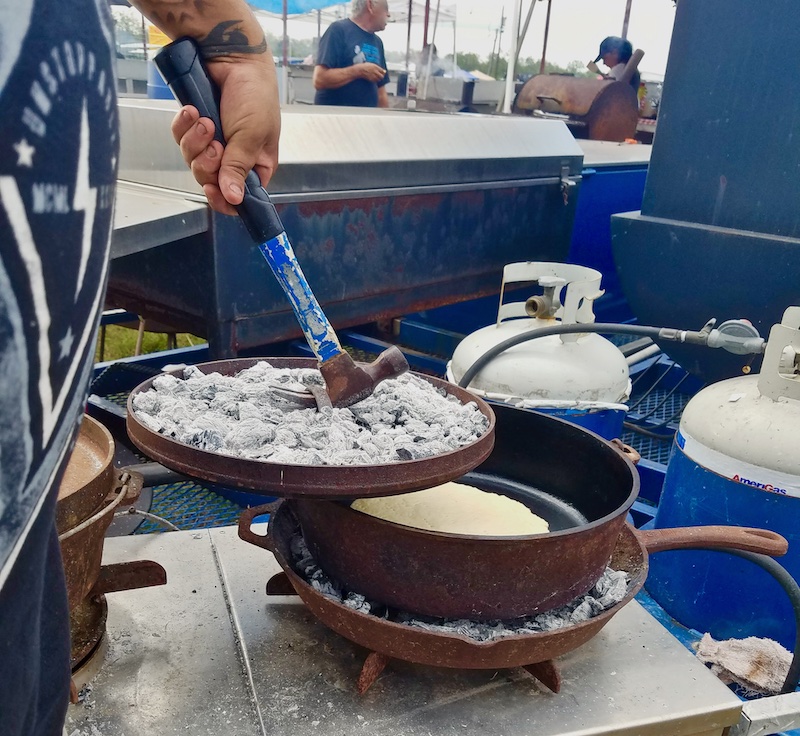 Ingredients (makes 1 10-inch round)
2 cups all-purpose flour
3 teaspoons baking powder
1 teaspoon salt
1⁄4 cup no-transfats, fair farmed and traded palm oil shortening or other no-transfats vegetable shortening
1 cup buttermilk
Method
1. Preheat oven to 450 ̊F
2. Sift together the flour, baking powder, and salt until thoroughly combined.
3. Add the shortening and mix together; then add the buttermilk and mix to form a soft dough. Knead the dough for 7 minutes; fashion it into a ball; and let it rest, covered with a cloth, for 20 minutes.
4. With a rolling pin, roll out the dough to make a 10-inch round.
5. Place the round in a cast iron skillet that has a lid or a cast iron Dutch oven. Cover with the lid and bake for 10 minutes. Turn the bread over and cook for another 10 minutes. Both sides should develop a golden crust.
Serve hot or at room temperature.
NOTE: If you found my article helpful, I invite you to follow me on Twitter, Instagram and Facebook, or subscribe below for updates (I'll email you new essays when I publish them).
---
---