Nopalitos Agua Fresca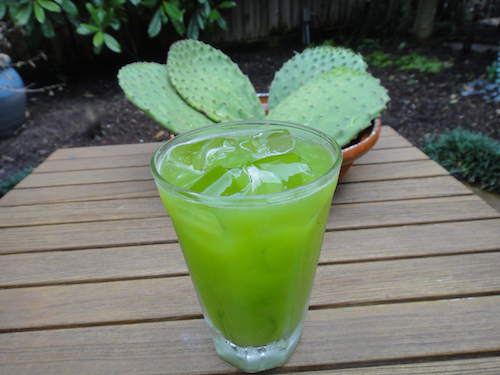 Nopalitios agua fresca is a recipe I've adapted from one published in the monthly magazine, El Mesteño: A Magazine About Mexican-American Culture And Heritage In South Texas And Mexico.  It was published by Homero Vera.
Nopalitos are part of the Texas Mexican culinary heritage since 9,000 years ago, and families know about the health benefits of drinking the water of nopalitos.  Handed down through generations is the knowledge that nopalitos aree rich in oxidants and can lower cholesterol levels. Recent scientific studies are beginning to learn about these health benefits.
Recipe for Nopalitos Agua Fresca
Ingredients (makes 4 6-ounce servings)
1 cup nopal (cactus paddle), cleaned and diced as detailed on page XXX.
1 1⁄2 cups orange juice
1⁄2 cup fruta de tuna (the red prickly-pear fruit), peeled and diced (optional)
1 teaspoon raw agave nectar
Method
1. Place all the ingredients in a blender and blend on high for 3 to 4 minutes until the seeds in the prickly pear are completely puréed.
2. Serve over ice.
NOTE: If you found my article helpful, I invite you to follow me on Twitter, Instagram and Facebook, or subscribe below for updates (I'll email you new essays when I publish them).
---
---