Meatballs In Tomato Broth | Albóndigas En Caldo De Tomate
Meatballs in tomato broth were a favorite recipe of my sister Gloria Fernández. She added rice to the meatballs, as do many family cooks in south Texas and northeastern Mexico.  They are part of our traditional cuisine, with the flavoring and caldo, broth, different from the albóndigas in other regions of Mexican cuisine.
My sister was a visual artist and a culinary artist. Her paintings hang in my home. We would often discuss her paintings and techniques, but somehow I never asked her for her albóndigas with rice recipe, and now I wish I had.
By letting my palate remember what they tasted like, I developed this recipe. I think these are like hers, as delicious, and it's a good feeling to know that when I cook them, she accompanies me still.
This recipe is from my cookbook, Don't Count The Tortillas: The Art of Texas Mexican Cooking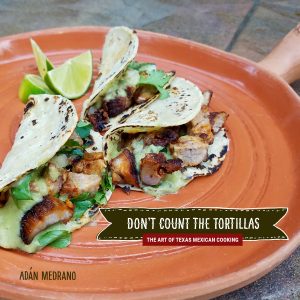 and I hope you will like all the other 100 recipes in this, my most recent cookbook.
Recipe for Meatballs In Tomato Broth
Ingredients (serves 8)
For the Albóndigas
1 pound lean ground beef
1 pound ground pork
1⁄2 cup onion, finely minced 1 garlic clove, finely minced 1⁄4 cup uncooked brown rice 2 eggs, beaten
1⁄2 cup fresh breadcrumbs 1 teaspoon salt
1⁄2 teaspoon freshly ground black pepper 1⁄4 cup chopped parsley
For the Tomato Broth
3 quarts water
1 pound tomatoes, washed but unpeeled
1 tablespoon vegetable oil, nonhydrogenated
1 onion, diced (1⁄2 cup)
1 garlic clove, finely minced
2 large carrots, peeled and coarsely chopped (1 1⁄2 to 2 cups)
1⁄4 teaspoon salt
Method
1. In a large bowl mix the beef, pork, minced onion, minced garlic, parsley, salt, and black pepper un- til completely combined. Add the breadcrumbs, rice, and beaten eggs and mix thoroughly.
2. With your hands, shape the meat into 11⁄2-inch balls and set them aside. You'll have about 32 meatballs.
3. In a blender, purée the tomatoes, garlic, and salt. Set aside.
4. In a large Dutch oven, heat 1 tablespoon vegetable oil over medium heat. Add the onion and cook for 5 minutes until it becomes translucent. Add the tomato purée and bring it to a boil. Add the carrots and 3 quarts of water. Mix thoroughly and bring back to the boiling point.
5. When the tomato broth begins to boil, add the meatballs, a few at a time.
6. Simmer uncovered for 45 minutes, until the meatballs are completely cooked.
Serve the albóndigas in bowls, with corn tortillas.
NOTE: If you found my article helpful, I invite you to follow me on Twitter, Instagram and Facebook, or subscribe below for updates (I'll email you new essays when I publish them).
---
---