Hoja Santa Red Snapper with Tequila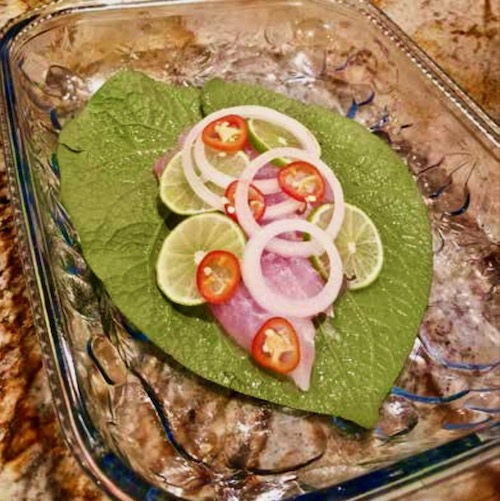 Hoja Santa is native to the southern regions of Mexico and is especially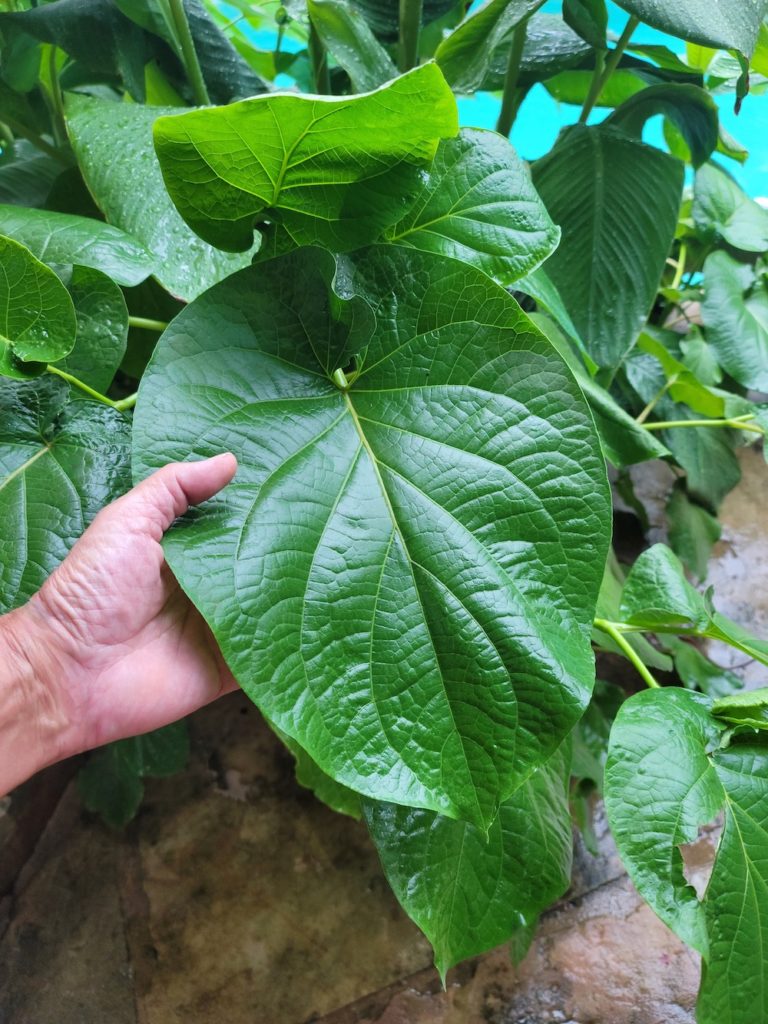 common in the states of Hidalgo, Veracruz, Oaxaca and Quintana Roo. Though it grows here in Texas, it was not a part of my family's Texas Mexican cooking as I was growing up.
Wrapping fish in the hoja santa is a prevalant and growing practice because the aromatic leaves lend a unique and delicious flavor, with notes of anise, nutmeg, and also root beer.Hoja Santa has the same oils as the Native American tree, Sassafras, which is where we get the root beer flavor. The leaves are large, growing to 10 inches in diameter.  I suggest you plant one in your garden.
Serve this for your dinner party. The wrapped fish bundles can be prepared and refrigerated for up to 4 hours.

Recipe for Hoja Santa Red Snapper
From the Cookbook, Don't Count The Tortillas: The Art of Texas Mexican Cooking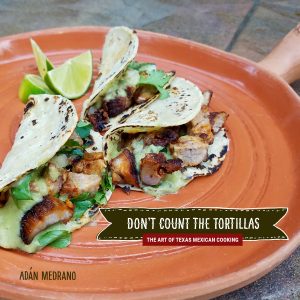 Ingredients (serves 2)
2 8-ounce red snapper filets
1 Mexican lime, thinly sliced into rounds
1⁄2 medium white onion, sliced into thin rings
1 large red jalapeño chile, sliced into rounds
4 large hojas santas, soaked in warm water for 20 minutes or more. They must stay moist when used.
1 tablespoon tequila Salt, to taste
Method
1. Preheat oven to 350 ̊F.
2. Wash and dry the red snapper filets. Rub or brush the filets with tequila and sprinkle both sides with salt
3. Remove two hojas santas from the warm water and shake off excess water. In a 10-inch or 12-inch baking dish,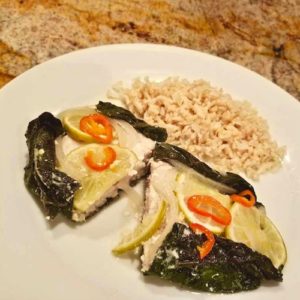 lay the hojas santas on top of each other, bright green side down. Place one of the fish filets on the hoja santa and layer the top with half of the onion, lime slices and jalapeño chile. Fold the edges of the top hoja santa over the filet and flip it upside down, so that the seams face down on top of the second hoja santa. Then fold the edges of the second hoja santa to make a snug little packet. Flip it again so that the seams face down in the baking dish. Repeat this with the second filet. Cover the baking dish tightly so that steam does not esc
ape when cooking.
4. Place in a 350 ̊F oven and bake for 30 minutes.
Serve immediately with corn tortillas and boiled or steamed brown rice. I think that you'll love the enticing aroma that greets you when you slice open the top of the hoja santa.
NOTE: If you found my article helpful, I invite you to follow me on Twitter, Instagram and Facebook, or subscribe below for updates (I'll email you new essays when I publish them).
---
---