3 Mexican Lenten Dishes
Mexican Lenten dishes celebrate the enthusiasm and imagination of culinary artists intent on designing pleasure within the confines of proscribed public penance. Abstaining from meat during the fridays of Lent, avid cooks could return to the indigenous Texas and Mexican traditions of plant-based cooking. Nopalitios, verdolaga, quelites, grains, eggs and fish could take center stage. The vegetarian traditions of south Texas and northeastern Mexico ( including eggs, milk and sometimes fish), deserve a closer look because no-meat dining is delicious.
These three Mexican Lenten dishes will lend a flavorful smile to your piety: Albóndigas de Camarón (shrimp balls); Ensalada De Nopalitos (cactus salad); and Capirotada (bread pudding).
Albóndigas de Camarón: Creative cooks came up with these delicious little shrimp cakes for those meatless Fridays. This version is light and bright, accented with the fresh flavors of green onions and cilantro. I confess that I don't feel penitential making and enjoying them.
This recipe is from my sister, Esther Martínez, a master chef. I wrote it on a scrap sheet of paper, seated by her bedside, as she dictated the details of whipping eggs and picking cilantro leaves. It was one of the last gifts she gave to me, and now Esther is with me every time that I cook albóndigas de camarón. Her version is light and bright, accented with the fresh flavors of green onions and cilantro.
Some people call them "tortas," but many of us in this Texas, northeastern Mexico region also call them "albóndigas," from the Arab word meaning ball.

Albóndigas de Camarón | Powdered Shrimp Balls
Ingredients (makes 24 three-inch albóndigas)
2 oz. powdered shrimp
1 28-ounce can plum tomatoes or 8 fresh plum tomatoes, quartered. If using canned tomatoes, buy a brand that does not have calcium chloride in the list of ingredients. However, if the only type you can buy contains calcium choride, it's ok.
1 cup diced white onion
1/2 cup water
1 Tbs Canola oil or other vegetable oil with no trans fats
5 eggs, separated
1/2 cup green onion, thinly sliced, divided in two equal portions
1/2 cup cilantro leaves, coarsely chopped, divided in two equal portions
2 cups peanut oil or other vegetable oil suitable for deep frying
extra cilantro for garnish
Method
1. In a 12″skillet, heat 1 Tbs canola or other vegetable oil over medium-low heat. Add the onions and sauté until they are translucent, about 8 minutes.
2. Place the sautéed onions and the tomatoes in a blender and blend into a smooth purée.  Return the tomato purée to the skillet, add 1/2 cup water, bring to a low simmer and cook for about 20-30 minutes.  Set it aside and keep it warm.
4. Separate the eggs, making sure that there is no yolk at all in the whites.  In a large bowl, whip the egg whites until they form stiff peaks, then add the egg yolks and whip again to incorporate. The peaks will be soft.
5.  Add the powdered shrimp, half of the green onion and half of the cilantro. Using a spatula, incorporate the ingredients using a folding motion from the center toward the outside until the ingredients are fully combined. This method is the same that's used to fold the ingredients of a soufflé.
6. Add the oil in a 12″ skillet. The oil should cover a depth of between 1/4″ and 1/2″. Heat it to to 350ºF. If you don't have a thermometer, test by dropping in a teaspoon of the egg mixture. It should immediately start bubbling.  Be careful not to overheat the oil because it will start to smoke, and that's bad.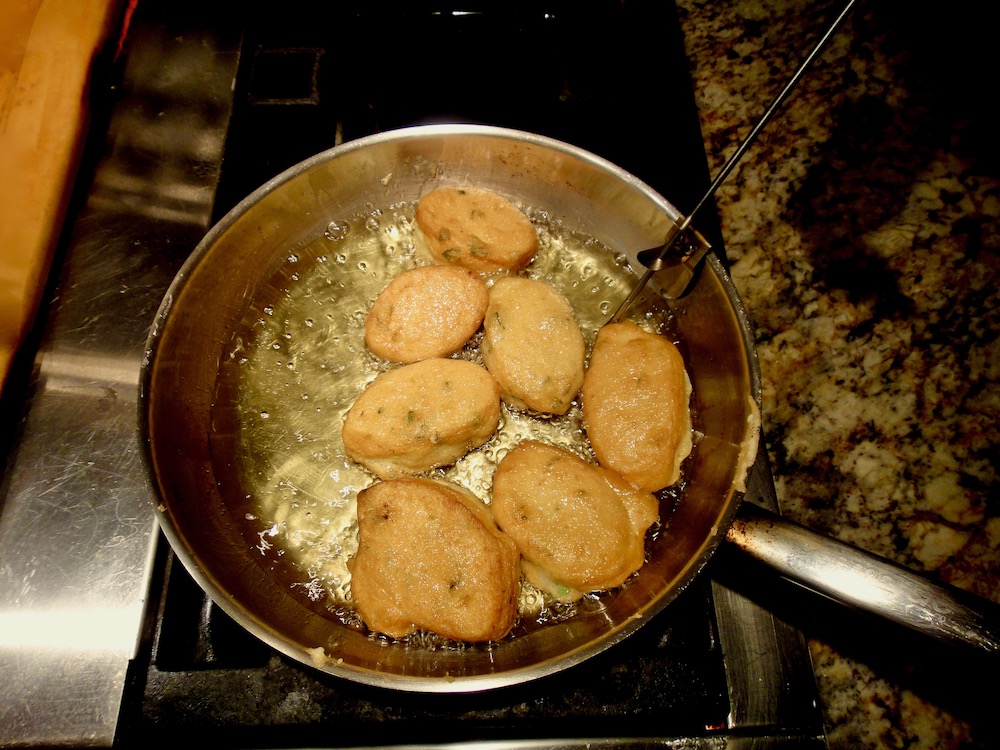 7. Using a large spoon, gently drop balls of the egg mixture into the oil where they will be halfway submerged. Fry for about 2 minutes, until they are golden brown, then flip them over and fry the other side another 2 minutes.  Transfer to a paper towel to absorb excess oil. Continue in batches, making all of them. Set aside.
8.  Add the remaining green onion and cilantro to the tomato caldo (purée) and mix well. In batches, place the albóndigas in the skillet, allowing the tomato caldo to heat them through, then serve immediately, garnished with extra cilantro.
Recipe for Cactus Salad – Ensalada De Nopalitos
Our Texas ancestors not only ate the nutritious cactus paddles and the prickly pear fruit, they also used the dried pads as pouches for carrying stuff.  They made flooring mats using dried cactus paddles as long ago as 6,400 BCE. The floor mats were used to cover dusty floors.
Ingredients (serves 8)
2 cups fresh cactus pads, spines removed, cut into ½ "x 1" strips
1 cup tomato diced
½ cup white onion, diced
1 Serrano chile, minced
¼ cup cilantro, coarsely chopped
juice of 1 lime
¼ tsp salt or to taste
¼ cup queso fresco, crumbled
1 medium avocado, sliced
Method
1.  Hold the cactus paddles with tongs and remove the spines using a sharp paring knife or a potato peeler. Wash well and cut the cactus pads into ½"x 1" strips.
2.  In a saucepan, cover the cactus strips with water and bring to a boil.  Cook for 10 minutes until the cactus is tender but still firm.  Drain, and let the cactus to cool to room temperature.  (Some Mexican American home cooks tell  me that the water makes a nutritious drink that lowers blood pressure).
3.  In a bowl, combine all the ingredients, except the avocado, and mix well.
4. Arrange the avocado slices around the edges of the salad and sprinkle them with a little salt.
Serve at room temperature or chilled.
Recipe for Capirotada
Dominga Mora Medrano, my mom, was an excellent and creative cook who every Holy Week would gift us with Capirotada. Our kitchen overflowed with aromas of cinnamon, cilantro and piloncillo and even now I can see her face serving us this bread pudding on Good Friday. (Buenos días, Amá) Food is such a sacred, happy gift.
Ingredients (serves 12)
5 cups water
1 five-inch stick Mexican Canela
1 cup black raisins
5 oz Piloncillo, scraped into small pieces.  You can use brown sugar but its worth the effort to try to find Piloncillo.  It will taste much better.  Piloncillo is made by crushing sugar canes, boiling the juice and placing it into conic molds.  It looks like the picture below. The flavor is complex with hints of  smoke, caramel.
1 cup pecans, coarsely chopped
3 cups mild cheddar cheese, shredded
¼ cup cilantro, coarsely chopped
12" Loaf French bread
Method
Preheat oven to 350° F
1. Add the canela and piloncillo to the water, bring to a boil and continue boiling for 20 minutes.
2. Slice the French loaf along the base lengthwise and make 3 layers
3. Arrange the bottom layer in the pan, add 1/3 of the cheese and 1/3 of the raisins, spreading these evenly. Place the second bread layer and again spread another 1/3 of the cheese and raisins. Place the topmost bread layer and then spread the remaining raisins, cheese and cilantro.
4.Pour the piloncillo and canela water on top of the bread loaf, using a strainer as needed to strain out any bits of cinnamon stick.
Cover the dish and bake for 30 minutes or until the cheese is melted and bubbling.
¡Buen Provecho and Happy Easter!
NOTE: If you found my article helpful, I invite you to follow me on Twitter, Instagram and Facebook, or subscribe below for updates (I'll email you new essays when I publish them).
---
---