Breakfast Taco, Sausage and Egg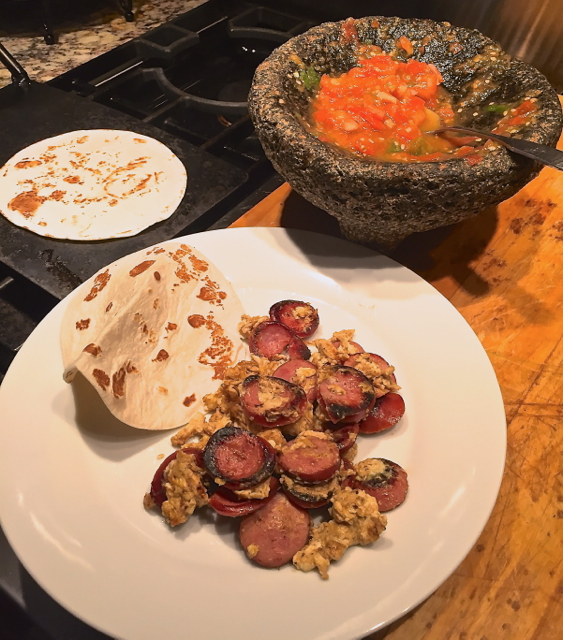 "Chorizo Country" and egg is a hearty and traditional Texas Mexican breakfast taco.  Just ask anyone in central or south Texas.   Add some freshly made tomato and Serrano chile salsa and you'll be ready to save the world!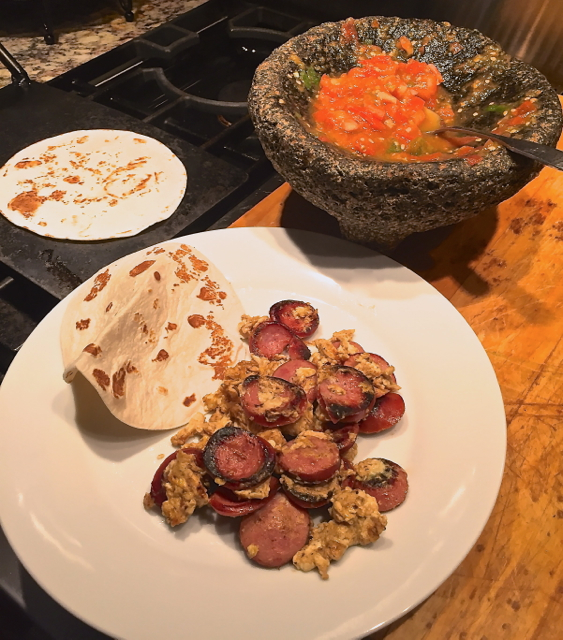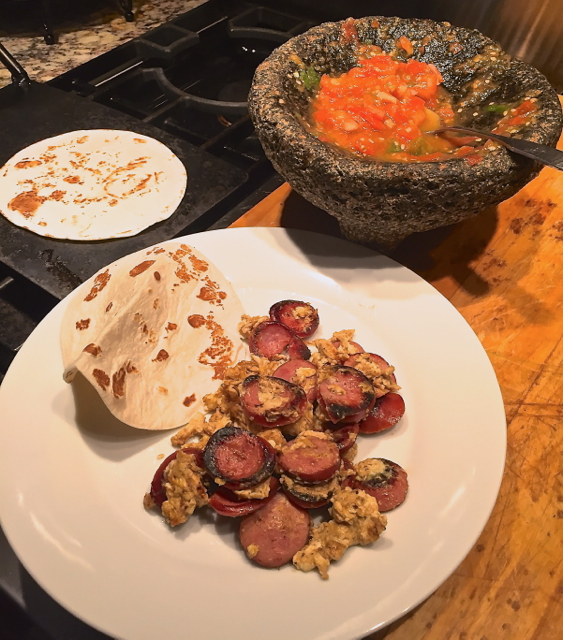 The best breakfast tacos are made with pliant, puffy flour tortillas that are chewy and flavorful (make sure the tortillas are fully cooked). Adding country sausage is a nod to our hunting traditions, and if the sausage is smoked with pecan wood, that's even better.
Making sausage is an ancient culinary tradition of our indigenous Texas Mexico ancestors.  Cooks of the time made "Pemmican," this region's first sausage.  It incorporated ground venison with a variety of herbs and nuts, sometimes even fruit.  It was dried and therefore was perfect for storing and traveling.
This is an easy breakfast but don't let that fool you.  It's delicious.
Recipe for Breakfast Taco, Country Sausage and Egg
Ingredients (makes 8 tacos)
Smoked Country Sausage, 13-14 oz, sliced into rounds
6 eggs
Salt to taste
8 flour tortillas — recipe
Serrano Salsa — recipe
Method
1.  Heat a cast iron or non-stick skillet, over medium heat and add the sausage, cooking it and turning until it has browned, about 5 minutes.
2.  Pour out all but 1 Tablespoon of the fat released by the sausage.
3.  Add the eggs and scramble vigorously to combine well.
Serve with flour tortillas, recipe here  and make sure you have plenty of Chile Serrano Salsa, recipe here. You can make the salsa beforehand and it will keep for five days in the fridge.  The tortillas will also keep nicely in the fridge for re-heating.
My mouth is watering just uploading this recipe, so, enjoy!
NOTE: If you found my article helpful, I invite you to follow me on Twitter, Instagram and Facebook, or subscribe below for updates (I'll email you new essays when I publish them).
---
---