"Huevos Indios"- Curried Deviled Eggs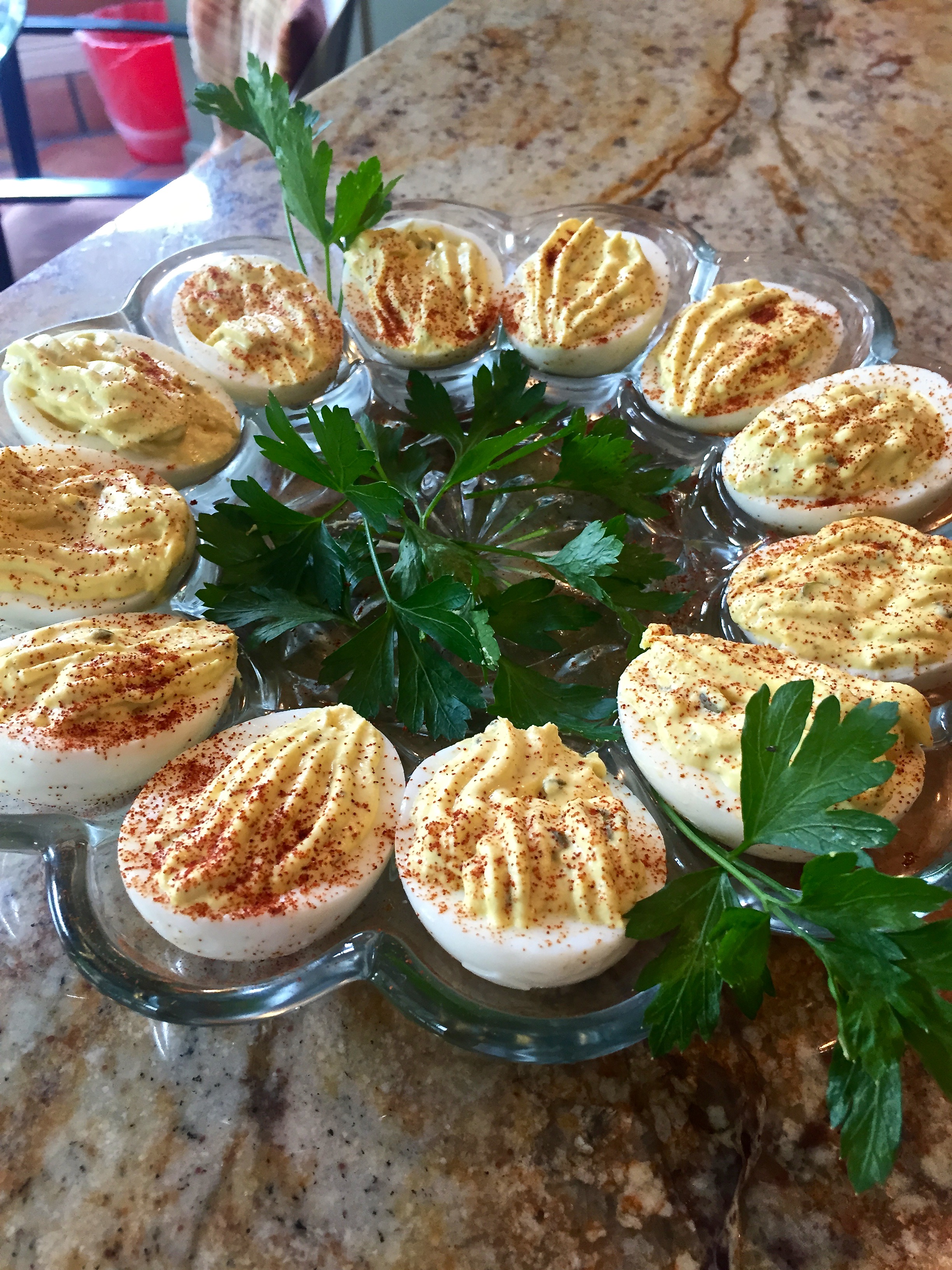 Serve these at a barbecue as appetizers, and make sure to make plenty.  They're also great for an evening party because you can store them in the fridge until you're guests arrive.  The zing comes from not just the curry but also from the capers.  Of course, all Indian curries (99%) will have Chiles as part of the mix.
Chiles are an integral part of Indian curry dishes, and they entered that Asian cuisine around 1500 when the plants were traded there as part of the burgeoning spice trade between the Americas and Asia and Africa.  I call these "Huevos Indios" not because I'm relating them to the chiles of Native American, "Indian," cuisine, but to the curry of Asian "Indian" cuisines.  It's confusing because we use the same name, "Indian," to refer both to Native Americans of USA and to natives of the country, India.
Recipe (Makes 24 deviled eggs)
Ingredients
1 dozen Eggs
1/4 cup Mayonnaise
1/2 Tbl Capers, drained, mashed into a paste
3 tsp Brine from the capers
1/2 tsp Curry powder (use your favorite blend)
1/2 Tbl Fresh Lemon Juice
1/8 tsp Salt or to taste
Paprika for garnish
Method
1.  Remove the eggs from the refrigerator, place them in a saucepan and cover them with cold water.
2. Place over heat and bring the water to a boil. Reduce the heat to a slow simmer and start timing.  Simmer for 12 minutes.
3. Place the cooked eggs in a large bowl filled with iced water.  This will stop the cooking and keep the eggs from developing a green ring around the yolk.  If you don't have ice, just let the eggs cool.
4.  Peel the eggs, slice them in half, remove the egg yolks and place yolks in a large bowl.
5. Mash the capers by smearing them on a cutting board with a chef's knife, as in this picture.
  The video at the end of this recipe shows how to use the knife.
6. Add the mashed capers and all the remaining ingredients to the yolks and mash them with a spatula, then whisk the mixture until it is smooth, light, almost fluffy.
7. Using a piping bag with a serrated tip, fill the halved egg whites with the curried yolks and garnish with a pinch of paprika.
You can hold these in the fridge for several hours, covered with plastic wrap.  I guarantee that they'll go fast.  I love these "Huevos Indios," Indio from the country of india!
NOTE: If you found my article helpful, I invite you to follow me on Twitter, Instagram and Facebook, or subscribe below for updates (I'll email you new essays when I publish them).
---
---