The Texas Mexican Table–5 Reasons Why It's Ancient, and Also New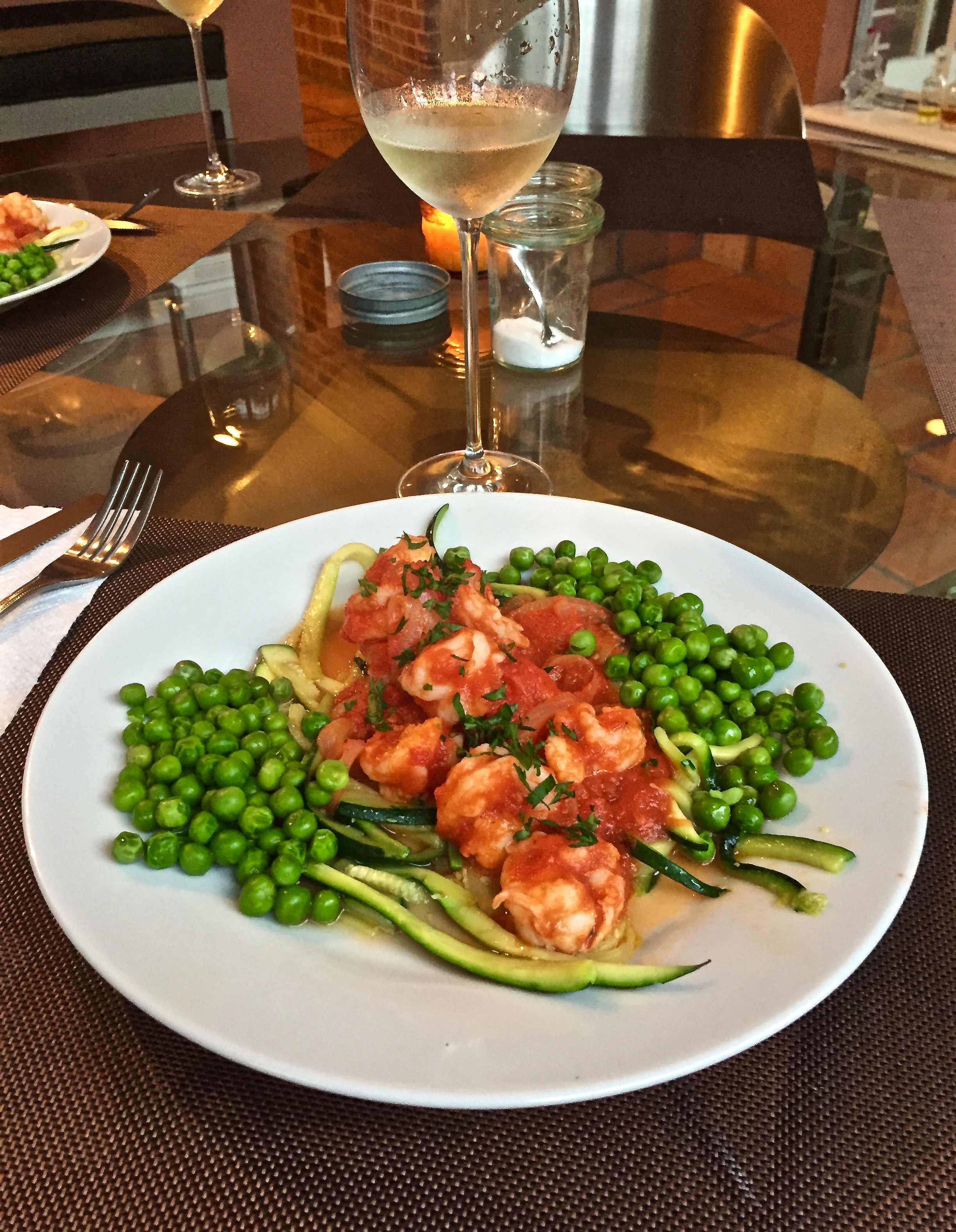 Texas Mexican cuisine is at the heart of our community.  Like us, it has roots going back 10,000 years, and also like us, it is ever evolving, ever new.
"Camarón Con Tomate y Chile" is an example.  I made this with ingredients that are native to Texas and have been here for millenia:  shrimp, tomato, squash and chile.   Although ancient in their roots, these ingredients are still very much contemporary.  There's a twist to this dish with the addition of green peas (why not!) and wonderfully aromatic basil.  The combination of basil with chile de arbol is wonderful.
The Karankawa  Indians and other Native Americans, ancestors of today's Mexican American community, caught and cooked shrimp for thousands of years before the arrival of Europeans. They used techniques that were common at the time: steaming, boiling and open-fire (grilling).  We still use those techniques and that is why our cuisine has ancient roots but is also in step with the times.
These are five reasons why the Texas Mexican table is ancient and also new.
1.  Culinary Technique is the first reason that the Texas Mexican table is ancient and new.  Our ancestors invented grilling, steaming, grinding and boiling, many generations ago;  we use them today and our use keeps them new.
2.  Ingredients are the second reason. The flavor profile of our food is characterized by the use of tomate, calabaza (squash), salt, seafoods natural to this land like our gulf coast shrimp, and chiles.  It is these native ingredients that contribute to the flavor profile.  We often combine them with imported ingredients brought here by the immigrant Europeans in the 1500s.
3. The Molcajete is the third reason:  creating harmony out of difference.  In this recipe I use a molcajete to grind the
chile de arbol and the salt.  To me, the molcajete is the metaphor for Texas Mexican food.  It is the crucible in which we bring together various ingredients, some mightily different, and with them, create a harmony of new, unique flavors.  The molcajete is a metaphor not only of how we create the flavors of our cuisine, but also how we continuously create and celebrate the identity of our community and culture.  The molcajete is essential to our cuisine, both as a tool and as a metaphor.
4.  The fourth reason is: We don't get carried away with frying.  As a technique, frying belongs to Tex-Mex food served in restaurants where it's use is central to their menu.  Almost everything is fried, from the appetizer corn chips to the combination plates.  As a culinary technique it was never used by Native Americans of Texas, but now we do sometimes use it.  As a new technique, we happily incorporate it into how we prepare some of the more traditional dishes like chalupas and chile relleno.
5.  The final reason is a self-evident one.  The Texas Mexican table is both ancient and new because it is a reflection of who we are as a community.   We, the Texas Mexican people, have been here for 10,000 years but we are not trapped by our rich heritage, we are empowered by it.  As we change with the times, our food changes, faithful to tradition yet ever new.
Recipe for "Camarón Con Tomate Y Chile" (serves 4)
Ingredients:
1 lb Shrimp, peeled and deveined
8 Roma Tomatoes, coarsely chopped
1 White Onion, large, thinly sliced
3 Zuchini squash, sliced into ¼ inch sticks
1 ½ tsp Salt
1 Chile De Arbol, seeds removed
2 Tbl Canola or vegetable oil
2 cups Green Peas, fresh or frozen
3 cups water
8 leaves fresh Basil, rolled into little cigars and sliced thinly into strips (Chiffonade) or you may use 4 dashes of dried
Method:
1. Heat a large, deep sauté skillet over medium heat and add 1/4 cup oil and the sliced onions.  Lower the heat to low and cook the onions, uncovered, until they are very soft and translucent but not browned, about 20 minutes.
2.Slice the squash, lengthwise, into 1/4 slices.  Then, holding the slices together, on top of each other, slice them again, lengthwise, making long 1/4 inch square sticks.  Set aside.
3.  In a molcajete, grind 1 tsp salt and chile together to a fine powder.  You may use a spice grinder for this if you do not have a mocajete.
4.Add the tomatoes and the chile-salt powder to the onions, raise the heat to high and bring to a boil.  Cook, uncovered, for three minutes.  Do not overcook the tomatoes because you will lose the fresh tomato flavor that makes this dish pop.  The mixture should be soupy.  If it is too thick, add ¼ cup water.
5. When the tomato mixture is boiling, add the shrimp and cook, uncovered, for about 3-4 minutes until the shrimp become bright white and just opaque.  Stir as necessary.  Don't overcook the shrimp because they will become rubbery.  Adjust the salt.
6.  To cook the squash, place the squash sticks in a skillet and cover half-way with water, add ½ tsp salt.  Bring the water to a boil, cover the skillet and turn off the heat.  Let steep for 5 minutes.
7.  To cook the peas, bring 3 cups of water to a boil.  Add the peas and cook, uncovered for 2-3 minutes until cooked but still slightly firm.
To serve, lay the squash on each of four plates and top with the shrimp. Spoon the peas on the sides.  Sprinkle the tops with the fresh Basil strips or the dried flakes.
Enjoy!
NOTE: If you found my article helpful, I invite you to follow me on Twitter, Instagram and Facebook, or subscribe below for updates (I'll email you new essays when I publish them).
---
---