Huevos Divorciados, Chupa Los Dedos Delicious!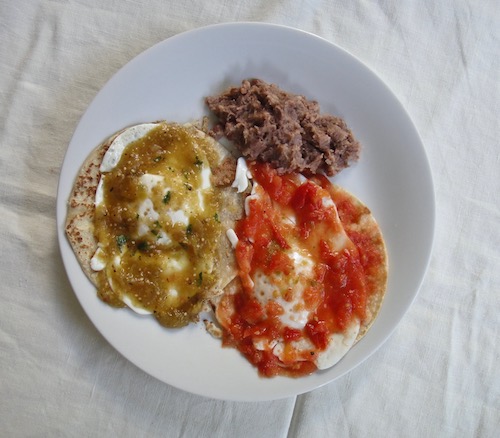 You don't have to be divorced to serve up these huevos divorciados (divorced eggs), a breakfast that's so scrumptuous, you'll "chupar los dedos," voraciously shlurp your fingers. Well, at least that's what I do.
This dish features two of my favorite salsas, Salsa Ranchera and Salsa Verde Cocida. I first tasted huevos divorciados in Mexico City back when I was in college.  They weren't common in our home cooking, and I was intrigued by both the name and by the newness of the flavor: my familiar huevos rancheros sharing the stage with tangy tomatillo salsa. It's the best of both salsas, red and green, I fell in love.
Keep two things in mind to make this a successful, special-occasion breakfast.
First, the two salsas have to be superb.  You may want to make them the day before, so you can take your time and make sure the taste and texture are great. Actually, why not always keep jars of these salsas in your fridge, beats store-bought, and lots cheaper.
Second, moisten and roast a batch of tortillas beforehand.  About 150 years ago, (as best as I can tell), our home cooking incorporated the technique of dipping the corn tortillas in hot oil (this is done also with enchiladas).  I'd like for us to go back to our earlier, indigenous tradition, and forego oil dipping.  We don't need it at all to make the tortillas soft and delicious, nor does it add required flavor.
And certainly so much fat is harmful to our health, obesity staring at us, being a contemporary problem we must address. Dipping the tortillas in hot oil is a technique introduced by colonization, so as Luz Calvo and Catriona Esquibel would say, Decolonize Your Diet!"
By relying on good old water and re-hydrating the tortillas, the corn flavor is renewed, and by roasting them so that you can see dark brown spots, you add a flavor layer of roasted corn to this dish.
Recipe for Huevos Divorciados
Ingredients (serves 2)
4 eggs
1 Tbs canola or other non-hydrogenated vegetable oil
4 corn tortillas
For the Salsa Ranchera (makes 1 cup):
2 Fresh Tomatoes, Large, cut into quarters
1 Fresh Chile Serrano, about 3″ length (remove the seeds for a less hot salsa)
1/4 Cup  White Onion, diced
1  Small Garlic Clove
1/4 teaspoon salt
For the Salsa Verde (makes 1 cup):
8 oz tomatillos, about 3 medium tomatillos
1 Chile Jalapeño, medium size, about 3″ long (remove the seeds for a less hot salsa)
1 small Garlic Clove, unpeeled
¼ White Onion
¼ cup fresh Cilantro, coarsely chopped
¼ tsp Salt
Method
To make the salsa ranchera:
1. Place the tomatoes, onion, garlic and serrano chile in a saucepan, cover with water, and bring to a boil.  Reduce the heat and simmer for about 20 minutes, until the color of the chile deepens, and the tomatoes are fully cooked, the skin peeling off. Use a slotted spoon to remove the ingredients and place in a bowl to cool.
2.When the ingredients have cooled a bit, place in a blender, add the salt, and pulse until the ingredients are well blended.  Taste and adjust the salt. Set aside or hold in the fridge.
To make the salsa verde:
3. In a skillet or comal (griddle), roast the tomatillos, onion, chile and unpeeled garlic for about 20 minutes on medium heat, until the tomatillos are completely cooked and the chile and onion have acquired black spots.  Remove to a bowl to cool.
4. Place all the roasted ingredients (peel the garlic), cilantro and salt in a blender and pulse until they are well blended.  Taste and adjust the salt. Set aside or hold in the fridge.
To prepare the corn tortillas:
5. Place the tortillas in a bowl of room temperature water.  Heat a griddle or comal to 400°F. It's hot enough if when you sprinkle drops of water on the comal, the drops evaporate quickly.
6. Place a tortilla on the comal and roast for about 20 seconds. The tortilla will release, and the bottom side will develop brown spots.  With a spatula, flip the tortilla and cook the other side.  Remove and hold, covered with a cloth, so that the tortilla remains moist. Repeat this rehydration and roasting with the rest of the tortillas. Keep them covered.
To assemble:
7. In a microwave or stove, heat the two salsas and set aside.
8. Heat a 12″ non-stick skillet on low-medium heat and add 1 Tbs canola and or other non-hydrogenated vegetable oil. Crack and place each of the four eggs in the skillet and cook until they are set and cooked to your liking.
9. Distribute the tortillas, placing 2 on each plate. Transfer the eggs from the skillet, laying one on each tortilla. On each plate, ladle salsa ranchera on one egg and salsa verde on the other.
You've got huevos divorciados!
Serve with well-fried pinto beans, recipe here. Oh, about your fingers, "chupa los dedos!"
NOTE: If you found my article helpful, I invite you to follow me on Twitter, Instagram and Facebook, or subscribe below for updates (I'll email you new essays when I publish them).
---
---