Enchiladas Verdes With Crema Mexicana
Enchiladas verdes is a recipe from my just-released book, "Don't Count The Tortillas: The Art Of Mexican Cooking." There are over 100 kitchen-tested recipes, including soups, botanas, tacos, cocktails and outdoor grilling. With history and cultural context,  my latest book is a collection of both Texas Mexican classics and what is trending in restaurants and homes.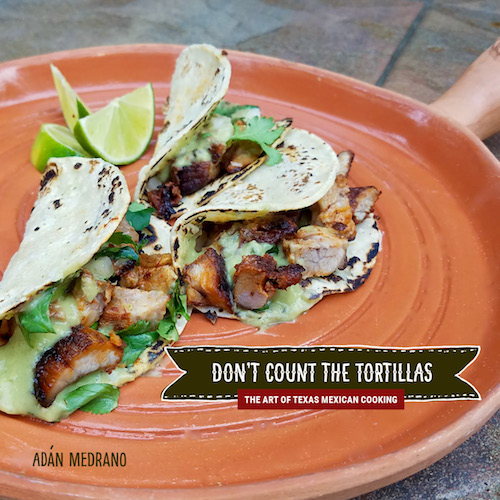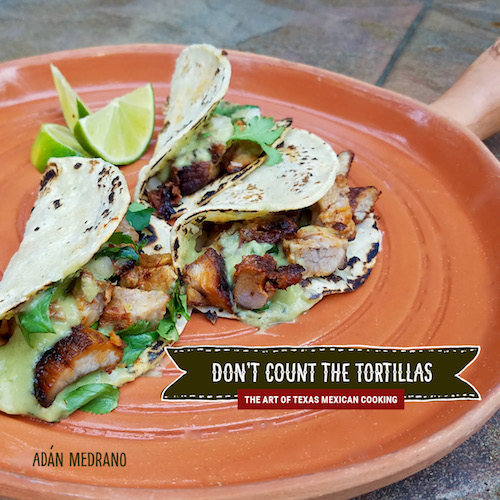 I hope you will decide to make this recipe for your family and friends.  It's the perfect dish for company, bright and colorful to the eye, and the crema mexicana in the chile makes it sumptuous.
Enchiladas verdes are one of the classic Mexican enchiladas, and the dish has many delicious regional variations. They're called enchiladas Suizas, Swiss enchiladas, when they're covered heavily with cheese and cream.  Although I add creama Mexicana to the chile and I also add Monterey Jack cheese, (it's from Monterey, California), it's still not fully Suiza, just verde, green.
Recipe for Enchiladas Verdes Con Crema Mexicana
Enchiladas Verdes | Green Enchiladas
Recipe
Ingredients (makes 4 servings of with 3 enchiladas each)

12 corn tortillas
10 ounces chicken breast
1 teaspoon salt
10 to 12 medium tomatillos (enough to make 4 cups cooked tomatillos)
1 chile serrano
1 garlic clove
½ cup cilantro, coarsely chopped
4 tablespoon crema mexicana
½ teaspoon salt
2 tablespoons nonhydrogenated vegetable oil
¼ cup water
4 ounces shredded Monterey Jack cheese
1 small white onion, sliced into rings
3 ounces queso fresco, finely crumbled
Method
To cook the chicken
1. In a dutch oven or deep skillet add 2 ½ inches of water, 1 teaspoon salt and bring to a boil. Add the chicken breasts and allow the water to come back to a bare simmer. Continue cooking the chicken at a bare simmer (only a few bubbles rising from the water) for 15 minutes, until the chicken is completely cooked. When the cooked chicken cools enough to handle, hand-shred the breasts into small strands and pieces. Return the shredded chicken to the dutch oven or skillet. Cover it and keep warm.
To make the sauce
2. In a large saucepan, place the tomatillos and chile and add enough water to cover them. Bring the water to a boil and then simmer for 15 minutes, until the tomatillos and chile change color and are soft. Use a slotted spoon to transfer the tomatillos and chile to a bowl and allow to cool.
3. In a blender, place the cooled tomatillos, chile, garlic, cilantro, ¼ cup water, and salt. Blend to a smooth purée.
4. In a saucepan, heat 2 tablespoon oil. Pour the tomatillo purée slowly and carefully because there will be some splatter, and cook for 5 minutes. Remove from the heat, add the crema mexicana and set aside, keeping it warm.
To assemble the enchiladas
5. In a skillet, over low heat, pour about ½ inch of the tomatillo chile sauce and immerse a tortilla for 6 8 seconds. The tortilla should absorb the tomatillo chile but still stay firm and not fall apart. Then place the tortilla on a plate and spoon 2 tablespoons cooked chicken and 1 tablespoon shredded Monterrey cheese. Roll the tortilla to envelop the filling, then place it, seam side down, on a dinner plate. Repeat the process until you have three enchiladas side by side per dinner plate.
6. On each of the four plates, pour hot tomatillo chile sauce over the enchiladas, to cover them. Garnish with queso fresco and fresh onion rings. Serve immediately.
If you are cooking these for a large group, you can assemble the enchiladas and hold them in a rectangular casserole dish, then reheat them either in a 350ºF oven or in a microwave.  Using a spatula, distribute the enchiladas onto the plates, cover with the re-heated (do not boil) chile sauce, garnish with the fresh onion rings  and a sprinkle of the queso fresco.
NOTE: If you found my article helpful, I invite you to follow me on Twitter, Instagram and Facebook, or subscribe below for updates (I'll email you new essays when I publish them).
---
---