Crab Cakes with Yerbaniz Mayo – Tortas de Jaiba con Mayonesa de Yerbaniz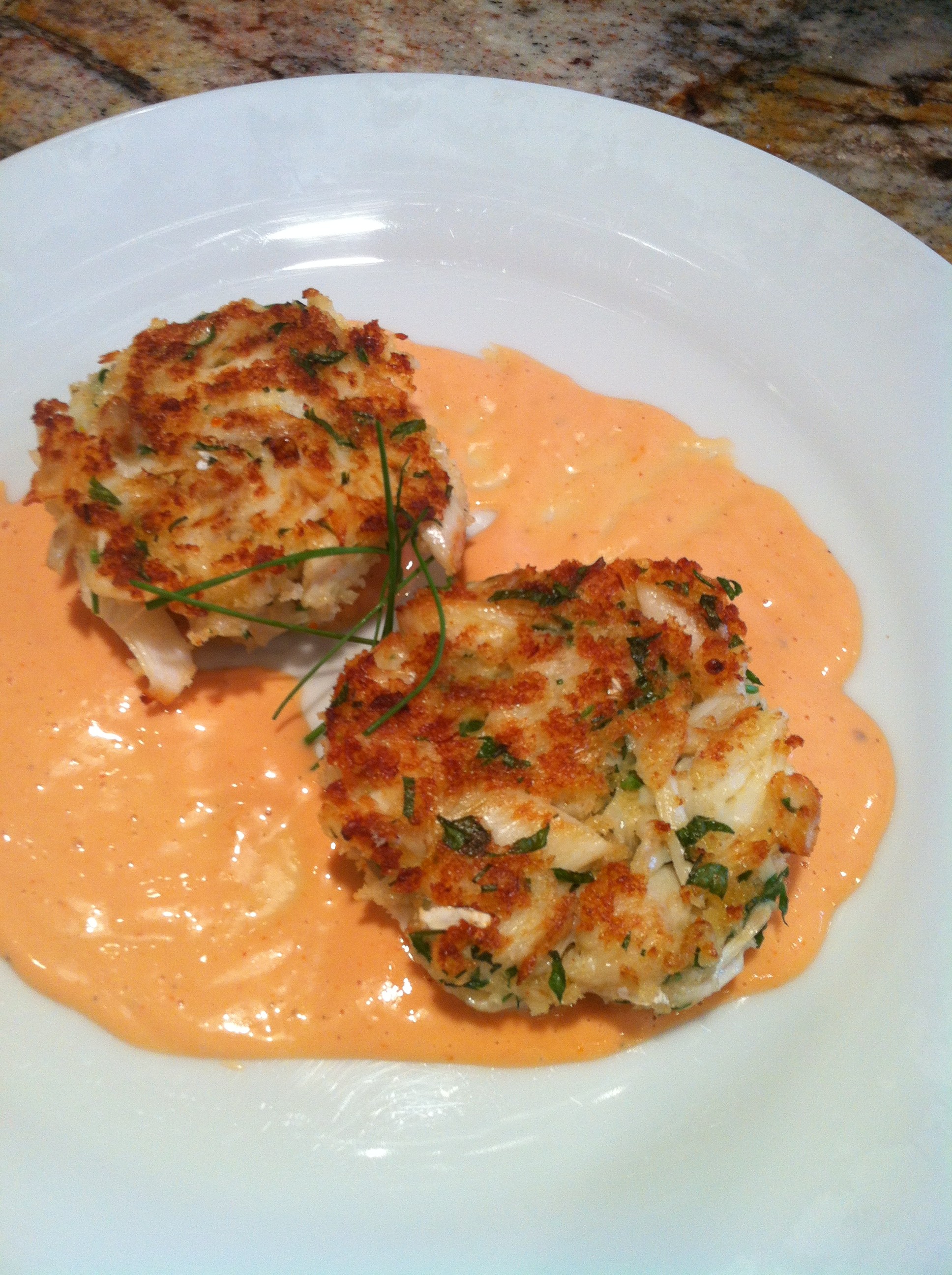 From time to time I scan my archives for dishes that I like to "reheat" and share again.  I think you'll like this recipe because the cakes are super light and crispy.  Last Fall the chef at the Abilene Country Club prepared this for one of my book events and paired it with a Texas Trempranillo wine. Delicious!
Gulf Coast crab reminds us of our history.  Most anthropologists assert that the Karankawas, lean, dark and tall (6 feet),  lived on the Texas coast for thousands of years (La Vere, 2004).  European explorer documents describe their food and their cooking techniques but we've lost much detail because the oral culture and traditions are lost.  I can imagine Karankawa families enjoying crab cooked in different ways, much as they did corn cakes, perhaps roasting them, seasoned with the surrounding herbs.  Tragically, their life and culture reached a bloody end.
Between 1824 and 1827, the Texas Rangers under John H. Moore and Robert Kuykendall attacked them, killed most of them and and drove the survivors south.  The history of this period is still being written and needs more study.  We know that the surviving Karankawas fled their centuries-old ancestral homeland while Kuykendall is quoted as proclaiming that "Indian hunting" had become a "sport." (Anderson, 2005)
When I'm in my kitchen cooking any type of seafood from our Texas coast, these important memories are with me and I think they make my food more substantial, nuanced and I want it to be flavorful and enjoyed by all.  It was the French food philosopher, Jean Anthelme Brillat-Savarin, who wrote in 1825, "Gastronomy is the intelligent knowledge of whatever concerns man's nourishment." "…the action of foods on man's morale, on his imagination, his spirit, his judgment, his courage and perceptions…" (Brillat-Savarin, re-published 2009)
Let's serve the table, a table for all.
Recipe ( serves 8) Excerpted from the book, "Truly Texas Mexican: A Native Culinary Heritage In Recipes
Ingredients:
10 oz fresh large lump crabmeat
2 shallots, minced
2 Tbs fresh flat leaf parsley, minced
1 Tbs fresh chives, minced
1 Tbs fresh chives, cut into 1/2 pieces for garnish
1/8 tsp powdered Chile De Arbol or Cayenne chile
egg whites of 2 small eggs
Salt to taste
Black pepper to taste
2/3 cup panko bread crumbs
3 Tbs Canola oil
Method:
1. In cold water, wash and pick over the crab meat gently so it doesn't break apart, set aside.
2. Sauté the shallots in 1 Tbs Canola oil until they are soft.  Set aside and allow them to cool to room temperature.
3. In a large bowl mix together with a spatula the egg whites, parsley, chives, Chile de Arbol, salt, pepper and cooled shallots.
4. Fold in the crab meat and when it is covered with the egg white mixture, gently fold in the panko bread crumbs.
5. Make 24 round cakes and set them aside.
6. In a sautée pan, preferably non-stick, heat 2 Tbs Canola oil on high heat.
7. Add the crab cakes in batches and sautée until golden, about 2 minutes on each side.  Don't overcrowd them in the pan because this will lower the oil temperature too much. I use a rubber spatula and a fork to turn them gently. Add a little more Canola oil if needed, just a little.
Serve immediately with Mayonesa De Yerbaniz, recipe in my previous blog. You won't be able to find yerbaniz at the grocery store, so make a leisurely trip to the nursery and buy a small plant.  The scientific name is "Tagetes Lucida," and it's sometimes called sweet mace, Texas tarragon and Mexican tarragon. It has attractive yellow flowers, so it's a great addition to your flower and herb garden. ¡Buen provecho!
References:
Anderson, G. C. (2005). The conquest of texas. Norman: University of Oklahoma Press.
Brillat-Savarin, J. A. (2009). The physiology of taste. New York: Alfred A. Knopf, Inc.
La Vere, D. (2004). The texas indians. College Station: Texas A&M University Press.
NOTE: If you found my article helpful, I invite you to follow me on Twitter, Instagram and Facebook, or subscribe below for updates (I'll email you new essays when I publish them).
---
---