Cilantro Rice – Arroz Con Cilantro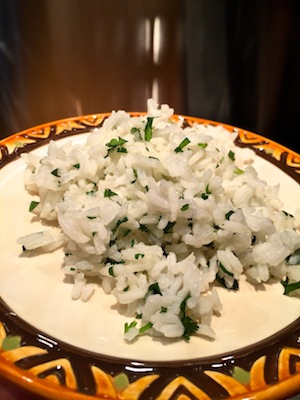 Cilantro Rice, Arroz Con Cilantro, is aromatic, light, and it foregrounds cilantro. The story of cilantro is the story of how human beings constantly interact with each other, often in unexpected ways, exchanging ingredients, traditions, and the love of food.
Cilantro, also named coriander, is not native to Texas or Mexico. Its origins are in southern Europe and northern Africa, with the Pharaohs, Romans, Greeks and Israelites. It is mentioned in the bible, comparing it to the manna that fell from heaven (Exodus 16:31):  "And the house of Israel called the name thereof Manna: and it was like coriander seed."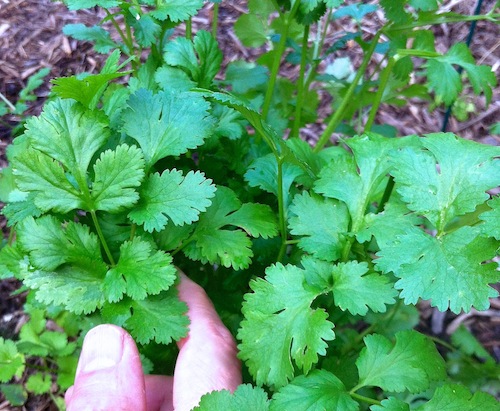 Cilantro came to us in the 1500's with the conquering European immigrants. We've fallen in love with the herb, and it is now a mainstay of our cuisine, an example of cultures meeting in creative, loving ways.  (The Euro conquest of Native Americans was horrifically violent).  Cilantro Rice, Arroz Con Cilantro, has both cooked and raw cilantro to heighten the aroma and green color.  I often serve it with Chile Relleno Lampreado.
Recipe for Cilantro Rice
Adapted from the coookbook: "Truly Texas Mexican: A Native Culiniary Heritage In Recipes"
Ingredients  (serves 4)
1 cup rice
1 tablespoon canola or other vegetable oil
1 teaspoon salt
2 tablespoons green onion, finely sliced
1 cup packed cilantro, minced, divided into 2 half-cup portions
2 cups water
Method
1. Heat the oil in a saucepan, add the rice, and cook for 2 minutes.  Add the green onion and cook for 1 minute.
2. Add the water, salt, and 1/2 cup of the cilantro. Bring the water to a boil, and then lower the heat to a low simmer, cover and cook for 12–15 minutes.
3. When the rice is cooked, add the other 1/2 cup of cilantro and gently toss with a large fork or tine.
It is ready to serve.
NOTE: If you found my article helpful, I invite you to follow me on Twitter, Instagram and Facebook, or subscribe below for updates (I'll email you new essays when I publish them).
---
---