Chipotle Cherry Tomatoes Pop With Tang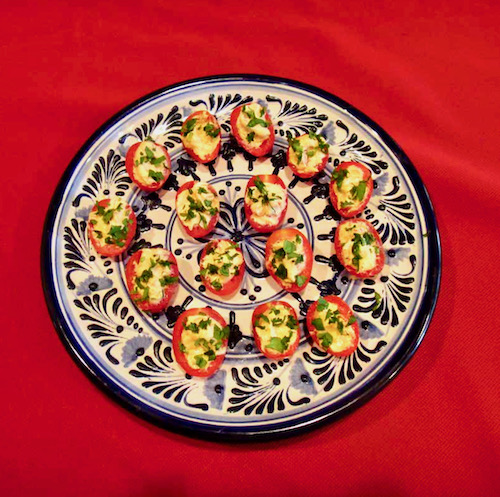 Greet springtime with bite-size chipotle cherry tomatoes. Pop 'em into your mouth for a blast of bright flavor: tart, smoky herbal. Thesy make great appetizers as well as additions to dishes of grilled vegetables and meats.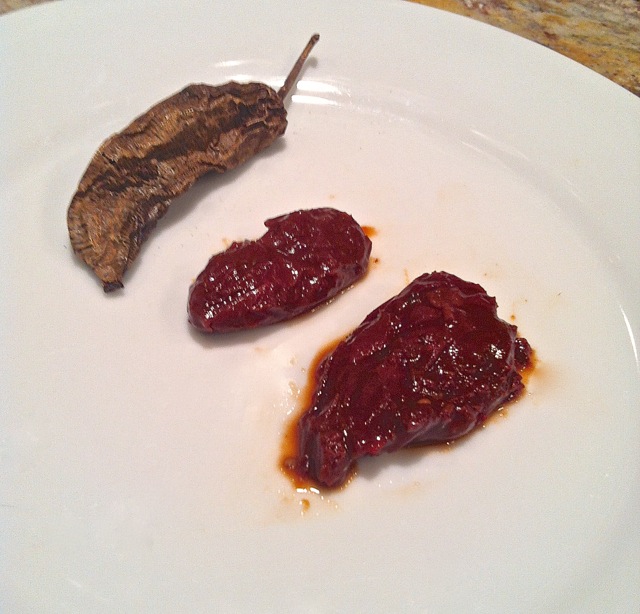 Chipotles are ripened jalapeños that have been dried and smoked. The chile chipotle is a pre-conquest culinary delight that the is prominently described in The Florentine Codex, originally entitled Historia general de las cosas de Nueva España (General History of Matters in New Spain) written by a Franciscan friar, Bernardo de Sahagún with the collaboration of native artists and writers. It is a bilingual Nahuatl – Spanish encyclopedic text, composed between 1545 and 1590.
The state of Chihuahua, with El Paso, Texas on its border, is the principal producer of the chipotle chile. Chipotle cherry tomatoes are great for an outdoor cookout.
Recipe (makes 24 stuffed halves)
Ingredients
12 cherry tomatoes
4 ounces cream cheese (1/2 cup)
1 tablespoon chipotle chile in adobo (canned or
make your own with my recipe
)
1/8 teaspoon dried Mexican oregano
2 cloves
1⁄4 teaspoon fresh rosemary
Salt, to taste
2 tablespoons cilantro, minced.
Method
1. Slice the tomatoes in half lengthwise and scoop out the pulp with a melon baller or small spoon. (I save the pulp in the fridge because I can always use it later to make fresh salsa ranchera). Lay the halves cut side down on two layers of paper towels and place in the fridge for an hour so that the insides can drain and dry. If you are pressed for time, you can dab the cavity of each tomato with a paper towel to remove excess juice.
2. Using a molcajete or other mortar, grind the oregano, cloves, and rosemary into a fine powder. Then add the chipotles en adobo and grind again to form a smooth paste. Add the cream cheese and combine thoroughly. Taste and adjust the salt.
3. Spoon the chipotle cream cheese into each tomato half. Sprinkle generously with the finely minced cilantro.
4. Chill for at least one hour.
Sources:
Chipotles in pre-conquest Mexico by Fray Bernardo de Sahagún: https://www.wdl.org/en/item/10096/
Chiles Chipotles, Sahagún:  https://tesis.ipn.mx/bitstream/handle/123456789/22788/Identidad%20y%20Cultura%20Mexicana%2C%20El%20chile.pdf?sequence=1&isAllowed=y
Chiles in Mexico:  http://web.ecologia.unam.mx/oikos3.0/index.php/todos-los-numeros/articulos-anteriores/221-chiles-en-mexico
Chihuaha, Chipotle: https://sonorastar.com/2020/11/19/5-cosas-que-no-sabias-del-chile-chipotle/
NOTE: If you found my article helpful, I invite you to follow me on Twitter, Instagram and Facebook, or subscribe below for updates (I'll email you new essays when I publish them).
---
---