Chile Con Queso, Party Mexican Dip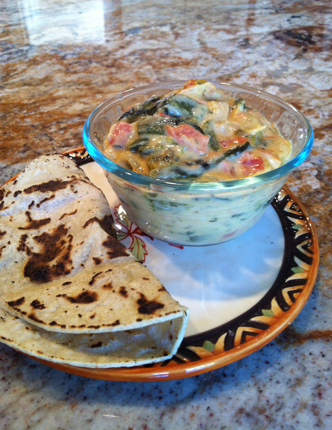 Chile Con Queso is often misunderstood, confused with the so-called tex-mex dip that's made by combining canned tomatoes, canned  chiles, and Velveeta brand cheese.
Even the much quoted Diana Southwood Kennedy admits that she thought Chile Con Queso was not Mexican but from Texas.  In fact it is both, because it is Texas Mexican.
Southwood Kennedy, being British and arriving in Mexico at age 34, makes the mistake that most Europeans make.  They land in Central and Southern Mexico and settle into a preference for those regional cuisines.  Northeastern Mexico and Texas  (the region of Texas Mexican cuisine) remain largely unknown to most writers of Mexican food.  Even in her book, "The Essential Cuisines Of Mexico," Southwood Kennedy says that she always thought of Chile Con Queso as a Texas dish until she found it to be Mexican because it is a tradition in the Mexican state of Chihuahua.  She seems to not understand that Texas and Chihuahua share the same culinary history and flavor profile.
Most writers are unaware of the history of the map below, and thus don't realize that both Chihuahua and Texas  were part of the Republic of Mexico until the United States took possession in 1848 at the end of the U.S.-Mexico war.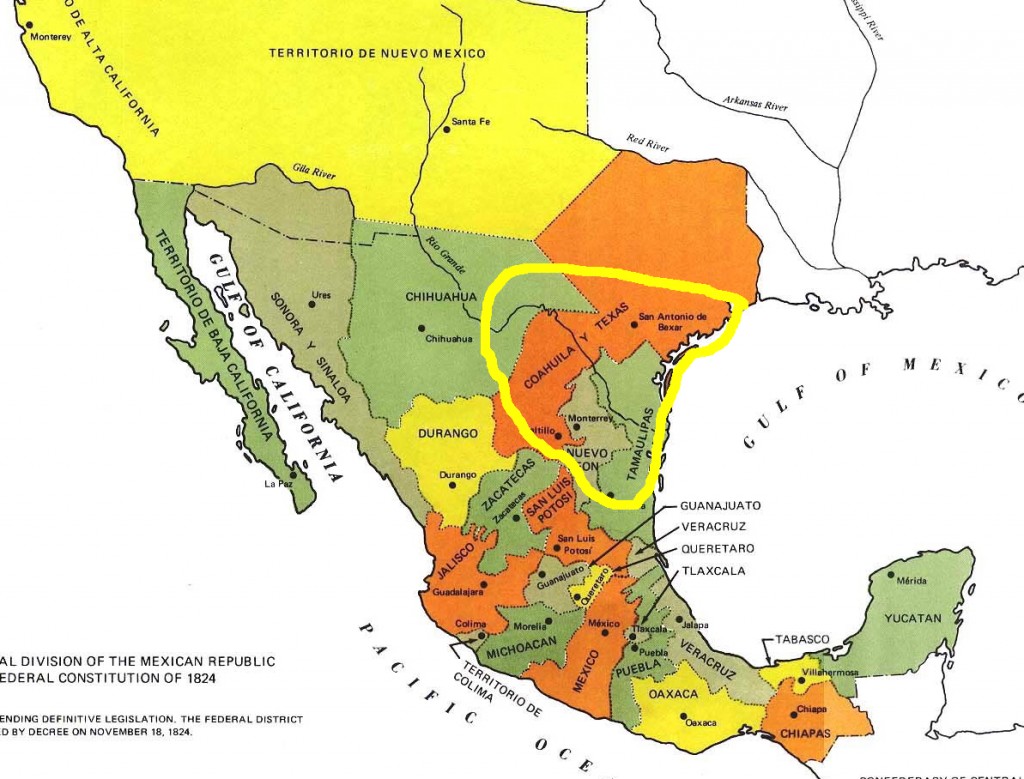 The triangle shows the region of Texas Mexican food, with the Rio Grande as a river running through it.  The region was homogeneous, in geopolitical terms, and now that the Rio Grande is also a border, it continues to be homogeneous in culinary terms.
Although many of my friends make the newer Velveeta, canned chiles Tex-Mex version, (and I gleefully gobble it up at their parties) it's not to be confused with this recipe of truly Texas Mexican Chile Con Queso.
I suggest it as a party Mexican dip because it is easy to make.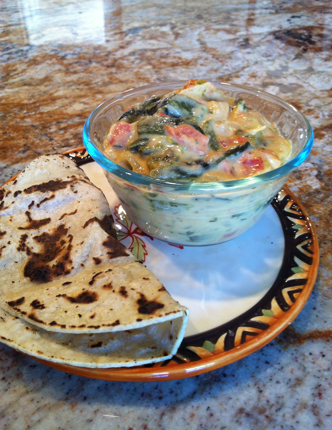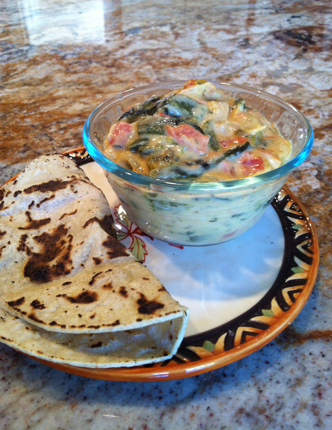 Recipe for Chile Con Queso
(makes 1-1/2 cups) Adapted from the book, Truly Texas Mexican: A Native Culinary Heritage In Recipes
Ingredients
3 poblano chiles, charred, peeled, and deseeded
1 tablespoon canola oil or other vegetable oil
1/2 white onion, thinly sliced
1 Roma tomato, diced small
3 tablespoons crema mexicana (If you cannot find crema mexicana, you can substitute crème fraîche).
3 tablespoons whole milk
4 ounces Chihuahua cheese, cut into small cubes
1/4 teaspoon salt
Method
1. Place the chiles under a broiler, turning them so that they are entirely charred and the skin is blistered. Place them in a paper bag, close tightly, and let them sweat for 15 minutes so that the skin will be easier to peel off.
2. Place each chile on a cutting board and peel off the skin with your fingers. You can use a butter knife if you need to gently scrape off some of the skin, but this should not be necessary if the chiles are well charred.
3. On the cutting board, cut a slit lengthwise in each chile. Open the chile and lay it flat, inside flesh facing up. Remove the stem and the cluster of seeds attached to it. Remove the remaining seeds by sliding them away gently with your finger or a butter knife.
4. Cut the chiles into strips, 1/4–1/2 inch wide and 2 inches long. Set aside.
5. Heat the oil in a skillet, medium heat, and add the thinly sliced onions. Cook them slowly until they are transparent but still completely white with no brown or golden color. Add the diced tomatoes, poblano strips, salt, and cook for 3 minutes. Then turn the heat to low.
6. In a cup or small bowl, whisk together the milk and the crema mexicana, pour into the chile mixture, and blend.  Turn off the heat.  Add the cheese, blend it, and allow it to melt. Adjust the salt.
Serve immediately with heated store-bought tortillas, or you can make them fresh, using this recipe for  corn tortillas  or AP flour tortillas.
NOTE: If you found my article helpful, I invite you to follow me on Twitter, Instagram and Facebook, or subscribe below for updates (I'll email you new essays when I publish them).
---
---