Dulce De Leche Quemada – Burnt Milk Candy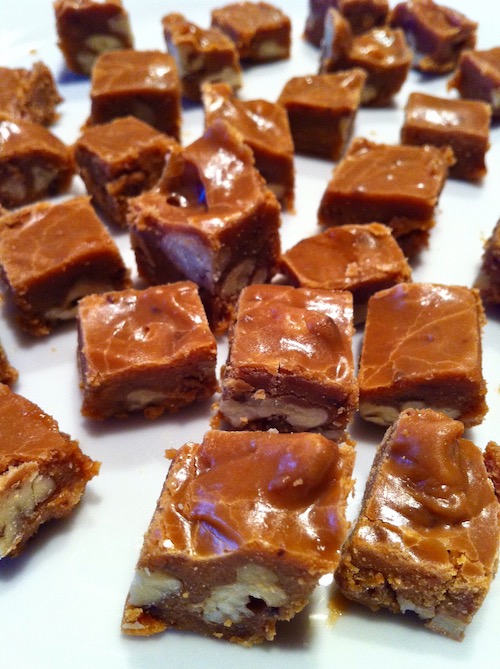 Dulce De Leche Quemada means burnt milk candy. I dug up this recipe from my archives because it makes for a good stay-at-home project.  It'll take several hours to cook and kids and adults will love them, extra yummy with roasted pecans.  As far as candy-making goes, this is fairly straightforward, and you may want to let the kids join in, safely though.
My amá, Dominga, regularly made dulce de leche quemada for us kids.
We had four pecan trees in our backyard, so the lush candy was laden with plenty of roasted pecans.  The trick is to roast the pecans before adding them to the candy.  You'll have richer flavor and color.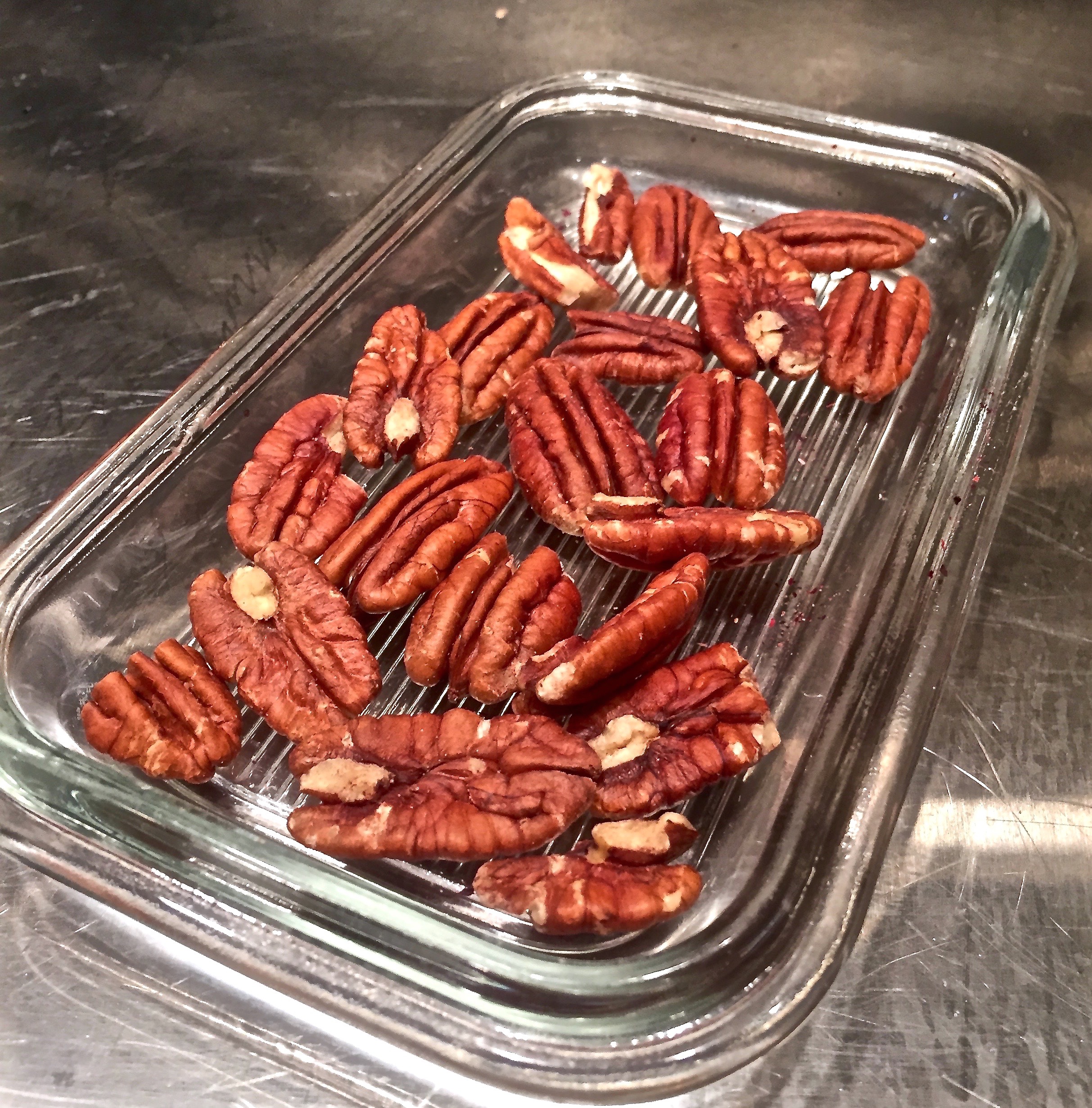 This is a recipe I used for a collaborative art show,  "The Candy Shop,"  with three other Latinx artists who were painters/sculptors.  I was the only cook in the group of artists, so I made candies while my colleagues painted or sculpted various candy themes.
The spirit of the art show was how candy, in the Latinx experience prompts evocations of nostalgia, diaspora, community, absence.
I cooked three candies, and one of them was  "Dulce De Leche Quemada." Piled like little hand-tossed sculptures on a  high table, art lovers inspected them, wondering:  "Should I Eat The Art?"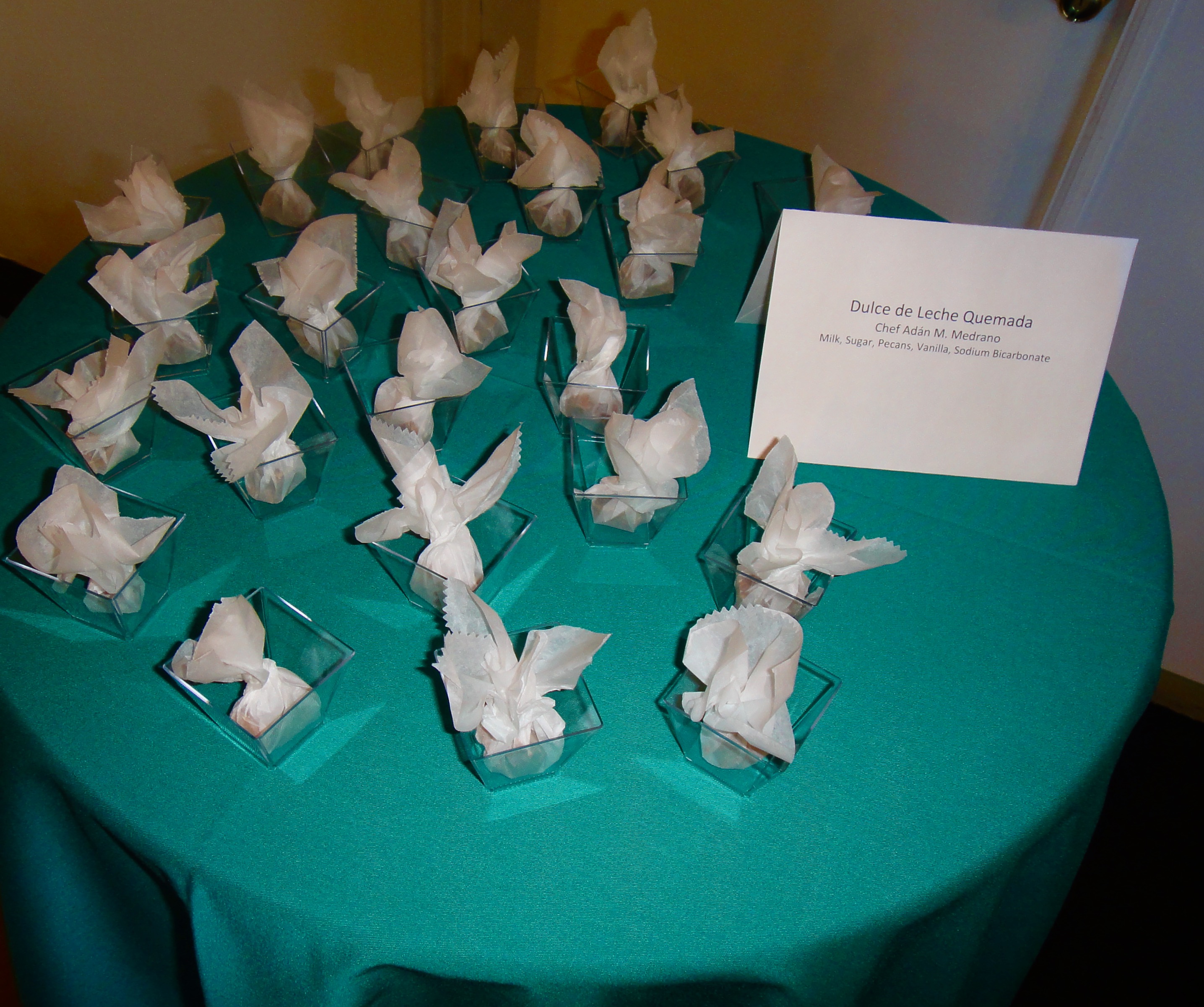 Recipe for Dulce De Leche Quemada – Burnt Milk Candy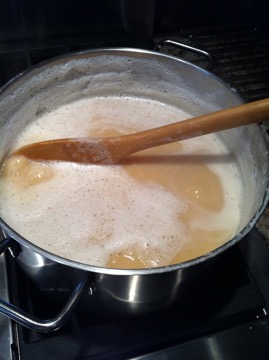 Ingredients
1 qt. whole milk
1/2 qt. sugar
1 tsp Mexican vanilla extract
1/8 tsp baking soda
3/4 cup pecans, roasted .
Method
1. In a cookie sheet roast 3/4 cup pecans in a 350ºF oven for about 5 minutes.  Keep a close watch so that they do not burn. Set aside.
2.a In a large saucepan, add the milk, sugar, and baking soda. Bring to a simmer and cook for about 2 hours, stirring occasionally, until the temperature reaches  F 234°.
3. Remove from heat and add the oven-roasted pecans and vanilla.
4. Pour the candy into a buttered pan and allow it to cool.  Then cut into squares.
Enjoy, stay safe.
More Delicious Candy Recipes and Other Mexican Classics in 2 Award-winning Cookbooks
Don't Count The Tortillas: The Art of Texas Mexican Cooking

2020 Award Winner! 

Over 100 kitchen-tested recipes
including soups, botanas, tacos, cocktails and outdoor grilling.
A collection of both Texas Mexican classics and what is trending in restaurants and homes.

A study of memory, connection, and the sumptuous possibilities of traditional cuisine."
Truly Texas Mexican: A Native Culinary Heritage In Recipes


 100 kitchen-tested recipes, each with step-by-step instructions.
Offering new culinary perspective on well-known dishes such as enchiladas and tamales, he shares the secrets of lesser-known culinary delights, such as turcos, a sweet pork pastry served as dessert.

"He illuminates the mouth-watering interconnectedness of culture and cuisine."
NOTE: If you found my article helpful, I invite you to follow me on Twitter, Instagram and Facebook, or subscribe below for updates (I'll email you new essays when I publish them).
---
---