Albóndigas de Camarón | Powdered Shrimp Cakes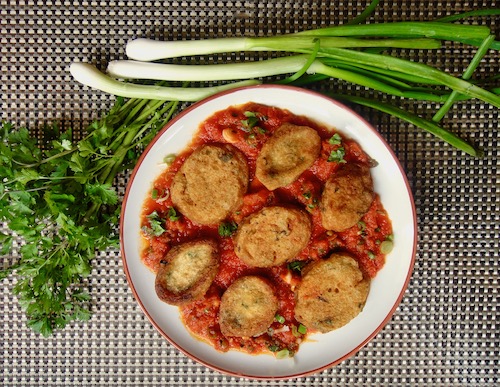 Albóndigas de Camarón are a culinary tradition meant to be penitential in the sense that foregoing the pleasure of meat presents an opportunity to connect with soulfulness in our daily life.  Catholics commit a sin if they eat meat on Fridays during the Lenten season, and some indigenous peoples of Texas share this tradition since they were converted to Catholicism in the 1600s. This happened when they also became the labor force that built the Catholic missions system.
Creative cooks came up with these delicious little shrimp cakes for those meatless Fridays. This version is light and bright, accented with the fresh flavors of green onions and cilantro. I confess that I don't feel penitential making and enjoying them, but I'm sure I'll find other moments and spaces in my life to practice abnegation and detachment.
This recipe is from my sister, Esther Martínez, a master chef. I wrote it on a scrap sheet of paper, seated by her bedside, as she dictated the details of whipping eggs and picking cilantro leaves. It was one of the last gifts she gave to me, and now Esther is with me every time that I cook albóndigas de camarón.
Some people call them "tortas," but many of us in this Texas, northeastern Mexico region also call them "albóndigas," from the Arab word meaning ball.

Albóndigas de Camarón | Powdered Shrimp Cakes
Ingredients (makes 24 three-inch albóndigas)
2 oz. powdered shrimp
1 28-ounce can plum tomatoes or 8 fresh plum tomatoes, quartered. If using canned tomatoes, buy a brand that does not have calcium chloride in the list of ingredients. However, if the only type you can buy contains calcium choride, it's ok.
1 cup diced white onion
1/2 cup water
1 Tbs Canola oil or other vegetable oil with no trans fats
5 eggs, separated
1/2 cup green onion, thinly sliced, divided in two equal portions
1/2 cup cilantro leaves, coarsely chopped, divided in two equal portions
2 cups peanut oil or other vegetable oil suitable for deep frying
extra cilantro for garnish
Method
1. In a 12″skillet, heat 1 Tbs canola or other vegetable oil over medium-low heat. Add the onions and sauté until they are translucent, about 8 minutes.
2. Place the sautéed onions and the tomatoes in a blender and blend into a smooth purée.  Return the tomato purée to the skillet, add 1/2 cup water, bring to a low simmer and cook for about 20-30 minutes.  Set it aside and keep it warm.
4. Separate the eggs, making sure that there is no yolk at all in the whites.  In a large bowl, whip the egg whites until they form stiff peaks, then add the egg yolks and whip again to incorporate. The peaks will be soft.
5.  Add the powdered shrimp, half of the green onion and half of the cilantro. Using a spatula, incorporate the ingredients using a folding motion from the center toward the outside until the ingredients are fully combined. This method is the same that's used to fold the ingredients of a soufflé.
6. Add the oil in a 12″ skillet. The oil should cover a depth of between 1/4″ and 1/2″. Heat it to to 350ºF. If you don't have a thermometer, test by dropping in a teaspoon of the egg mixture. It should immediately start bubbling.  Be careful not to overheat the oil because it will start to smoke, and that's bad.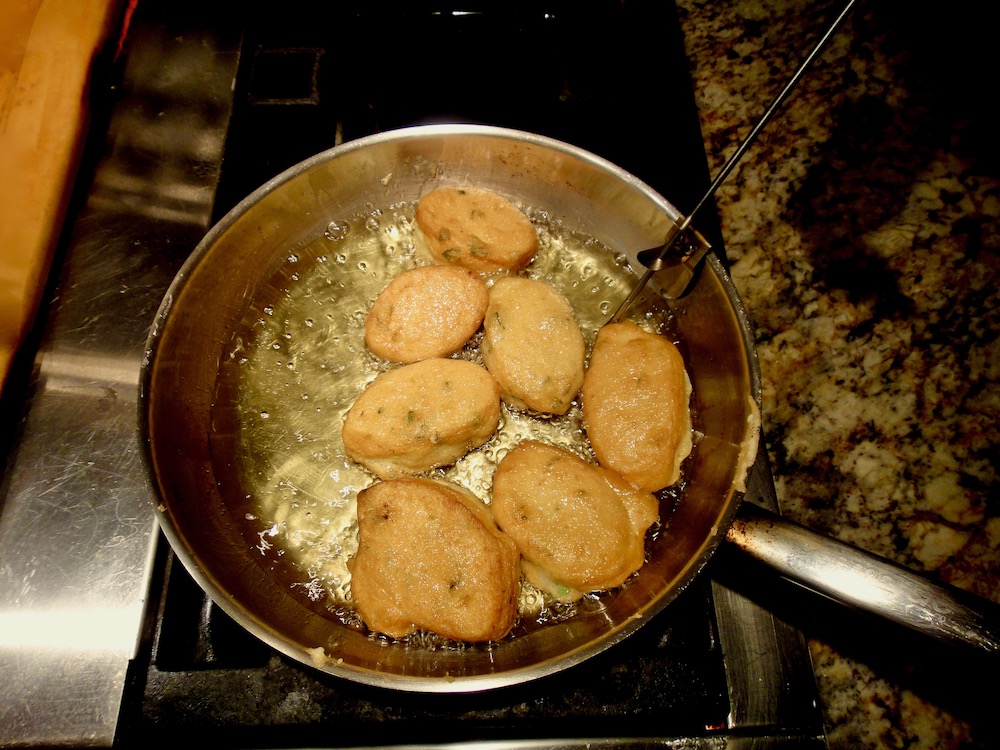 7. Using a large spoon, gently drop balls of the egg mixture into the oil where they will be halfway submerged. Fry for about 2 minutes, until they are golden brown, then flip them over and fry the other side another 2 minutes.  Transfer to a paper towel to absorb excess oil. Continue in batches, making all of them. Set aside.
8.  Add the remaining green onion and cilantro to the tomato caldo (purée) and mix well. In batches, place the albóndigas in the skillet, allowing the tomato caldo to heat them through, then serve immediately, garnished with extra cilantro.
Enjoy!
NOTE: If you found my article helpful, I invite you to follow me on Twitter, Instagram and Facebook, or subscribe below for updates (I'll email you new essays when I publish them).
---
---