Watermelon Canapé – Guac with Grapes
Summer watermelon served as an appetizer, becomes formal for a dressed-up party.  Here I make little watermelon bowls and place them on a thin Jicama wafer.  Let the fiesta begin!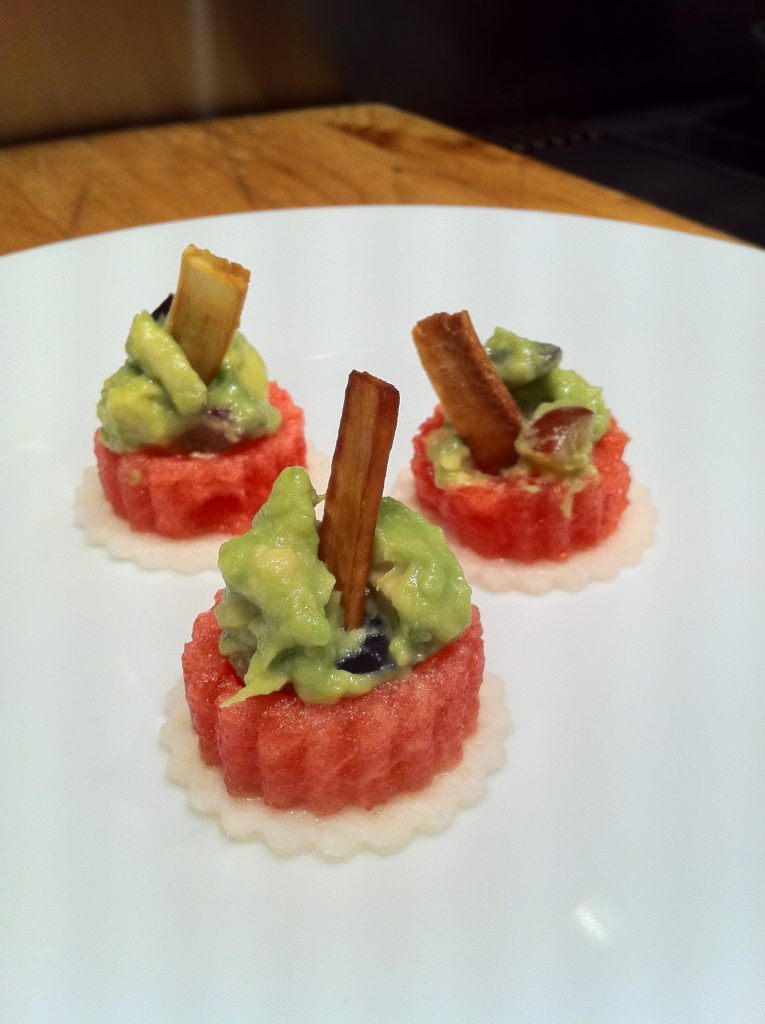 The filling is spicy guacamole with grapes. A sliver of fried Yucca finishes the canapé with a starchy crunch.   I came across the idea for guacamole with grapes while helping Chef Iliana De La Vega as she taught a course on Mexican Cuisines. She attributes her recipe, "Guacamole con Frutas" to Chef Roberto Santibáñez of  "Truly Mexican" fame.
Recipe for Watermelon Canapé
Adapted from the book: Truly Texas Mexican: A Native Culinary Heritage In Recipes
Ingredients:
1 seedless watermelon
1 jícama
1 yucca root
1/2 serrano chile, sliced
1 tablespoon white onion, diced
1 Haas avocado, sliced into small cubes
3 seedless white grapes, each grape quartered
3 seedless red grapes, each grape quartered
1/2 teaspoon salt
Method:
JICAMA:
1.  Peel the Jicama and slice it into very thin wafers using a mandolin.
2.  Cut the wafers into circles using a 2″ fluted cutter. Set aside, keep chilled and covered with a damp cloth.
YUCCA:
1. Peel one yucca root and, using a mandolin, make very thin wafers.
2. Cut wafers into strips 1/2″ wide and 3″ long.
3.  Deep fry in 360 F canola oil until golden.  This will be a few seconds.
4.  Remove from the fryer, place on a wire rack and salt evenly.
WATERMELON:
3.  Peel a seedless watermelon and cut into  3/4″ round  slices.
4. Using a fluted cutter just slightly smaller than the one used for the jicama, make watermelon rounds.
5.  In each round, scoop out some of the center,  making a small  hole that does not cut all the way through.
6.  Set these aside and keep them chilled.
AVOCADO WITH GRAPES: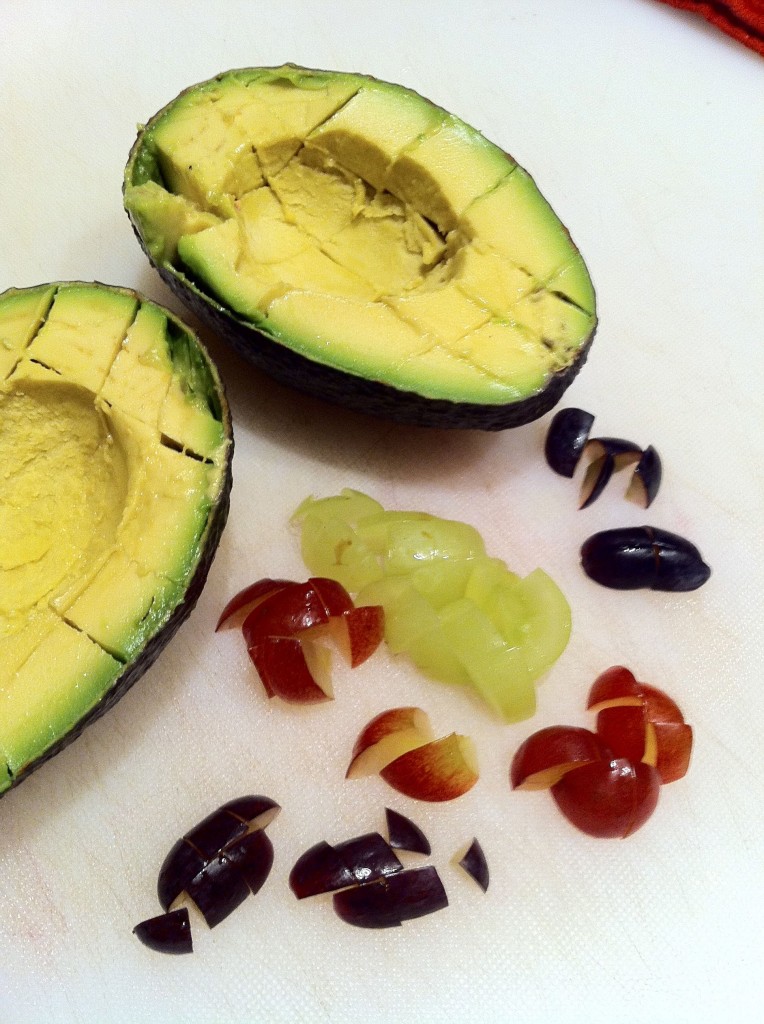 1.  In a molcajete,  place 1/2 sliced chile serrano, 1 Tbsp diced white onion, and 1/2 tspn salt.  Grind into a smooth paste.
2.  Add one large Haas avocado, sliced into small cubes as shown, and blend thoroughly so that the Serrano chile paste coats the avocado cubes.
3.  Fold in the grapes.
 To assemble the canapés simply spoon the guacamole into each watermelon round, place on the jicama wafer and top with the sliver of fried Yucca.
Serve immediately and celebrate the Texas Mexican summer!
NOTE: If you found my article helpful, I invite you to follow me on Twitter, Instagram and Facebook, or subscribe below for updates (I'll email you new essays when I publish them).
---
---