Vichyssoise Recipe
Stewart Hoover asked me about this when he and Karen treated me to dinner at Frasca.  This cold  soup is not common here in Texas but I recommend it as a starter for your dinner party.   Elegant, rich and refreshing.
The name is French, of course, but there's a debate about it actually having been invented in the USA.  I'll go with Julia Child who says USA. So, Stewart, here's the recipe and method that I learned when I was at the CIA, San Antonio.
Recipe (makes one gallon)
Ingredients
1  fl oz canola oil
1 Lb. 4 oz finely chopped leeks, white parts only
6 oz finely chopped onions
3 lb potatoes, peeled, medium dice
96 fl oz chicken stock
1 Sachet d'Epices (1 bay leaf, 1 tspn cracked peppercorns, 3 or 5 parsley stems, 1 sprig of thyme all wrapped up in a bit of cheesecloth)
1 Tbsp salt or to your taste
ground white pepper to suit your taste.
24 fl oz half-and-half
2 oz snipped chives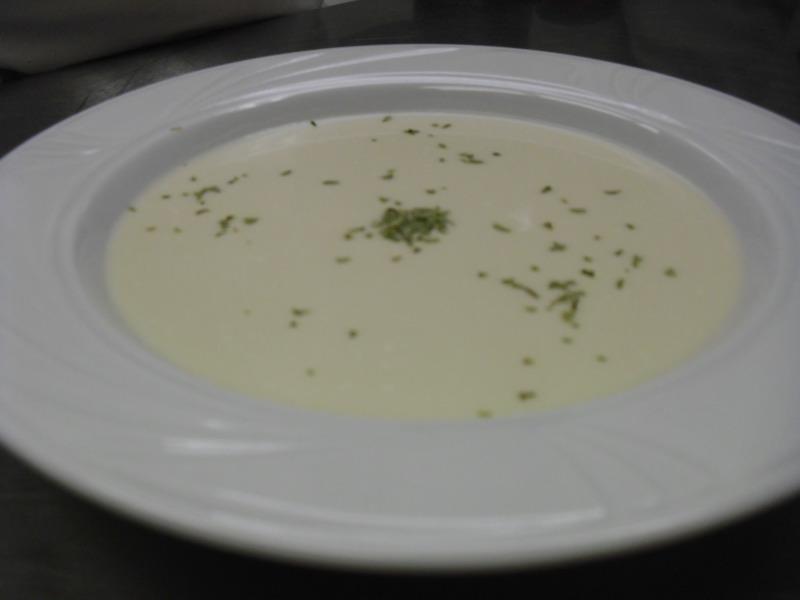 Procedure
1. Heat the oil in a medium stockpot or dutch oven, add the leeks and onions. Sweat them over low to medium heat so that they become translucent but don't acquire any brown or golden color. We want white color!
2. Turn up the heat and add the potatoes, the stock, Sachet, salt and white pepper. Bring it to a boil but then reduce the heat to low or medium, just to simmer slowly until the potatoes are soft. About 30 minutes. Then take out the Sachet, discard it.
3.In a blender, purée the soup in batches. Let the soup cool or chill it
4. Before serving, stir in the half-and-half and the chives. Taste it and add more salt or white pepper if needed.
Serve it in chilled bowls or cups.
…make sure it is white, white, white and cold. Enjoy!
NOTE: If you found my article helpful, I invite you to follow me on Twitter, Instagram and Facebook, or subscribe below for updates (I'll email you new essays when I publish them).
---
---