Sweetheart Meal: Tofu and Black Olive Paella
I'm travelling on business tomorrow so I made this Valentine's dinner one day early. Champagne is served with the first course, in-season white asparagus. Cautious about cholestorel and fat but not at all willing to foregoe luscious pleasure, asparagus are served with quartered egg whites and a mimosa of egg yolks lightly drizzled with a tangy Thousand Island dressing.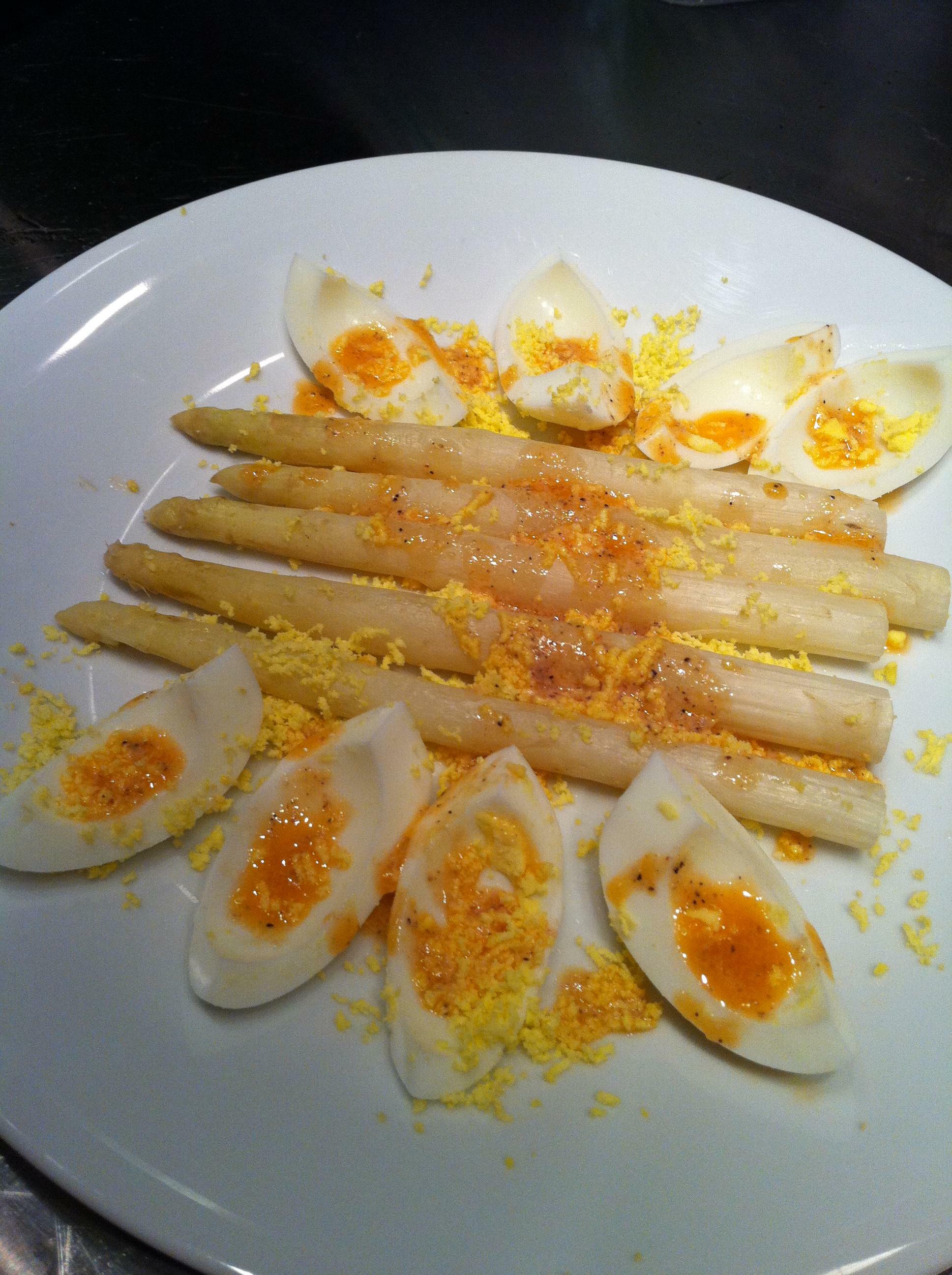 The main course is colorful and rich and can be part of a Valentine's brunch party, since it looks great in the casserole/paella dish.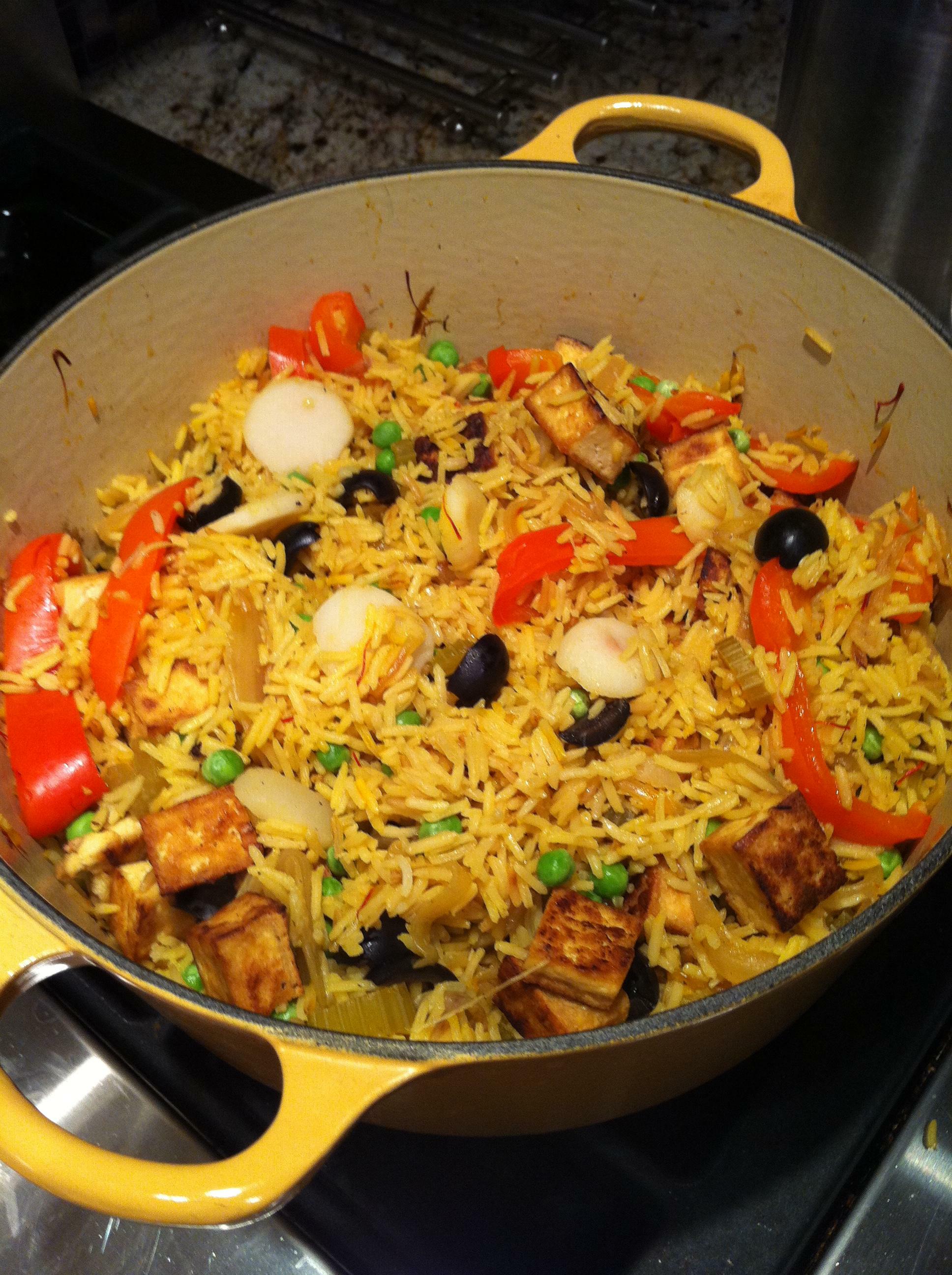 My friend Geof asked me for the recipe so here it is following the plated paella.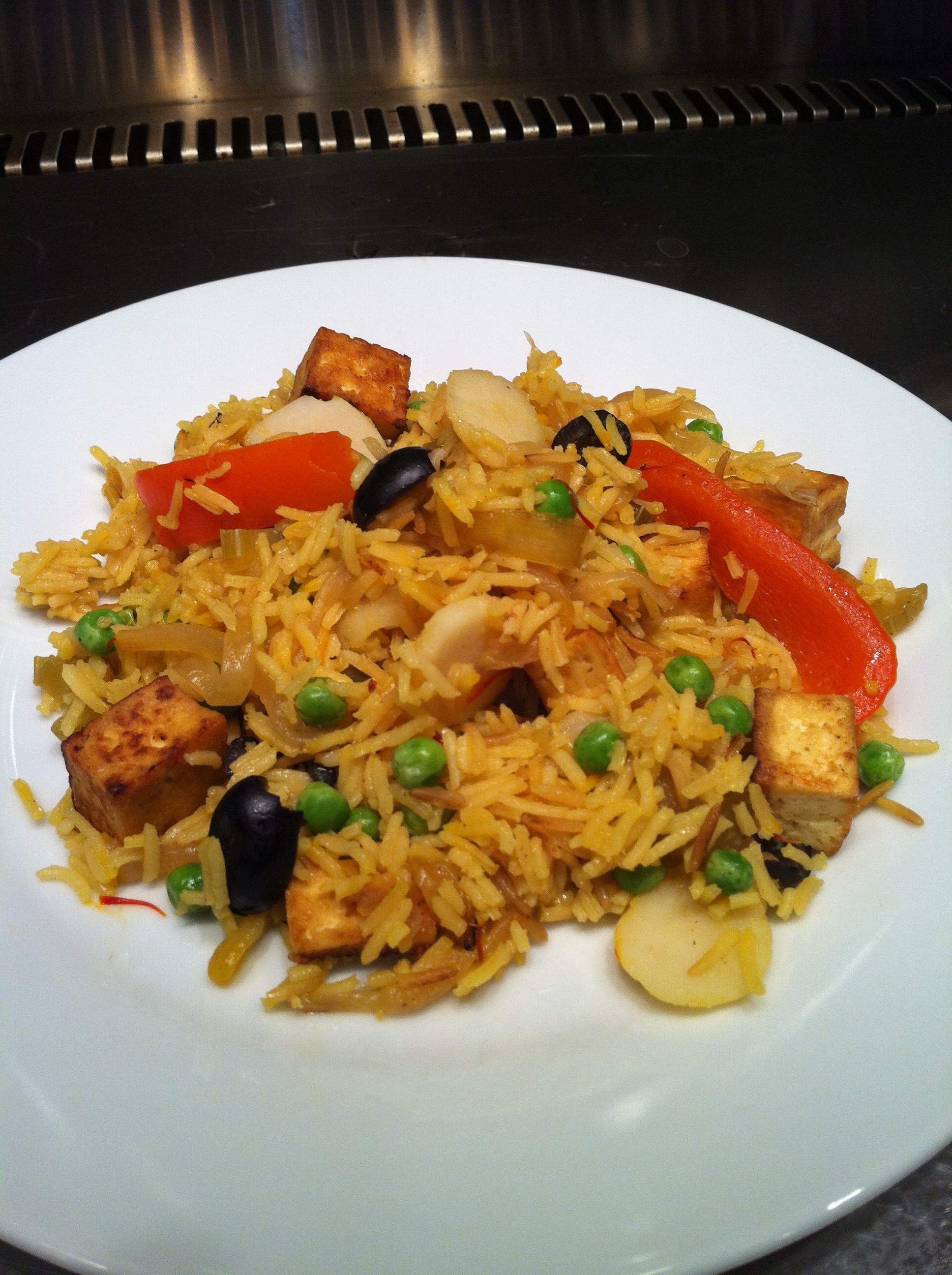 Recipe:
Ingredients
1 white onion, sliced
1 red bell pepper, cored and sliced
1 garlic clove, minced
2 stalks celery, sliced
1 cup sliced water chestnuts
1 cup green peas, fresh or frozen
1 cup black olives, halved
1 pound firm tofu cut into 1″ cubes and sauteed golden
8 Tblspns extra virgin olive oil
1 generous pinch saffron, about 3-4 tspns
2 tspn salt
1 tspn freshly ground black pepper
½ cup dry white wine
2 cups Basmati Rice
4 cups vegetable stock, or warm water
if you don't have the stock 🙁
Procedure:
In Paella pan or dutch oven,
heat pan over medium flame
add olive oil, making sure it does not overheat and smoke
add onions and saute until translucent
add bell pepper,celery,garlic and saute for about 3 minutes
When the above ingredients acquire a nice light brown roast color,
deglaze the pan by adding the white wine to the ingredients, making sure to scrape the pan so that all of the caramalized flavors (brown bits) are released into the wine.
When the wine has evaporated almost completely, add rice and stir ingredients together for about 3 minutes.
In a separate container, dissolve the saffron in the vegetable stock or warm water. Then add to the rice and vegetables.
Add salt and pepper.
Bring to a simmer.
Cover the pan and simmer on very low heat for 20 minutes.
While the rice is cooking, in a separate skillet, preferably non-stick, add just enough olive oil to sauté the firm tofu squares to a golden brown on all sides. Then remove and place them on paper towels to release excess oil.
After the rice has cooked for 15 minutes, add the fried tofu, black olives, sliced water chestnusts and green peas, to the rice mixture and stir very gently with a large fork (you are fluffing) to mix. Cover and simmer for the remaining time. The rice will be fluffy and beautifully saffron yellow.
Serve steaming hot.
Because it's Valentine's lover's day, I suggest splurging and pairing it with a white Bordeaux, not older than 2009.
If this dinner works for you, please let me know. I also am eager to know if the recipe is not clear enough or if it leads you astray.
am
NOTE: If you found my article helpful, I invite you to follow me on Twitter, Instagram and Facebook, or subscribe below for updates (I'll email you new essays when I publish them).
---
---