Turcos, Vintage Sweet Pork Empanadas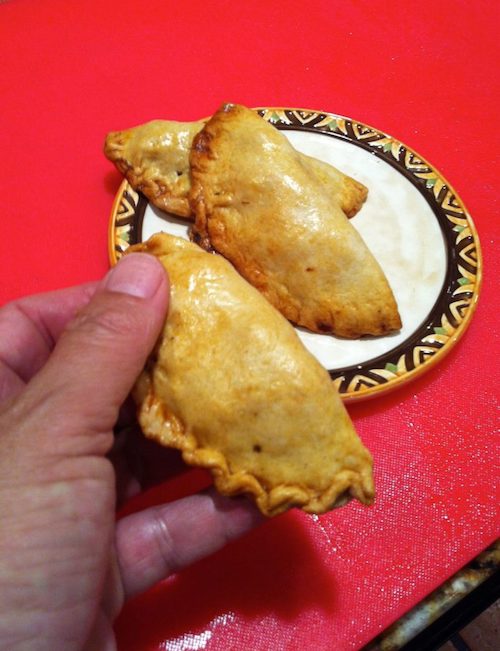 Turcos are a vintage, delicious treat, part of the Texas Mexican culinary tradition but almost becoming extinct. Rooted in Texas Pecan and also Arab flavors, it's still found in San Antonio all the way south to the Rio Grande Valley and del otro lado (on the other side) of the river, in Nuevo Leon, Coahuila, Tamaulipas, down to Monterrey.  As I visit home kitchens and find it almost forgotten in today's baking, it's time for a resurgence.  Turcos are a quintessential "Norteño" pastry that proclaims: it's fiesta time. Bake these for the new year's celebration.
It was a New Year's tradition in our home that amá (mom) would make these exquisite little pastries. She would make them especially for my sister, Gloria, even after she married and left home.  It was a special treat, sweet meat, and we all would stand around the stove as my mother mixed the pork, seasonings, nuts, and raisins.
——————————————————————————————————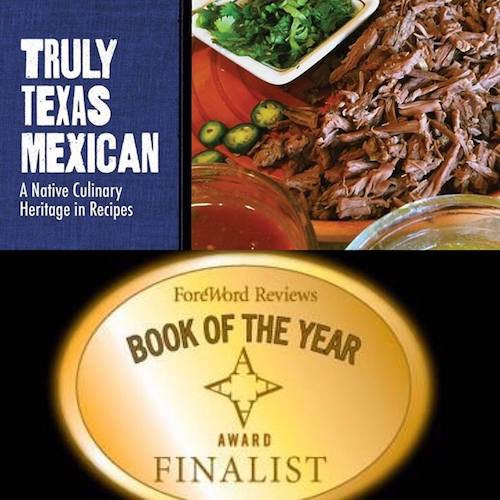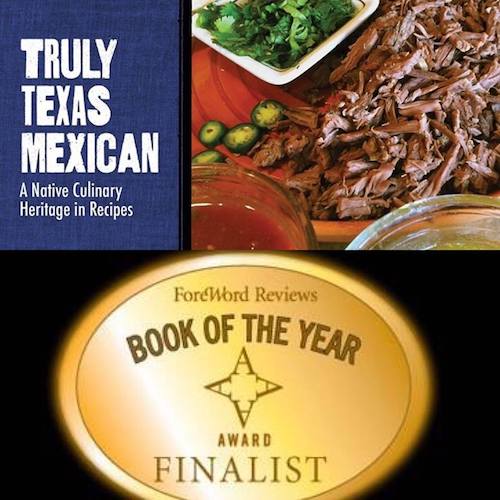 Click here to buy my award-winning cookbook, "Truly Texas Mexican: A Native Culinary Heritage In Recipes."
Over 100 kitchen-tested recipes of the most delicious traditional dishes like: Barbacoa,  Cilantro Rice,  Huevos Rancheros,  Tostadas,  Tamales,  Cheese Enchiladas and many more.  Margaritas, Cocktails, Appetizers and Desserts. Gorgeous photographs and step-by-step instructions.
——————————————————————————————————
My mother would say, "La carne tiene que estar seca" (It has to be dry-crispy.) Seca here refers to cooking until all the liquid evaporates and the meat begins to develop a crisp exterior. Gloria loved these turcos, and I think after you bite into the crispy crust and spiced filling, you will too.  Turcos are a culinary heritage that merits finding its way back home again in our Texas Mexican traditions.
Recipe for Turcos
Ingredients (makes 2 dozen)
Recipe from the cookbook, "Truly Texas Mexican: A Native Culinary Heritage In Recipes"
3/4 pounds pork butt or shoulder, bone in
1/4 onion
1 garlic clove
1/4 teaspoon whole clove
1 5-inch stick Mexican canela (cinnamon)
1/4 teaspoon powdered cinnamon
1/2 teaspoon sugar
1/4 teaspoon salt
2 tablespoons canola oil
3/4 cup pecans
1/4 cup black raisins
4 cloves, powdered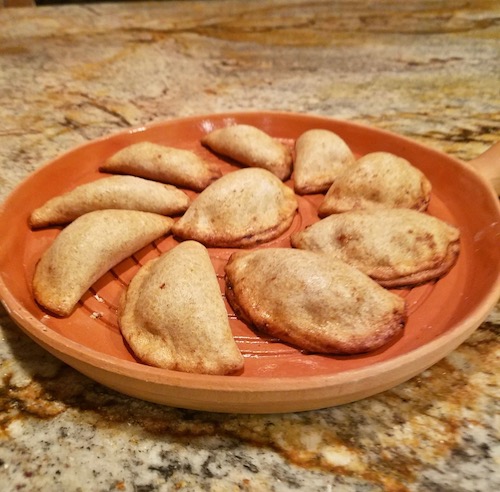 For the Dough
1 pound all-purpose flour
1/2 cup sugar
1 teaspoon baking powder
1/2 teaspoon salt
4 ounces (5 fluid ounces in a cup) non-hydrogenated vegetable shortening
1 cup water
1 teaspoon anise seeds
1 2-inch stick Mexican canela (cinnamon)
For the Egg Wash
1 egg
1 teaspoon milk
Method
For the Filling
1. Cover the pork with water. Add onion, garlic, whole cloves, and cinnamon stick, and boil, uncovered, for 1 hour. Skim and discard the foam that forms on the surface.
2. Remove the pork from the broth, reserving the broth, and place it on a cutting board or a large bowl and pull it apart using two wooden spoons or forks. It should look shredded.
3. Heat the oil in a skillet and sauté the pork until it becomes golden and crispy on the fibrous ends. My mom called this quality of the meat "seca."
4. Add the powdered cloves, powdered cinnamon, sugar, and salt, and mix well. Add the pecans, raisins, and 1 cup of the pork broth. Simmer on medium, scraping the bottom of the skillet to remove browned bits. When most of the liquid has  evaporated, turn off the heat and set aside.
For the Dough
Preheat the oven to 350°F.
5. In a small saucepan, bring 1 cup of water to a boil. Add the cinnamon stick and anise seeds, boil for 1 minute, turn off the heat, and let it steep for 10 minutes. Drain through a sieve and set aside.
6. In a food processor, pulse all the dry ingredients for 2–3 seconds to combine them well. Add the shortening and pulse for a total of about 15 seconds until the mixture forms small granules.
7. Turn the processor back on and start pouring in the anise and cinnamon water, about 2 tablespoons at a time (you will not use all of it) until the mixture forms an elastic dough.
8. Roll it out on a floured surface with a floured rolling pin, to a 1/8-inch thickness. Use a cutter or large cup to cut out 4–5-inch diameter rounds. The extra dough will be used to make a second batch. Using a water bowl and your finger, trace a 1/4-inch stripe all around the edge of each round.
9. On half of each round, spread 2 tablespoons of filling. Fold the other half on top of the filling, making a half-moon, and press the edges to seal. The water stripe will help hold the seal.
10. Using a spatula, lift the turcos and place them a greased baking sheet.
11. In a bowl, whisk together the egg and milk and brush the tops and sides of the turcos. Bake for 30– 45 minutes or until they are golden brown.
Feliz Año Nuevo, Happy New Year!