Texas Mexican Potatoes – A Grassroots Tradition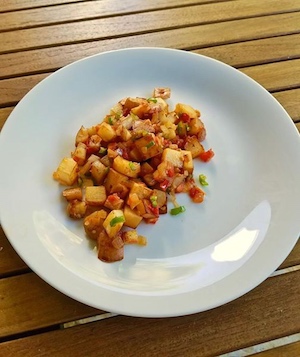 Texas Mexican potatoes, Papas A La Mexicana, are delicious and ubiquitous.  From Houston to San Antonio, and all the way from Brownsville to Del Río and El Paso, home kitchens are always stirring up sizzling skillets of Papas A La Mexicana, a Texas Mexican family tradition.  Fold them into tacos and burritos, yum.  Serve them alongside anything that happens to be cooking, and they are a natural partner.  They also do well taking center stage as the main dish.
The recipe starts with cooking the potatoes until they get just a little crispy on the outside but not fully cooked.  Adding the red, white and green colors of the Mexican flag makes them "a la Mexicana."
This recipe is adapted from a "Vegetarian Guisado" recipe that was featured in a  journal of south Texas culture,  "El Mesteño: A Magazine About Mexican-American Culture And Heritage In South Texas And Mexico" edited and published by Homero S. Vera.
Published from 1998 to 2001, it is a remarkable magazine,  that documents the vibrant Texas Mexican culture and traditions.  Food recipes are  in every one of El Mesteño monthly magazines,
In an interview with Sylvia R. Longoria of the Corpus Christi Caller-Times, Vera says that although Mexican Americans have a long and valiant history in South Texas, "not enough of this local history is taught in our schools."  He goes on to say, "I want family histories and the traditions of South Texas to continue for generations."
Mexican American history belongs in all Texas school curricula.  Vera says "I really hope that the history I'm preserving one day benefits the children in schools. We have tremendous backgrounds worth exploring and documenting."
Recipe for Texas Mexican Potatoes, Papas A La Mexicana
Ingredients (serves 4)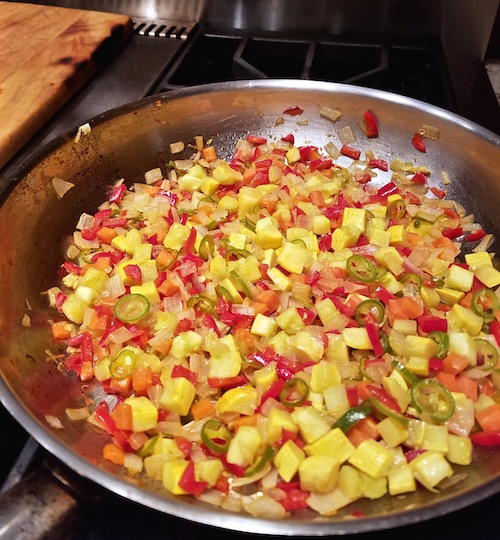 3 cups Red or Yellow Wax Potatoes cut in ½" cubes
½ cup White Onion, cut into medium dice
½ cup tomato, cut into medium dice
1 Chile Serrano, or Chile Piquín, minced, about 2 Tbs
½ tsp salt
Method
1.  In a skillet, over medium heat, cook potatoes and onions together for 8 minutes or until potatoes are almost fully cooked and the onions are translucent. The potatoes will be crispy on the outside.
2.  Add the Chile Serrano or Chile Piquín and cook for 2 minutes
3.  Add the tomato, salt and cook for 1 minute.
That's it!  You've got a beautiful skillet of this traditional guisado.
Serve with beans and tortillas.  Makes excellent tacos.
SOURCES:
Baylor Texas History Association
"Editor educates readers about their heritage." by Sylvia R. Longoria, Corpus Christi Caller-Times (April 2001)
El Mesteño: A Magazine About Mexican-American Culture And Heritage In South Texas And Mexico
NOTE: If you found my article helpful, I invite you to follow me on Twitter, Instagram and Facebook, or subscribe below for updates (I'll email you new essays when I publish them).
---
---