Spanish Sangria, Always A Party Favorite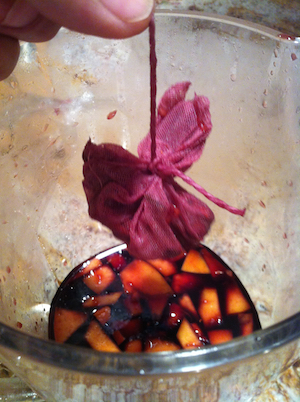 I decided to reprise my recipe for Spanish Sangria because it makes a great fall party punch.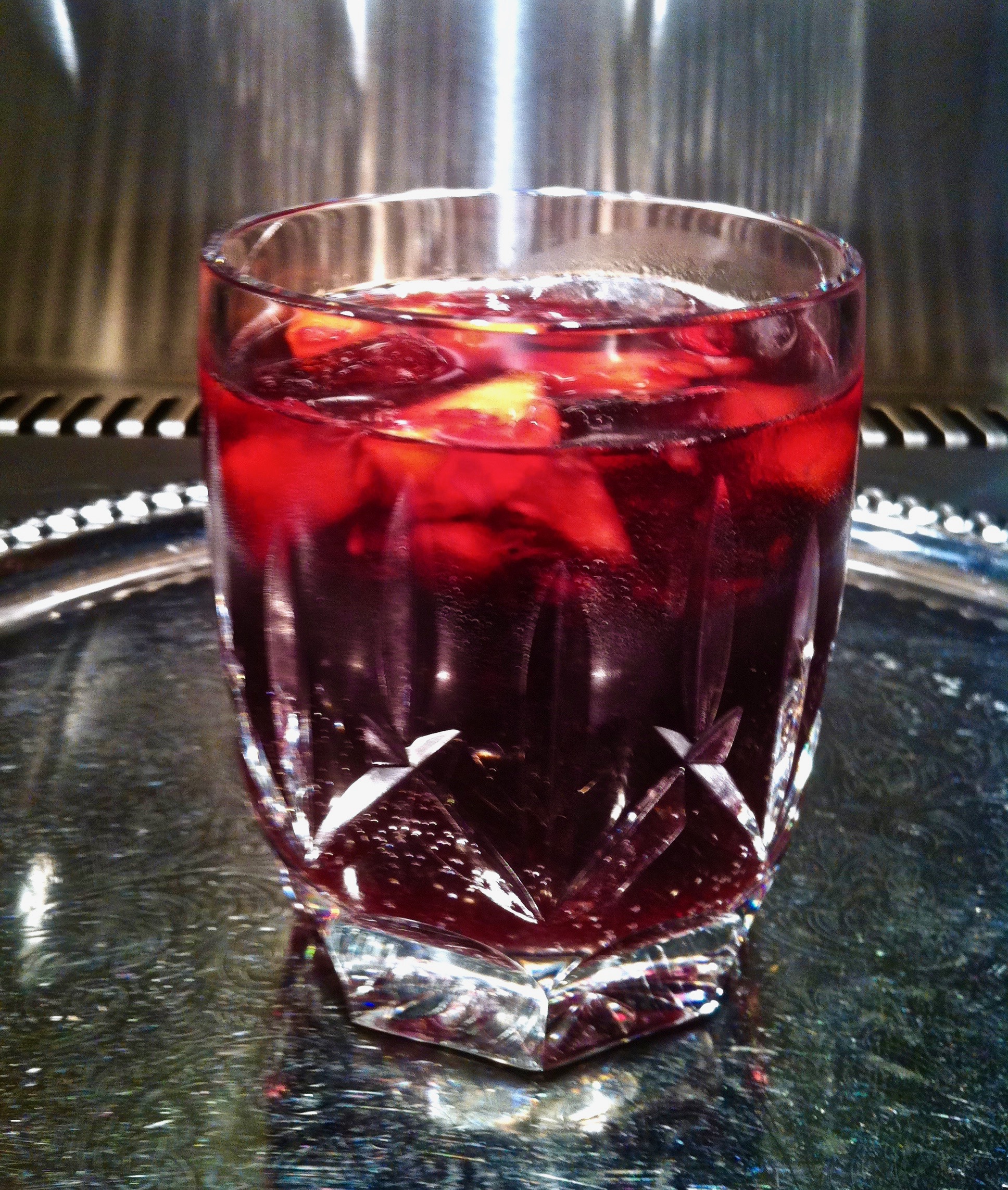 Spanish Sangria originates, of course, in Spain,  "sangría" deriving from "sangre," meaning blood.  The correct spelling uses an acute accent: sangría.
The blood-red wine punch became popular even with the English, around mid 1700's.  It came to Latin America and to Texas once the Spaniards began their conquest here.  Sangría is simply red wine with macerated fruit.  It is drunk cold during hot weather.
What recipe? It's basically just wine with macerated fruit and a little sweetener, that's it.
When a stronger spirit is added, like brandy, the Spanish call the drink Zurra.  But we in the rest of the world still call it Sangria.
I'm sharing this recipe which I learned during a stay in that gem of a city, Toledo (not Ohio.)  I've made the recipe precise so that it's easy to follow, and you can be sure it'll be  delicious.  But most often Sangría will be thrown together with available fresh fruit, the only rule being to respect its heritage and confluence of flavors.  This recipe is adapted from the book, "Truly Texas Mexican: A Native Culinary Heritage In Recipes."
Spanish Sangria Recipe

Ingredients (serves 4)

1 cup unpeeled diced ripe peach (this is usually one peach)

1/2 cup peeled, diced Seville orange (this is usually one small orange)

1 Tbs sugar (you may increase this by 1/2 Tbs or 1 Tbs if the fruits are not very sweet)

1 Tbs freshly squeezed lemon juice

1/4 cup freshly squeezed Seville orange juice (this is usually one small orange)

1 two-inch stick Cinnamon.

I wrap the cinnamon  in cheesecloth so that there are no splinters in the drink.

3/4 cup brandy

1 bottle red wine ( I like either a Cabernet Sauvignon from Argentina or Chile or a Rioja from Spain.)

6 ounces lemon-line soda pop (optional)

Method

1. In a pitcher place the diced peach, diced orange, brandy and sugar. Smash the fruit a little with a wooden spoon and let stand for 15 minutes

2. Add the orange juice, lemon juice, wine and cinnamon and place in the refrigerator for one or 2 hours until very well chilled.

3.  Just before serving, remove the cinnamon and add 6 ounces lemon-lime soda and mix.

4. I like to serve the Sangría in double old-fashioned glasses with a few ice cubes as pictured above.

Let me know how you like it.
NOTE: If you found my article helpful, I invite you to follow me on Twitter, Instagram and Facebook, or subscribe below for updates (I'll email you new essays when I publish them).
---
---