"Carne Guisada Con Papas," A Mexican American Classic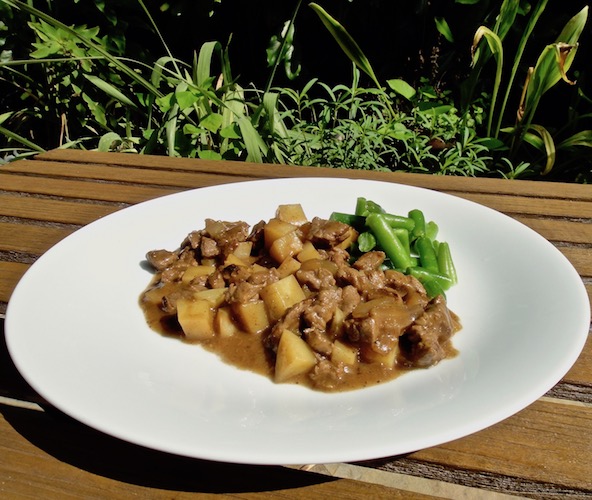 Carne Guisada is an iconic Mexican dish that's traditional in the homes of Mexican families of Texas.  Most often it's made with diced potatoes, thus "Carne Guisada Con Papas."  You won't find carne guisada on any menu of the tex-mex, anglo oriented restaurants like the 91 restaurants owned by Chuy's Holdings, Inc., or the darling of the New York Times, Houston's El Real Tex-Mex.  Those types of hugely popular restaurants design their menu format and flavor profile geared toward a place wherein carne guisada does not fit.
Luckily, most restaurants that do serve home-style Mexican dishes offer carne guisada on their menu because they know it'll be a favorite.  All across Texas, carne guisada is the beloved "comida casera" dish of Mexican Americans. Home cooking, at its best.
I make my carne guisada with Serrano chile.  I will digress about chiles.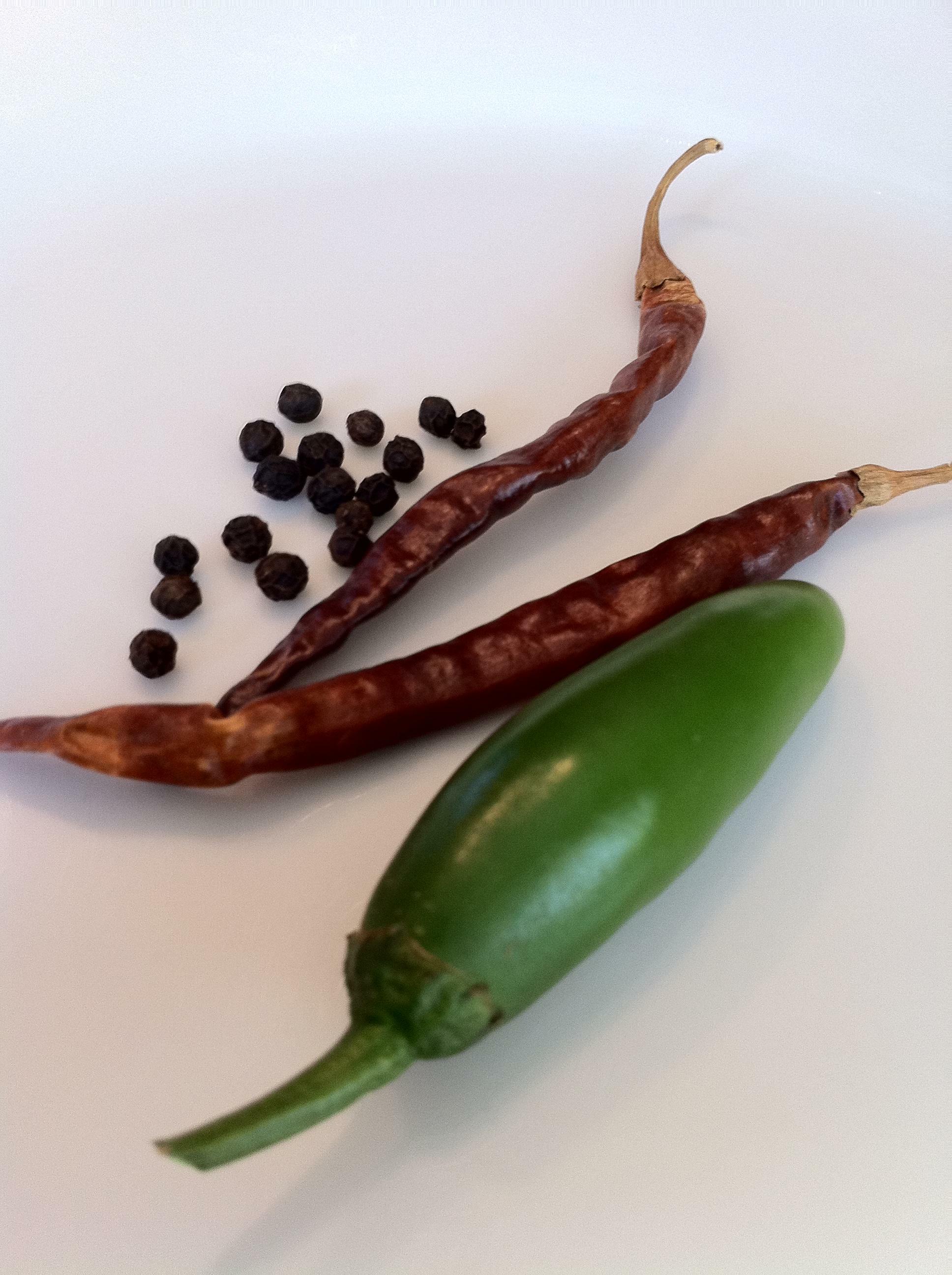 Chile is Mexican, the scientific name is: capsicum.
Pepper is Indian (India), the scientific name is: piper.
When our European ancestors, searching for India and the spicy peppercorns, landed instead in the Americas and found chiles, they used the only "spicy" default name with which they were familiar, "pepper."  They also called the South American natives "Indians," but that's another story. Our language always changes over time, and now the popular term for chile is pepper.  I still call a chile "chile" and pepper "pepper."
This recipe uses both chile and pepper, ground in a molcajete (Mexican volcanic rock mortar) together with garlic and cumin.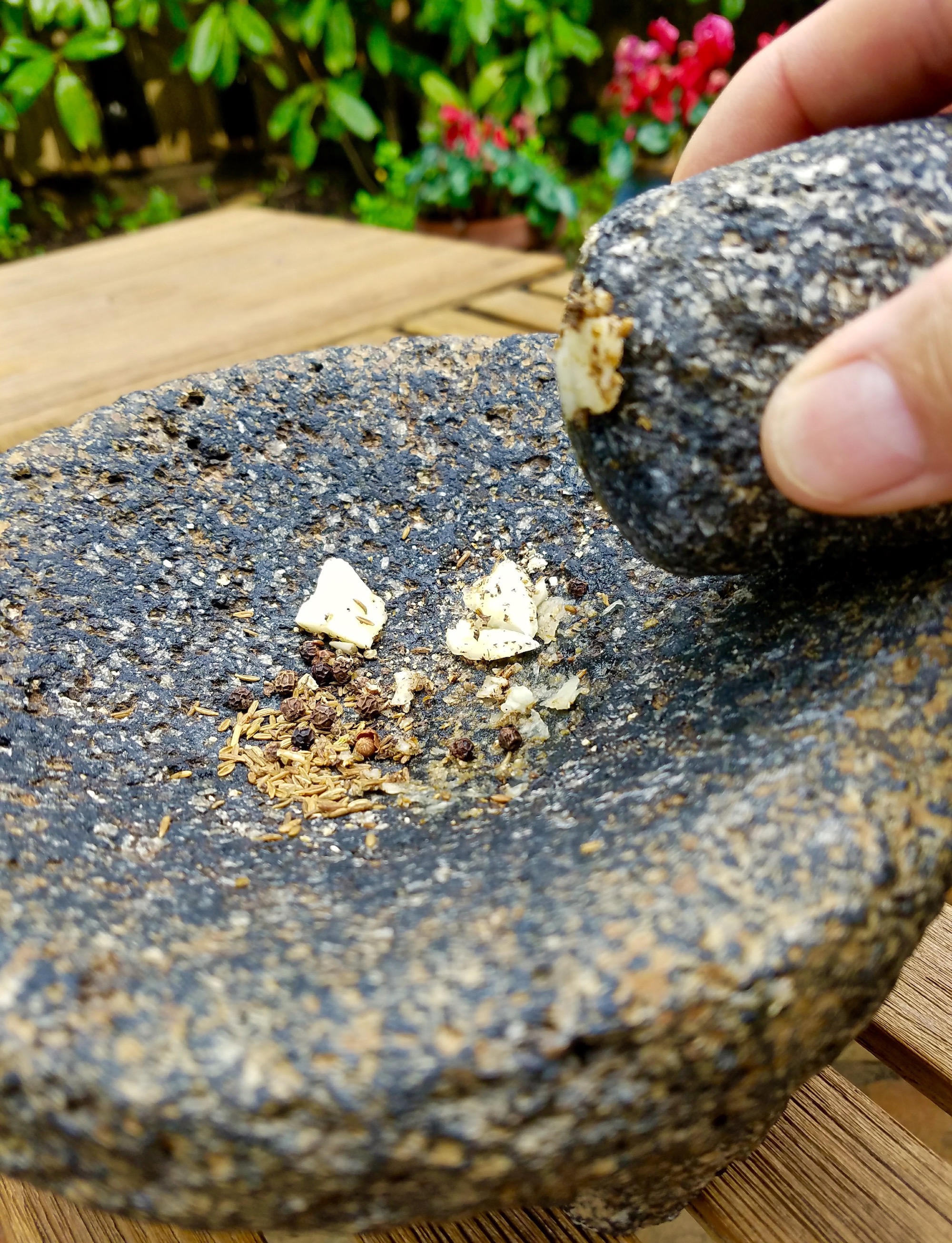 A stewed beef dish, it is aromatic and its flavor profile is wonderfully contrasted between black pepper and chile serrano. The flavor profile of a dish consists of the identifiable taste, odor, mouth feel, and aftertaste. In my opinion, achieving the correct flavor profile for carne guisada depends entirely on what you grind in your molcajete, that is, the mixture of ingredients to include cumin, garlic, and both pepper and chile. Note in the recipe the use of wheat flour as a thickener.
Carne Guisada Con Papas Recipe
Ingredients (serves 6)
1-1/2 pounds round steak, trimmed of fat and cut into 1/2-inch cubes
2 waxy potatoes, 14 ounces, cut into 1/2-inch cubes
1 large white onion, sliced
2 tablespoons canola oil
1/2 tablespoon all-purpose flour
2-1/2 cups water, approximately
1 serrano chile, minced
15 black peppercorns
2 garlic cloves, peeled and minced
1/4 teaspoon cumin seeds
1 teaspoon salt
Method
1. Heat 1 tablespoon canola oil in a Dutch oven, medium heat, and brown the meat for about a minute. Do this in batches if necessary so that the meat will not be crowded.
2. Add the onions and chile Serrano to the meat in the Dutch oven and cook until translucent, about 2 minutes.
3. In a molcajete or other mortar, mash the black pepper, garlic, cumin, and salt to achieve a very fine paste. Add it to the meat and onions. Do this by adding a little water to the molcajete, allowing you to scrape the paste away from the molcajete. You may have to do this a couple of times to get all the paste.
4. Dissolve the flour in 2-1/2 cups water and add it to the meat and deglaze, scraping the bottom to unstick browned bits. The water should just cover
the meat, so adjust accordingly. Bring to a boil, and then lower the heat and simmer at slightly below a full boil, about 200°F, covered, for 30 minutes and up to 2 hours. At this low heat the beef collagen changes into gelatin and renders the beef both soft and flavorful. If the heat is too high, the beef will be tough. Didn't you learn this from your "stone-boiling" archaeology class?
5. Remove the cover during the last 10 minutes, add the potatoes, and continue cooking. The sauce will thicken. Taste and adjust the salt.
Serve carne guisada with hot corn or wheat flour tortillas.
Let me know how this recipe turns out for you.  ¡Buen Provecho!
NOTE: If you found my article helpful, I invite you to follow me on Twitter, Instagram and Facebook, or subscribe below for updates (I'll email you new essays when I publish them).
---
---