Serrano Shrimp Cocktail
Depart from the usual shrimp cocktail sauce and go Texas Mexican.  Use Serrano chile, cilantro and fresh lime juice.
This delicious Serrano shrimp cocktail is reminiscent of the famous Mexican Campechana cocktails in Veracruz, Yucatán and along the Pacific coast, especially in Sonora.  Usually, it's a mix of the coastal fresh seafoods like scallops, oysters, shrimp and squid, all mixed together in a soupy citrus sauce.  Here, it's a spicy shrimp cocktail with my preferred chile, Serrano.  Because the shrimps rest on thin ribbons of lettuce, it's a substantial and tangy first course for your next dinner party.  Go for it.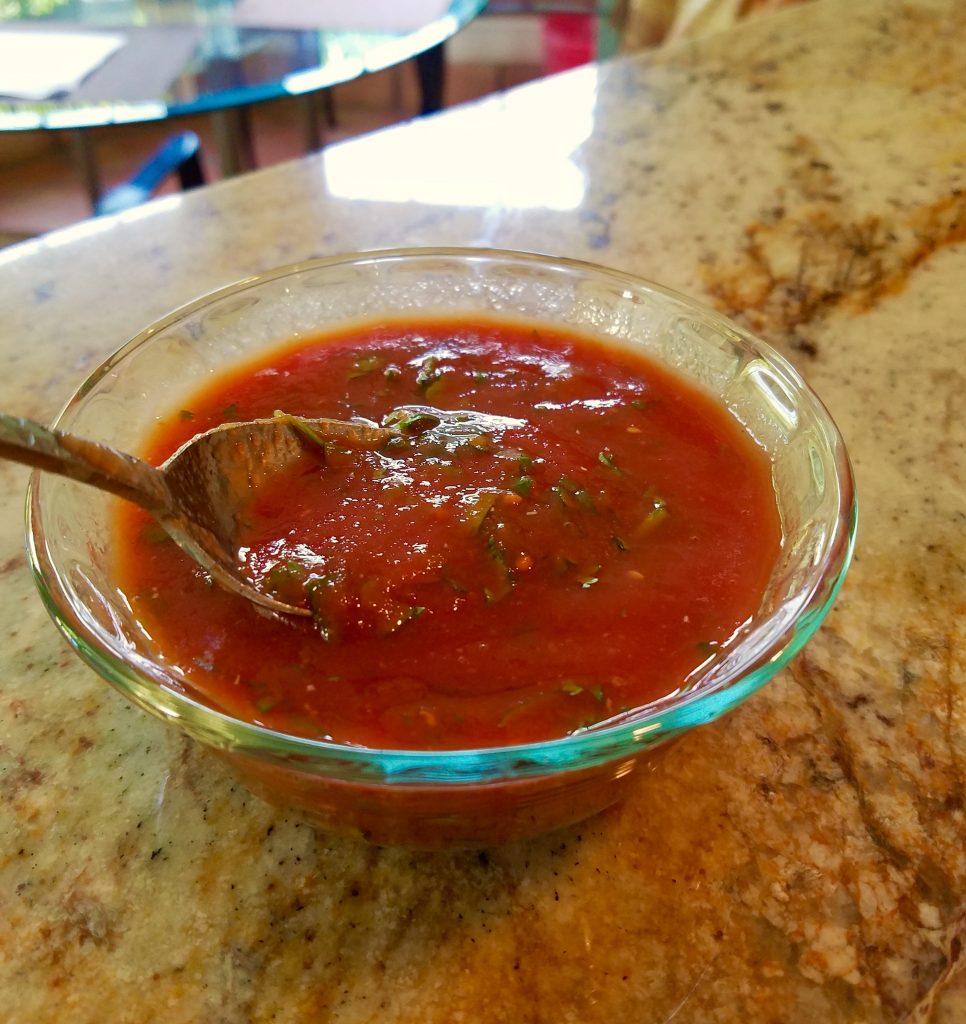 Recipe for Serrano Shrimp Cocktail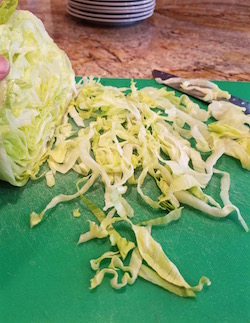 Ingredients    (serves 4)
4 fresh or canned Roma tomatoes
1 Tbs White Onion, minced
1/2 Tbs Serrano chile (Taste the sauce after you've blended the chile and add a bit more, blending 1/4 tsp at a time, until the sauce reaches your preferred Serrano flavor and heat. )
1/4 tsp Salt, or to taste
1/4 Cup Ketchup
1 Tbs Fresh Lime Juice
1/4 cup Fresh Cilantro, coarsely chopped
1 1/2 cups Iceberg Lettuce, thinly sliced
16 Gulf of Mexico Shrimp.  Size: 16 or 20 per pound, cleaned, deveined, tails on, heads off.
1 Gallon Water
1 Tbs Salt
Method
1.  In a large pot, heat a gallon of water and 1 Tbs salt, and bring to a boil.  Add the cleaned shrimp and cook for about 3 minutes, just until they turn pink and completely opaque.  Remove with a slotted spoon and drop into a bowl of iced water to stop the cooking process.  Overcooked shrimp becomes rubbery.
Note:  Click here for a video showing how to clean and devein shrimp

2.  In a blender, add the tomatoes, onion, Serrano chile, Ketchup, lime juice and salt.  Blend for about 15 seconds to make a smooth purée.  There will be some Serrano seeds intact, and that's good.  Taste for salt and level of spiciness, adding additional serrano or salt if necessary.  Transfer to a bowl and add the coarsely chopped cilantro, mixing thoroughly. Set aside.
3. Distribute the finely sliced Iceberg lettuce among four shrimp cocktail bowls or glassware.
(At a flea market, I found some vintage shrimp icers with inserts, shown in the picture, and the ice keeps everything good and cold.  But you can use any deep bowl or sherbet dish.)
4.  Layer a spoonful of the Serrano chile sauce over the lettuce, then arrange four shrimps around the edges of the bowl.  Spoon additional Serrano sauce  onto each of the shrimp and serve.
Sometimes, this is all you need for lunch, with a cold cerveza!
NOTE: If you found my article helpful, I invite you to follow me on Twitter, Instagram and Facebook, or subscribe below for updates (I'll email you new essays when I publish them).
---
---