Chile Serrano Scallops – A Twist On Julia Child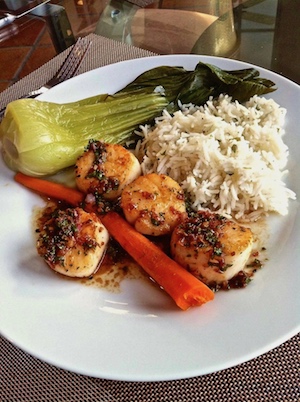 I call this dish, Chile Serrano Scallops, although the inspiration comes from the French, Coquilles St. Jacques à La Provençale.  Because I fiddled and deviated from the traditional recipe, I don't use the traditional name.  I like to keeps things clear.
It's not that I don't like the traditional recipe.  When I first started cooking "Coquilles St. Jacques à La Provençale" I followed Julia Child's recipe religiously, just as I read it in her "Mastering the Art of French Cooking" and as I watched her make it on TV.  I've never changed a thing on this traditional recipe, and it's always delicious.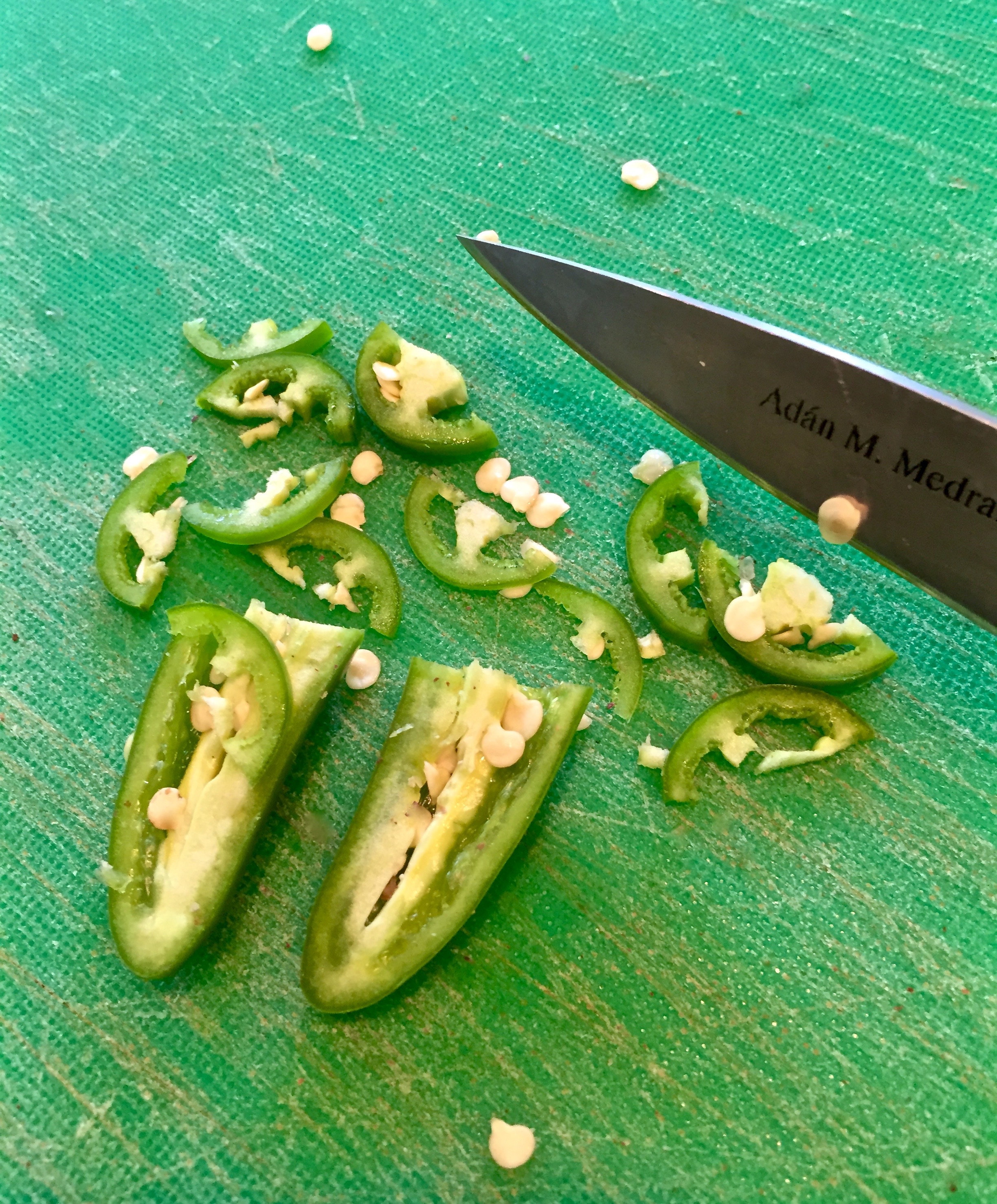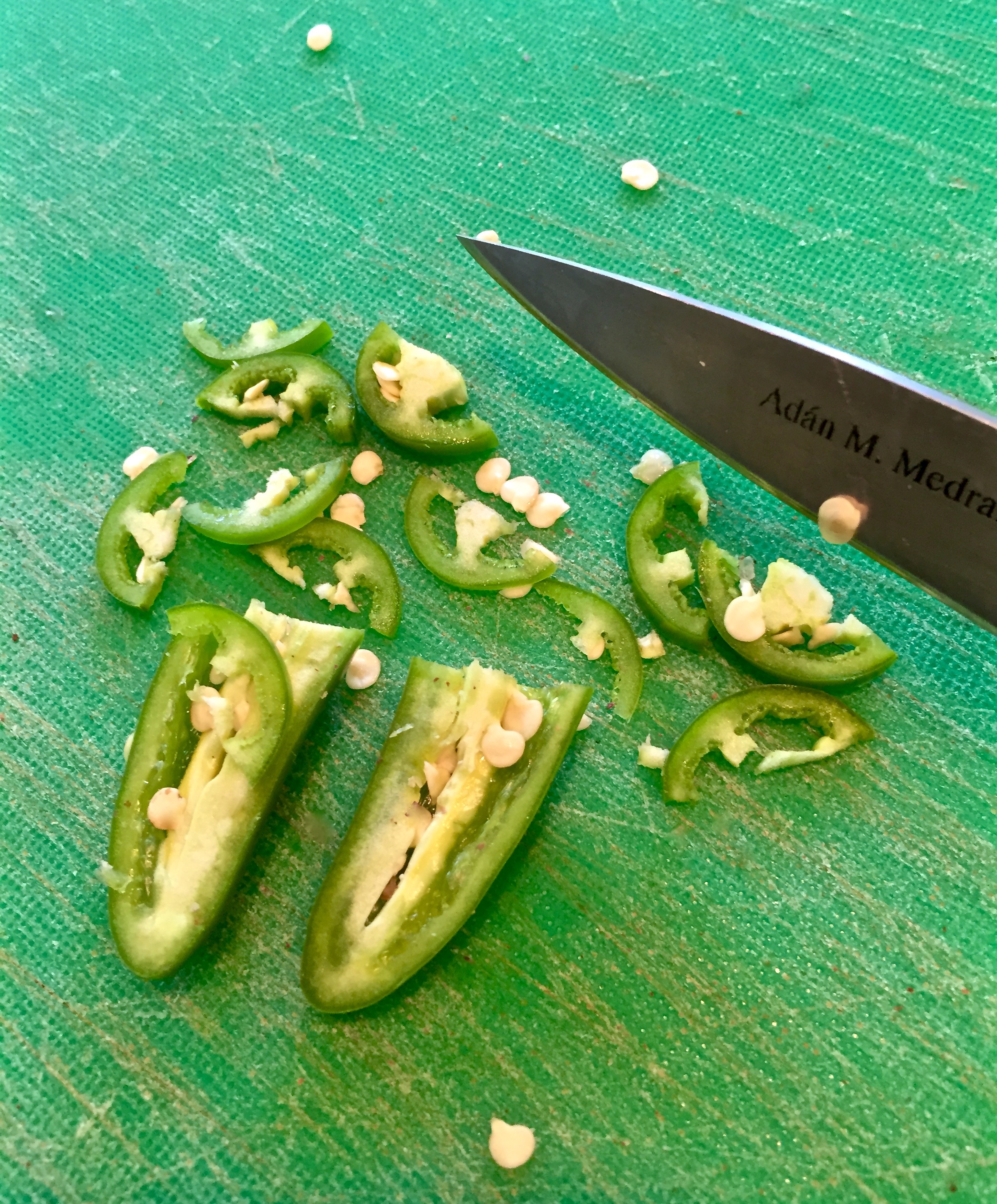 But today, I did fiddle around with this French dish because I like chiles.  I made a simple twist. I took Julia Child's recipe and surrounded the flavors with a background of serrano chile flavor. Solid flavor, but still a background. First I added finely diced serrano chile, no seeds, no membrane, to the sauce. Second I served it with brown rice in which I infused the liquid with serrano chile. The dish has an overall earthiness and lift that is in keeping with Texas and Northern Mexico. But I'm not calling the dish "à La Provençal." It's just "Chile Serrano Scallops."  It avoids confusion.
In this I agree with Austin El Naranjo Restaurant Mexican Chef/Owner, Iliana De La Vega who advises not to fiddle with classic dishes that over time have proven that they are classic for a reason:  they are already perfectly constructed, balanced and unique.
De La Vega allows that if you want to fiddle around with traditional dishes like Mexican mole, for example, you should feel free to go ahead and do so.  As a cook, express yourself.  But after you're done fiddling with the traditional recipe according to your personal beliefs: "Don't use the traditional name.  Just don't call it mole."
Especially when there has been so much co-opting of cultural traditions, resulting in loss of grassroots knowledge, I think Iliana has a good rule.  Don't give the traditional name of a centuries old dish to something you've just now concocted.
I hope Julia looks down from culinary heaven and agrees.
Recipe for Chile Serrano Scallops
Ingredients (serves 4)
1 pound fresh bay or sea scallops
all-purpose flour, for dredging
4 Tbs unsalted butter, divided into two portions
2 Tbs extra virgin olive oil
1/2 cup chopped shallots (2 large)
1 garlic clove, minced
1 chile serrano, seeds and membranes removed, minced
1/4 cup fresh flat-leaf parsley leaves, coarsely chopped
1/3 cup dry white wine
salt and freshly ground black pepper
1 lemon, cut in 1/2
Method
1.  Wash and dry the scallops and sprinkle with salt and freshly ground black pepper.  Using a large bowl or paper bag, dredge them in AP flour.  Just before the next step, use a colander to shake all excess flour off the scallops.
2. In a skillet over medium heat, add 2 tablespoons butter and 2 Tbs extra virgin olive oil.  When the oil begins to get wavy, add the scallops from the colander and cook them for about 4  minutes, stirring so that they are browned.
3. Add the remaining 2 Tbs butter, wine, shallots, garlic, parsley and chile serrano and cook for 2 minutes, tossing to coat.  Squeeze some lemon juice on them and serve immediately.
Serve with boiled brown rice.
When boiling the rice, remove the seeds from a chile serrano, mash it in a molcajete and add it to the water.
NOTE: If you found my article helpful, I invite you to follow me on Twitter, Instagram and Facebook, or subscribe below for updates (I'll email you new essays when I publish them).
---
---