Acorn Squash stuffed with Quinoa and Red Bell Pepper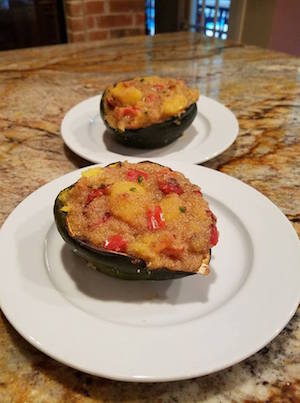 Acorn squash is zesty, and versatile; can become a lush party dessert or a festive savory buffet feature. Try this recipe for your next dinner party, and  serve it with a Texas sauvignon blanc.
All winter squashes are perfect for stuffing. Here the sweet pumpkin becomes the perfect match for Serrano chile and red Chile Dulce, otherwise called  bell pepper. Except for the quinoa, which is Andean in origin, around Lake Titicaca, shown below, all the ingredients are from around here, native to the Texas Mexican region.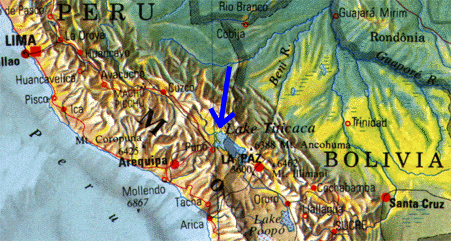 My using the quinoa in a Mexican dish is not a new thing. All natives of the Americas exchanged goods and tools, ingredients and knowledge for millenia. There is even archaeological evidence of the North American bison roaming around Central America and into Nicaragua!
Calabaza, squash, were first born here  in southern Texas and northeastern Mexico. Among the domesticated little pumpkins, the oldest known are from the Oaxaca Valley, central Mexico, and from Ocampo, Tamaulipas, dated 7,000-5000 BCE, about 300 miles south of Brownsville, Texas. In Ocampo, three caves contain archaeological evidence of this squash.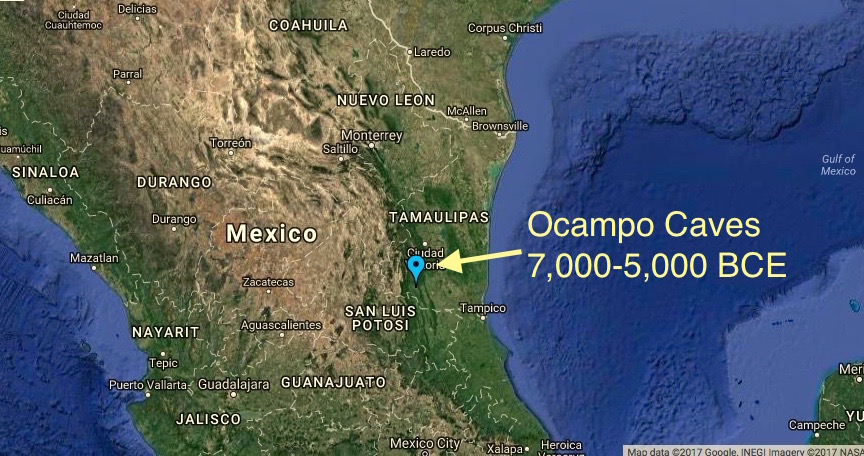 This dish recalls the cuisines of América, the indigenous América, distinct from the colonialized traditions that exist in the Americas. I applaud the work that Luz Calvo and Catriona Rueda Esquibel are doing in advancing the understanding of pre-1500 cuisines not just of Meso America and North America (Texas included) but of our entire continent. Their book and community,  "Decolonize Your Diet," honors América indigenous cookery  and fosters a healthy, more interesting and culturally connected cuisine. I think they, along with many other food lovers, chefs, food writers and scholars are making the American cuisine more delicious. That's right, not just more healthy and interesting but more yum, yum delicious.
Recipe for Acorn Squash Stuffed with Quinoa and Bell Pepper
(serves 2 as a main course, or 4 as a side dish.  You can slice the stuffed acorn shells in half, at time of service.)
Ingredients
1 Acorn squash
½ cup Quinoa, raw
1 Tbs vegetable oil
½  cup Onion, diced (in Texas, wild onions, allium, are as old as 8,000-2,000 BCE)
1 Red Bell Pepper, deseeded, cut into ¼ " X 1" strips
1 Serrano chile, stem removed, minced. Note: Remove the seeds from the chile if you want to reduce the heat.
¼ tsp Salt
1 cup water
¼ cup additional water
Method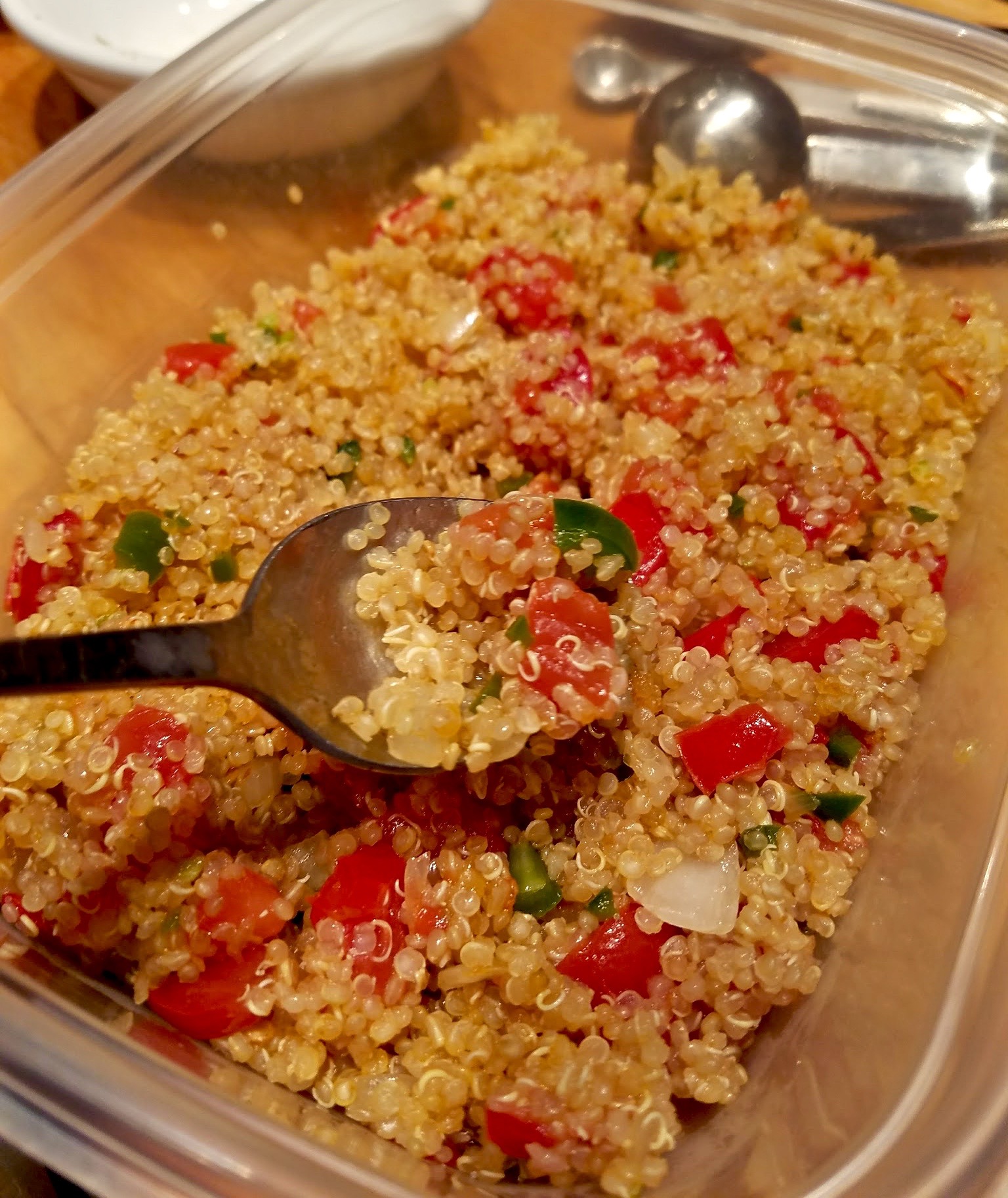 Preheat Oven to 350 0F
1.  Wash the squash and cut it lengthwise in half. Scoop out the seeds. (You can save them and oven roast them later as delicious roasted pumpkin seeds). Place the squash halves in the oven, on a cooking sheet, cut side down, and bake for 20 minutes. The squash will be soft in the center but the edges will be firm.
2.  Place the quinoa  in a saucepan with 1 cup water and bring to a boil, then lower the heat and simmer for 15 minutes. Set aside.
3. In a skillet, on medium heat, add the olive oil and sauté the onion, chile Serrano, and bell pepper strips until the onion is translucent and the bell pepper is soft, about 5 minutes.
4.  Add the quinoa to the vegetables, then add the salt and incorporate. Correct the salt and set aside.
5.  When the squash is cool enough to handle, scoop out the flesh carefully, leaving the skin (shell) intact, so that it can be stuffed later. Cut the firm parts of the squash into 1"cubes.
6.  Add the squash to the vegetable and quinoa mixture and fold together. Adjust the salt. Cook over medium heat until the mixture is hot.
7.  Stuff the acorn squash shells with the mixture and serve while hot.
Note: The stuffed squash can be cooled and held in the refrigerator up to 8 hours. When ready to serve, reheat in a 350 0F oven for 30 minutes.
Sources
–Origin(s), Evolution, and Systematics of Cucurbita pepo (Cucurbitaceae)
Deena S. Decker, Economic Botany, Vol. 42, No. 1 (Jan. – Mar., 1988), pp. 4-15
downloaded: https://www.jstor.org/stable/4255033?seq=1#page_scan_tab_contents
–http://archaeology.about.com/od/oterms/fl/Ocampo-Caves-Tamaulipas-Mexico.htm
NOTE: If you found my article helpful, I invite you to follow me on Twitter, Instagram and Facebook, or subscribe below for updates (I'll email you new essays when I publish them).
---
---