Scallops "À La Provençale" – The French in Texas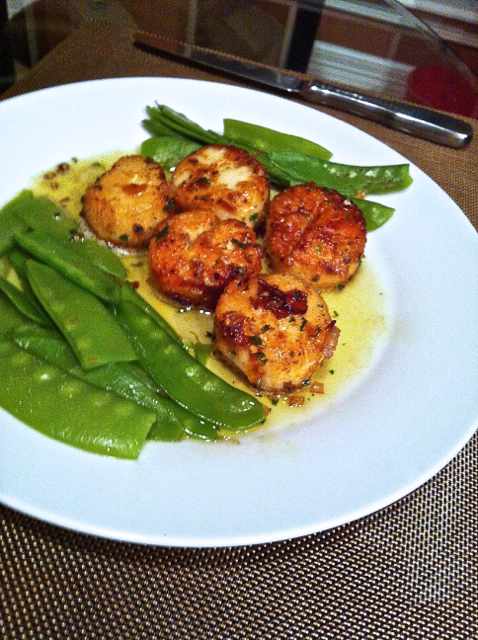 I think everyone loves and enjoys scallops.
This recipe is from my favorite chef champion of French cuisine, (next to Jacque Pépin), Julia Child.  The one tip is that the oil must be very hot when you add the scallops.  This keeps them crispy on the outside and moist and tender on the inside.  The French in Texas have a story that begins in the 1600s when the native Karankawas on our Gulf coast, found the first French immigrants near Matagorda Bay (Port Lavaca).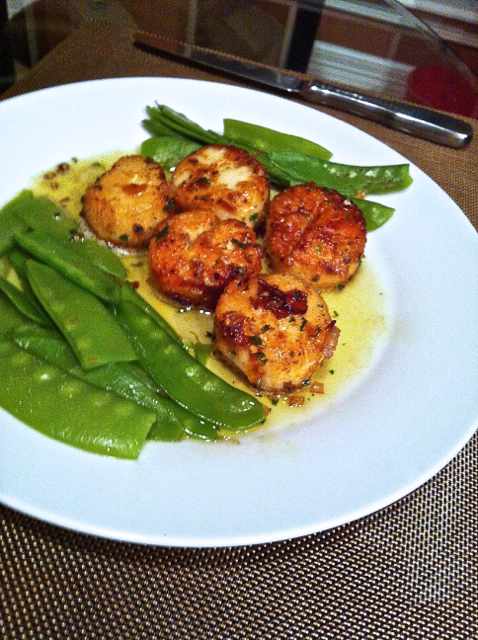 Matagorda Bay is where scallops are most abundant today.  They are the smaller bay scallops, juicy and delicious.  Archaeologists have found mounds of discarded scallop shells, called middens, evidence that they were a substantial source of food.  The middens date back to what is called the early Archaic period, 10,000 to 8,000 years ago.  That's a long time that we've been eating and enjoying scallops on our Gulf coast. ¡Me gusta!
In 1686 the French explorer René-Robert Cavelier, better known as Sieur de la Salle, set up a small fort, near Matagorda Bay.  Things didn't turn out very well with the French-Karnkawa relations.  History reports that the French stole canoes and other goods from the Indians and even attacked some of them.  Smallpox  killed nearly all of them as well as Karankawas.  In 1688 the Karankawas went ahead and "destroyed the fort, killing many of the colonists, adopting others, and carrying off most of the manufactured goods." (La Vere)
But on a happier note, there are many signs that French and Indigenous cuisines have enriched one another, and we can all sit at the table to savor these scallops, bay or sea, that everyone enjoys.
Recipe (For 8 Large Sea Scallops)
Ingredients
8 Fresh Sea Scallops (about 2 cups)
4 ounces  Olive Oil
2 Tbs Butter
2 Tbs Shallots,  minced
1 Clove Garlic, minced
1 Tbs Parsley, minced
1/4 cup All Purpose Flour
1 Lemon
Salt & Black Pepper to taste
Method
1.  Wash in cold water and dry the scallops. Season them with salt and black pepper, drizzle with lemon juice and place them in the fridge until ready to cook.
2.  Just before you are ready to cook them, dredge the scallops in the flour so that they are thoroughly coated.  Then place them in a sieve and shake them so that all excess flour falls off.
3. In a 12″ skillet, heat the olive oil on high heat.  When the oil begins to shimmer in the pan, making waves, add the scallops, taking care not to crowd them. Keep the heat on high.  After about two minutes the bottom will be golden brown, so you can turn them over and cook for another two minutes.  I then toss them to brown all sides.  After 5-6 minutes they are done.
4. Turn of the heat.  Add the garlic and shallots and cook for 1 minute, then add the butter and parsley and swirl.
Serve immediately with steamed rice and snow peas.
Bon Appétit!
NOTE: If you found my article helpful, I invite you to follow me on Twitter, Instagram and Facebook, or subscribe below for updates (I'll email you new essays when I publish them).
---
---