Saffron Garlic Shrimp – My Tapas Memory of Madrid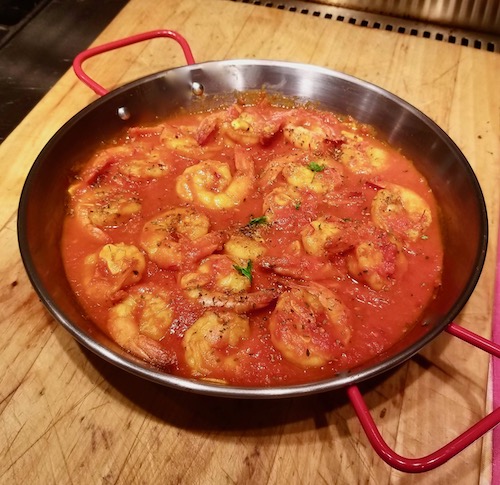 Saffron Garlic Shrimp is a way to recast the iconic tapas, Gambas Al Ajillo, with the addition of saffron, generally known as the unique ingredient used in paella. The shrimp and seasonings are bathed in the Mexican tomato that Spaniards began importing in the 1500s after they invaded Mexico.
My first taste of tapas was in Madrid 10 years after the death of  Francisco Franco who ruled Spain as dictator for 36 years, 1939 to 1975.  My post-Franco memory is of languorous lunches, for $1.25, that included 3 courses, a glass of very good wine and dessert.
The dismantling of Franco's authoritarian institutions, following his death, enabled a slow move to democracy. Even after ten years, democracy still felt new and exhilarating, that's what I heard from the Madrileño friends that I made during my stay.
Weekends at 2 am I found peddlers on street corners selling wedges of Spanish tortilla on crusty bread with cold beer from ice chests, everyone free and happy. It was an awareness and celebration of the freedom to just gather and be normal. That memory brings me to this moment, having experienced the January 6th Trump insurrection. Threats from white domestic terrorists are high.
With Republicans defending Trump and still lying about his election loss, these tapas remind me that fascists and dictators lurk everywhere. Strange that we continually must defend the freedom to just hang on street corners in the wee hours, enjoying bonhomie and good food.
So this recipe is special to me because of the memories, and also because it's just super delicious. The straightforward combination of four traditional Spanish ingredients brought together in a matrix that is quintessentially Mexican: el tomate.
Recipe for Saffron Garlic Shrimp
Ingredients
1 lb medium shrimp, peeled, deveined, tail-on
2 Tbs Extra Virgin Olive Oil
4 cloves garlic, thinly sliced
1 generous pinch of saffron threads, about 1 tsp
1/2 cup white wine, room temperature
1 1/2 cups canned or fresh tomatoes, mashed or diced
Freshly ground black pepper
Salt to taste
2 Tbs parsley for garnish
Method
1. Add the saffron to the white wine and set aside
2. Wash the shrimp and dry them thoroughly with paper towels. Season with salt and freshly ground black pepper.
3. Heat the olive oil in a 12-inch skillet over medium heat to the point that it starts to shimmer, then add the shrimp and cook for 1 minute. Using tongs or a spatula, flip the shrimp and cook the second side for another minute. The shrimp will have golden, darkened spots. Don't overcook. Remove the shrimp and set aside.
4. Add the garlic to the skillet and cook for 30 seconds. Pour in the wine and saffron and deglaze the pan, scraping up all the browned bits.
5. When the wine is reduced by half, add the tomato, bring to a boil and simmer for 5 minutes.
6. Add the shrimp back in the skillet and cook for 3 minutes until the shrimp is heated through.
Correct the seasoning with salt and freshly ground black pepper. Garnish with parsley.
Serve as tapas with crusty bread or as a main dish with riced cauliflower or brown rice.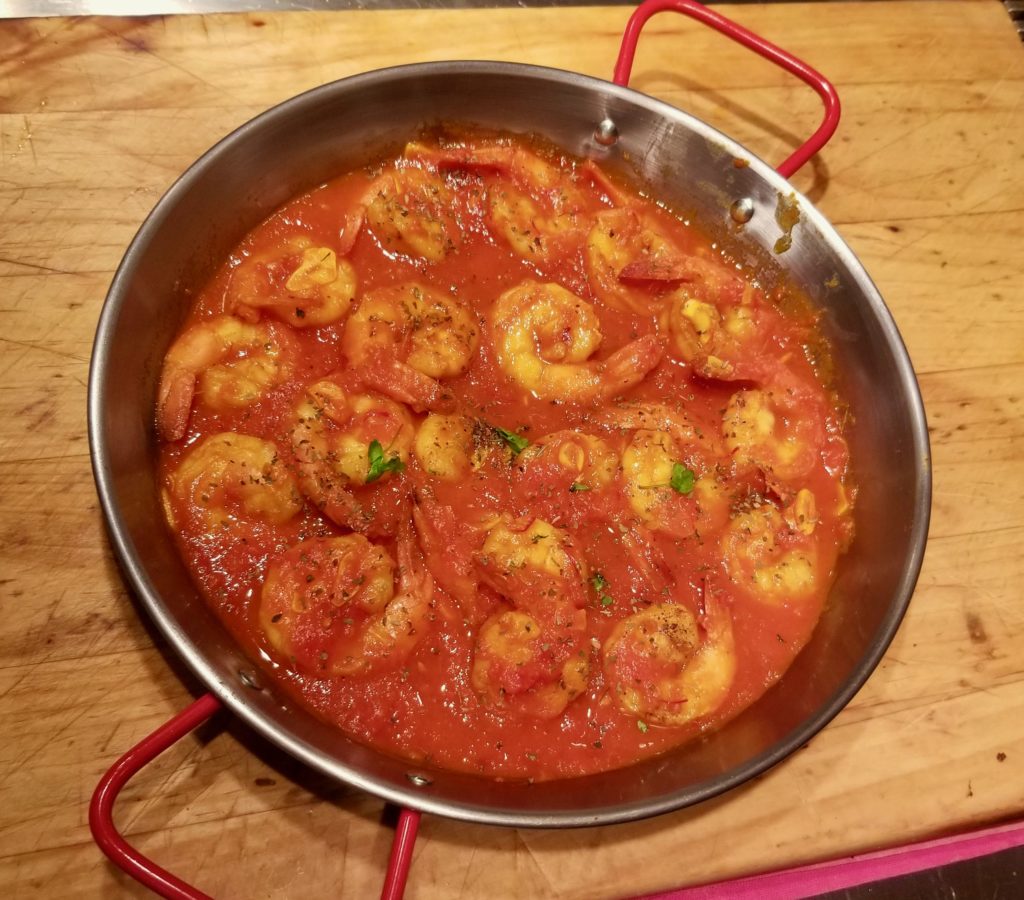 NOTE: If you found my article helpful, I invite you to follow me on Twitter, Instagram and Facebook, or subscribe below for updates (I'll email you new essays when I publish them).
---
---