Poetry at the White House: Vinyl and Watermelon
It was good to hear the words. "A great poem is one that resonates with us, that challenges us and that
teaches us something about ourselves and the world that we live in."
President Obama, in a relaxed, amiable mood, delivered those opening remarks at An Evening of Poetry at the White House that I attended last month. (He and the first lady seemed to be energized during the entire evening of poetry.) The event underscored the importance of poetry, music and, unintentionally, food. I'll comment on two moments.
First, the sounds generated by DJ Daniel Musisi (aka moose) during the reception in the East Wing foyer were a combination of digital and vinyl.
I loved the street/club/urban pop music feel that he gave to the space and schmooze-chatter. To me it ratified the importance of the everyday.
Listen to the entire track of that opening reception, thanks to Daniel who recorded it and uploaded it here:
The second comment is about my favorite food in the sumptuous buffet following the performances.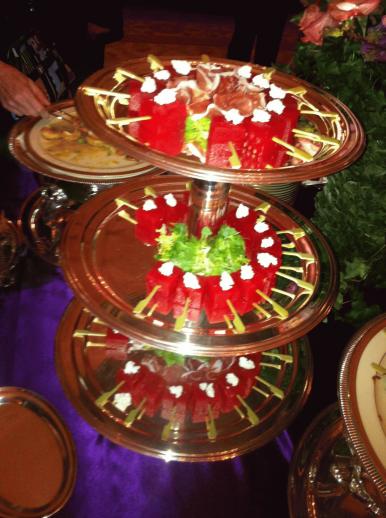 The Intense Red of Watermelon!
It was brilliant to "Techno" the watermelon
slices using the sous-vide technique that vacuums each slice with high precision.
This makes the color shout-out red and also
compresses the flesh slightly.
As you can see from the pic, each devilish slice was topped with white cheese.
Brilliant!
The Prosciutto was a nod to the classic past — but clearly it played a muted secondary, (tertiary after the cheese) role.
I chose these two elements of the whole wonderful evening to say simply that modern techniques always find their way into the sphere of the beautiful and delicious if they are in the hands of true artists.
NOTE: If you found my article helpful, I invite you to follow me on Twitter, Instagram and Facebook, or subscribe below for updates (I'll email you new essays when I publish them).
---
---