"El Bulli: Cooking In Progress"
Just wanted to make this quick post about the 2-hour documentary by Gereon Wetzel that I saw this week.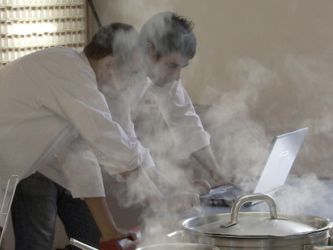 "El Bulli: Cooking in Progress" is beginning to screen in theatres here in the US and the critics are somewhat tepid about it. I loved the film and just wanted to note that the director, in this work, has found creative synchronicity with El Bulli, the restaurant. For me the film successfully and powerfully shows what it's like to make a serious, personal creative decision. With no narrative (some critics wanted a voice-over to explain what we are seeing) and no interviews (some think that it is only in the speaking that the idea is clear), the film gets inside the interactions of chefs, their desires, their personal relationships, the unspoken behaviors that lead to: the making of a dish and with it the desire to express something new and meaningful. The film is itself a work of art and the style mimics the style of the El Bulli cuisine which privileges discovery. This is an example of the relationship of media to food that goes beyond media being a conduit for showing food. There is an interaction of art forms.
Variety explains well the general US reaction so far, I think: " the pic doesn't have the narrative drive or emotional appeal of a
documentary like D.A. Pennebaker and Chris Hegedus' "Kings of Pastry,"
but still will serve as a tasty item for fests on its way to broadcast."
I hope that you will see it if and when it shows at your hometown. I think you'll see synchronicity of film and food.
NOTE: If you found my article helpful, I invite you to follow me on Twitter, Instagram and Facebook, or subscribe below for updates (I'll email you new essays when I publish them).
---
---