Pinole, Powdered Mexican Corn Candy, Delicious and Nutritious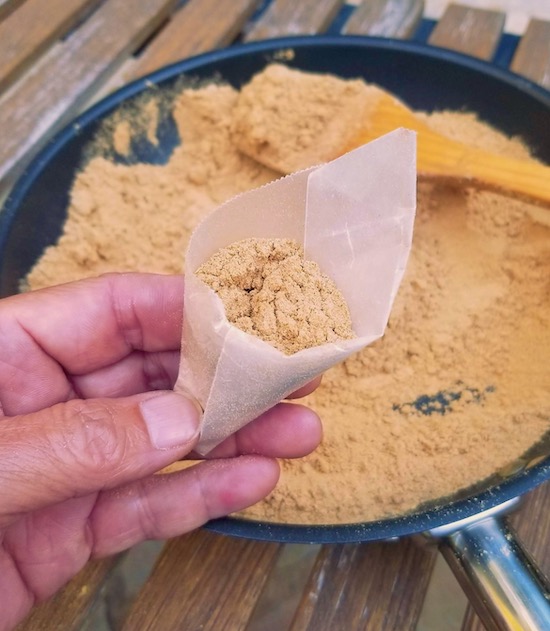 Pinole is roasted corn, ground into a fine powder and sweetened with piloncillo, unrefined Mexican cane sugar.  The Tarahumara community in Chihuahua, just south of El Paso is famous for the endurance of runners over long distances and pinole is their go-to nutrition. The Tarahumara have enjoyed pinole since ancient times, and today more and more runners are adding it to their diet to fortify their endurance.
Pinole is one of my strong childhood memories, the taste and texture is so unique. I used to buy it at the corner grocery store, packed into little paper cones.
You'll need a lot of saliva to eat this dry candy powder—and to understand this Mexican dicho (saying):
El que tiene más saliva traga más pinole
The one with the most saliva swallows the most pinole
The sweetener, piloncillo, is sold in Mexican grocery stores or online, generally in cones, and is pulverized in a molcajete or other mortar before it is incorporated into recipes. (If you cannot find it, you can substitute brown or even a little granulated sugar.)
Recipe is adapted from my cookbook, "Don't Count The Tortillas: The Art of Texas Mexican Cooking" published by Texas Tech University Press
---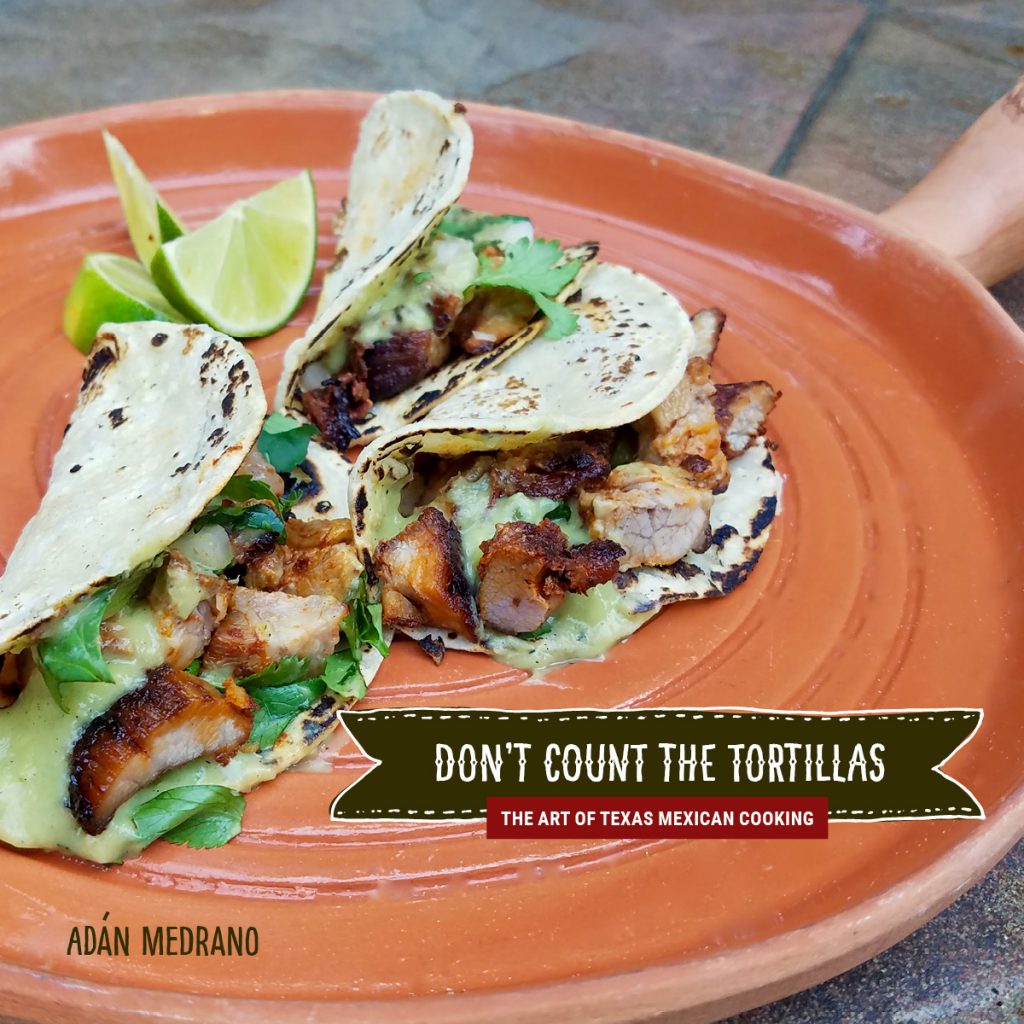 Over 100 Recipes, kitchen-tested with easy-to-follow directions and insider cooking tips.
Green enchiladas | Chilaquiles | Tacos Al Pastor | Red Snapper Soup | Pumpkin Candy
& delicious pastries like Jícama-Strawberry turnover and Fig-Pecan Empanadas!
---
Recipe for Pinole
Ingredients
2 cups corn flour (masa harina)
7 tablespoons (3 ounces) piloncillo, pulverized into a fine powder
1 teaspoon powdered Mexican canela (cinnamon)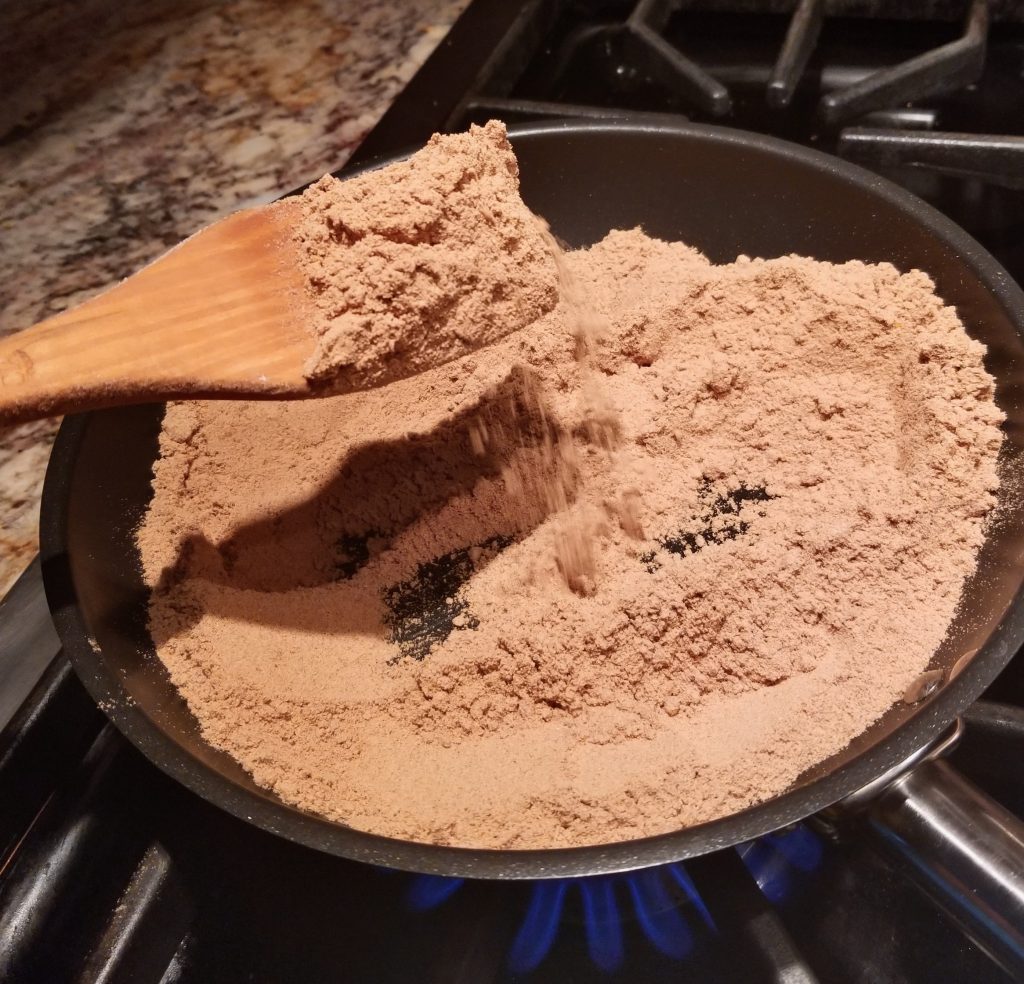 Method
1. In a skillet, over medium heat, toast the corn flour for 10 minutes, until it turns a deep tan, a couple of shades darker than the color of light brown sugar. Transfer to a large bowl and let it cool completely.
2. Add the pulverized piloncillo and the Mexican canela and whisk to combine thoroughly.
That's it!
Your powdered candy is ready. Serve it by making little paper cones using either wax paper or parchment. You can also pour the powder into little one-ounce paper or plastic cups. As I mentioned above, you'll need a lot of saliva to keep eating the dried powder. Unusual? Somewhat. Yummy? Definitely.
On those days when you're not in the mood to treat your palate with a coating of this delicious powder, try it as a beverage, Atole de pinole.  Make the atole by combining one cup of pinole with two cups of boiling water and stirring until smooth.
NOTE: If you found my article helpful, I invite you to follow me on Twitter, Instagram and Facebook, or subscribe below for updates (I'll email you new essays when I publish them).
---
---