Molletes — this Mexican sandwich is sumptuous, hot and fresh!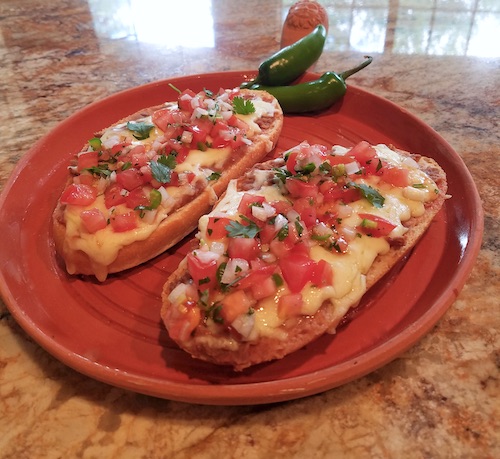 Molletes de frijol y queso are Mexican open-faced sandwiches that are baked, then topped with the brilliant taste of fresh tomato, onion and serrano chiles.  They are made with Mexican bolillos which are French-style crusty rolls, about 6 inches long, and shaped in the form of little footballs. Bolillos have become a strong tradition on Mexican tables and are used to make this hot, crispy sandwich. Molletes are perfect for lunch or breakfast. If your local grocery store does not have bolillos, you can buy them online.
Recipe for Molletes |Bean and Cheese Open-faced Sandwich
This recipe is from the award-winning cookbook, "Don't Count The Tortillas: The Art of Texas Mexican Cooking"
Ingredients (makes 8 molletes)
4 bolillos (small Mexican rolls)
2 cups dried pinto beans (makes 3 to 4 cups well- fried pinto beans)
1 cup mozzarella cheese, grated
For the Pico de Gallo
1 cup ripe tomato, small diced
3 tablespoons white onion, small diced
3 tablespoons finely minced serrano chile
1/4 cup fresh cilantro, coarsely chopped
1 teaspoon fresh lime juice
1/4 teaspoon salt
Method
To Make the Well-fried Beans
1. Place 2 cups uncooked pinto beans in a medium saucepan and add enough water so that the waterline is four inches above the beans. Bring the water to a boil; then lower the heat and simmer for about 3 hours, adding more water if needed to keep the waterline 1 inch above the beans, until the beans are completely soft.
2. Transfer the cooked beans and their liquid to a large skillet. Over medium heat, mash the beans with a bean masher (sometimes called potato masher) into a paste that still has some bits and skin intact. The beans should have texture.
3. Scrape the bottom of the skillet to unstick the layer of beans that has roasted and become dried. Wait another two minutes and scrape again. Keep doing this for 20 to 30 minutes so that the beans develop a roasted flavor and most of the liquid evaporates. Set aside.
To Make the Pico de Gallo
4. Place the tomato, onion, chile, cilantro, salt, and lime juice in a bowl and mix together. Set aside.
To Assemble the Molletes
5. Preheat oven to 350 ̊F.
6. Slice each bolillo lengthwise to make two open-face halves. Distribute the well-fried beans among the eight bolillo halves, then top each with the shredded mozzarella.
7. Place the molletes on baking sheets and bake for 12 minutes, or until the cheese is completely melted and starts to bubble.
Serve the molletes topped with plenty of pico de gallo.
NOTE: If you found my article helpful, I invite you to follow me on Twitter, Instagram and Facebook, or subscribe below for updates (I'll email you new essays when I publish them).
---
---